Bandy: The True Tale of a Courageous Cape Cod Canada Goose
"Please support the Majestic Waterfowl Sanctuary in their selfless efforts to educate the public and provide necessary care to prevent God's awesome creatures from meeting a tragic end." -- Marcia Croce Martin, Author of "Bandy"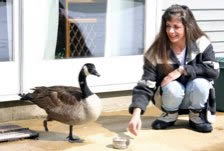 About the Book:
When Marcia married Jesse Martin and moved to a pond front home in a private setting, it was, for the nature lovers, a dream come true. The yard was replete with wildlife. Foxes, deer, coyotes, raccoons and waterfowl were frequent visitors, but it was one Canada Goose that Marcia set her affection on, and he likewise seemed to "adopt" her.
Bandy is the true story of a unique relationship between a woman and a wildling, who, by some unfortunate tragedy, loses his right foot and part of his leg. His lifetime mate, Bindy, decides he's only half a goose and takes up with his best friend, a goose who was banded with him on the same day ten years prior. Bandy, though social by nature, becomes a loner by fate. Then, as if he hasn't suffered enough, he has a run-in with monofilament fishing line that almost costs him his life. After a month in rehab, he is returned to Griffith's Pond, only to disappear with the rest of the geese after eight days. Though it is his normal departure time at the end of the summer molt, Marcia has mixed feelings about his disappearance. She is pleased he feels like a part of his gaggle, but is climbing the walls worrying about his welfare. After all, she hadn't even seen him fly yet.
There is an element of the supernatural in this true story, from Marcia's premonition about Bandy's brush with death, to the amazing answer to her prayer to find him two months after he has left. It will be difficult to doubt the power of prayer and the reaches of Divine care after reading Bandy. Encountering this little survivor will bring you encouragement in a troubled world, and perhaps you will be able to face your own set of circumstances with renewed hope. It is a must-read for every nature lover and anyone who has problems; I guess that includes us all. For more information about Bandy please visit www.bandythegoose.com.