Respiratory Health

Air Sac Injury & Infection

Pneumonia

Aspiration Pneumonia

Majestic Farewell...

Outside Farewell...

For The Birds on Netflix

The Month in Photos!

Majestic Newcomers & Adoption!

Majestic T-Shirts

Gift Keepsakes for Animal Lovers

Majestic Gift Shop

Majestic Sponsorships

To Make a Donation, please click here: Donation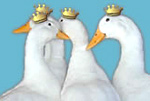 Please Help Today!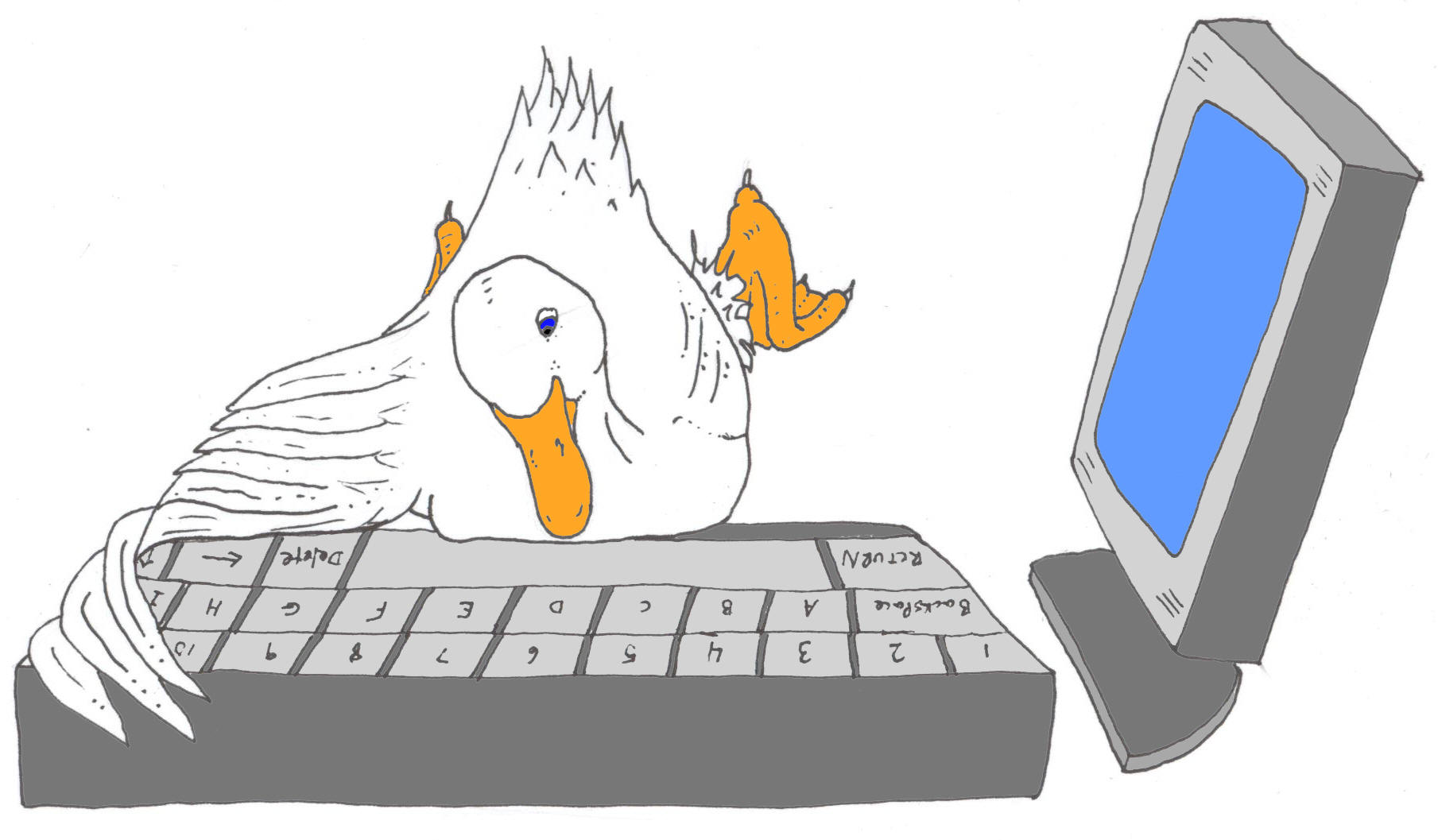 For lots of photos and updates as they happen! This is where you can see and hear all the latest news FIRST!
And visit us on Instagram too: @majestic_waterfowl_sanctuary
Majestic Farewell...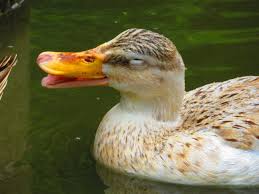 Teaspoon... More than a Smidge,
less than a handful...
Love you, sweet girl... XXOO
Outside Farewell...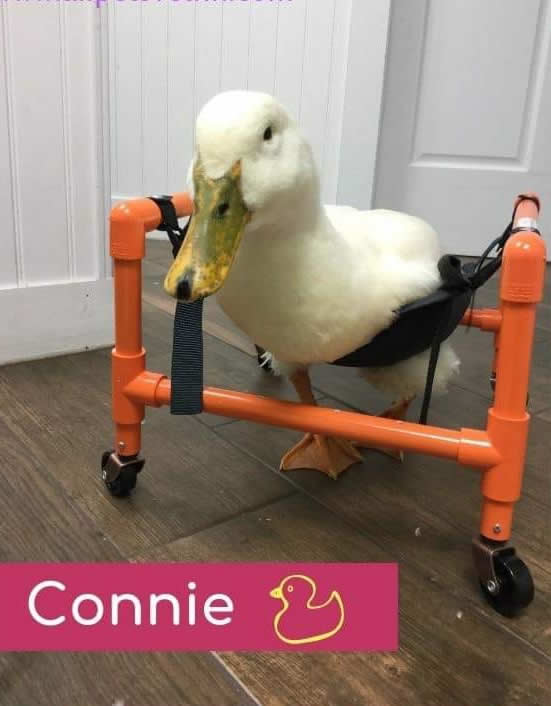 Connie... we rescued both you and our little Teaspoon from the same location, within a week of each other. Off you went with your amazing new momma to meet your new ducky family... and now... you've left this world within a week of your old friend. I guess you wanted to fly over together... Bless you, little angel... you are SO LOVED!
"For The Birds" on Netflix!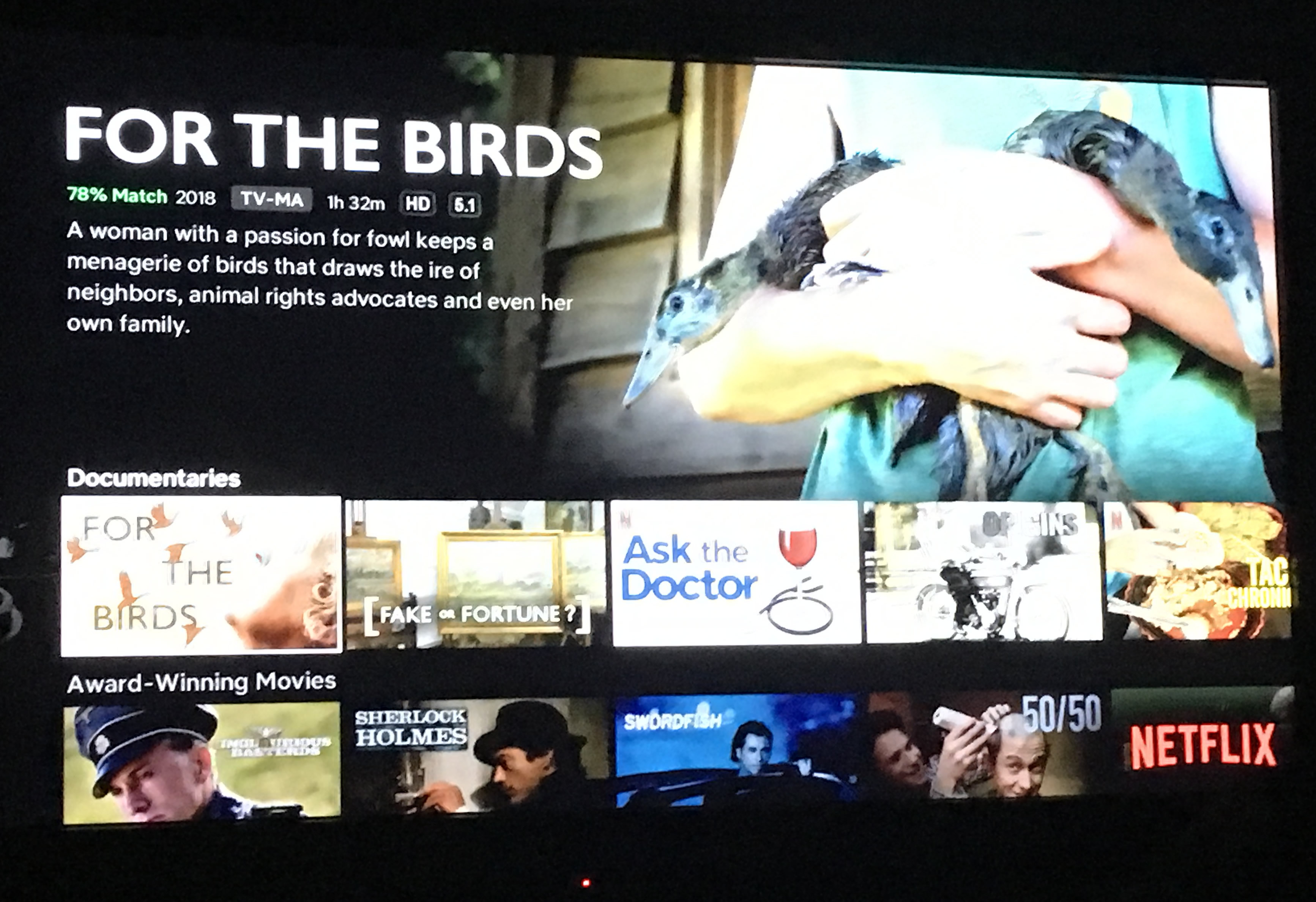 The Month in Photos!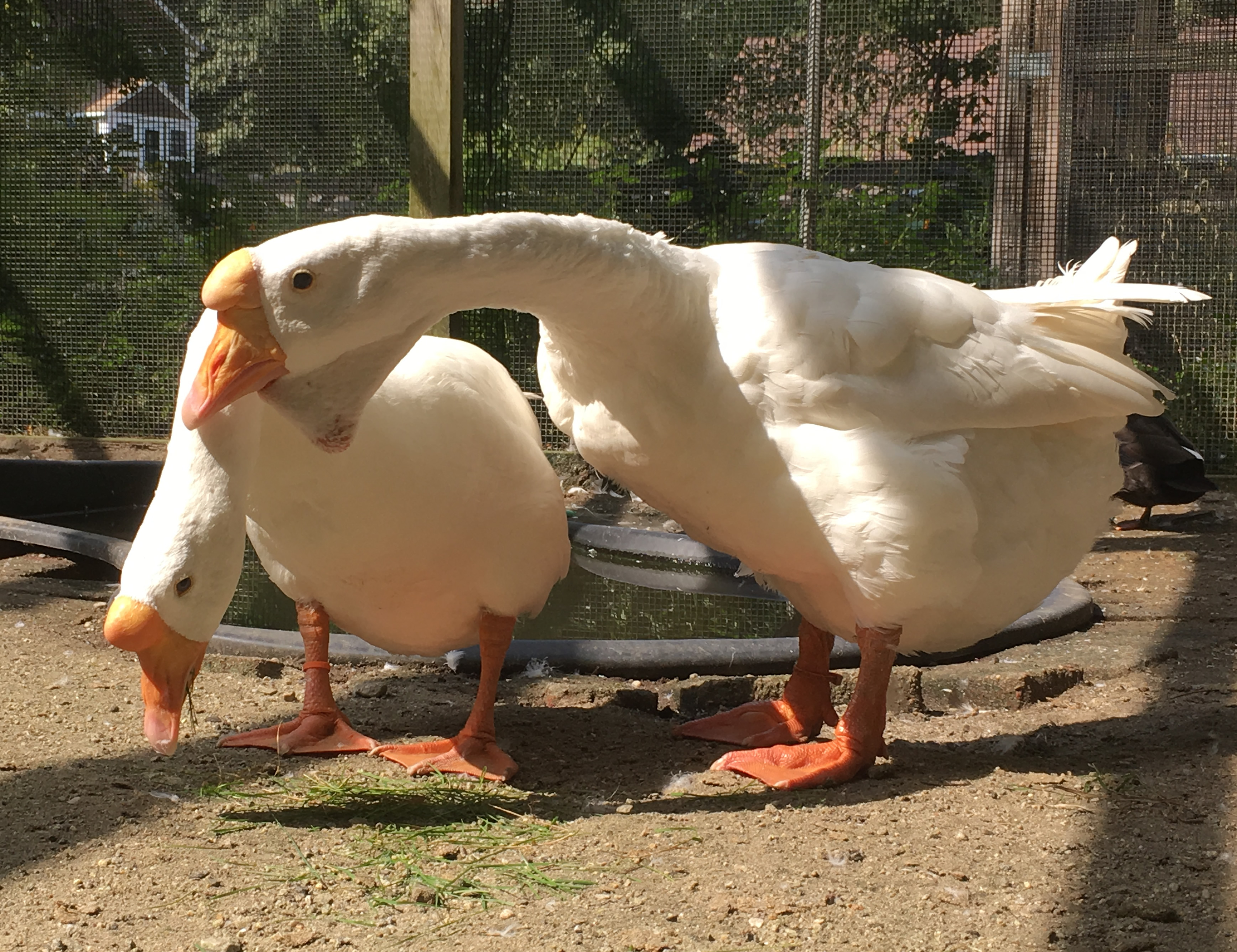 Yolanda & Jabberwocky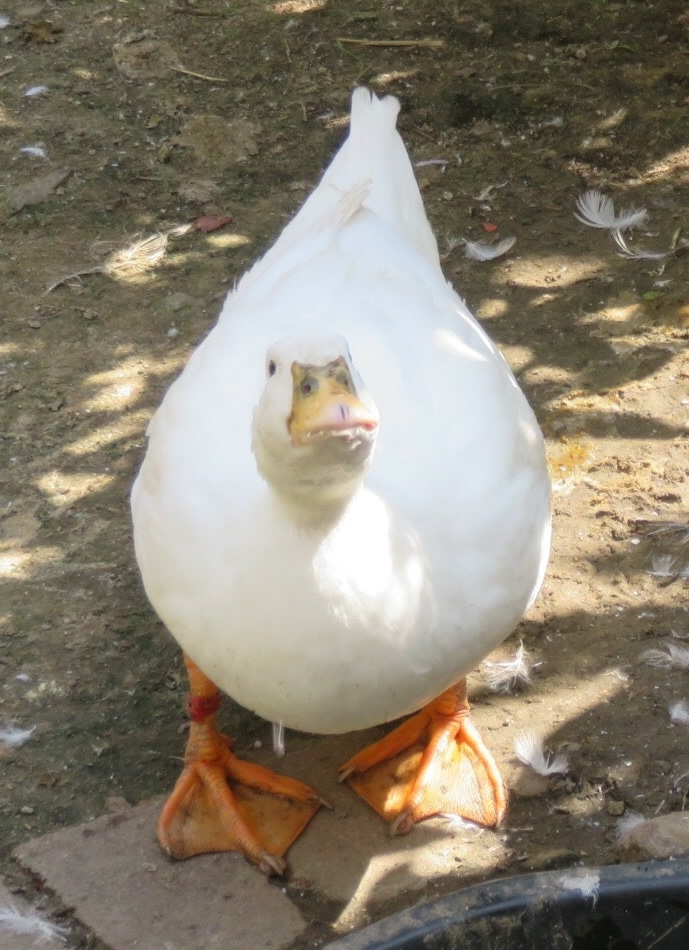 Airline Ellie!
Majestic Newcomer!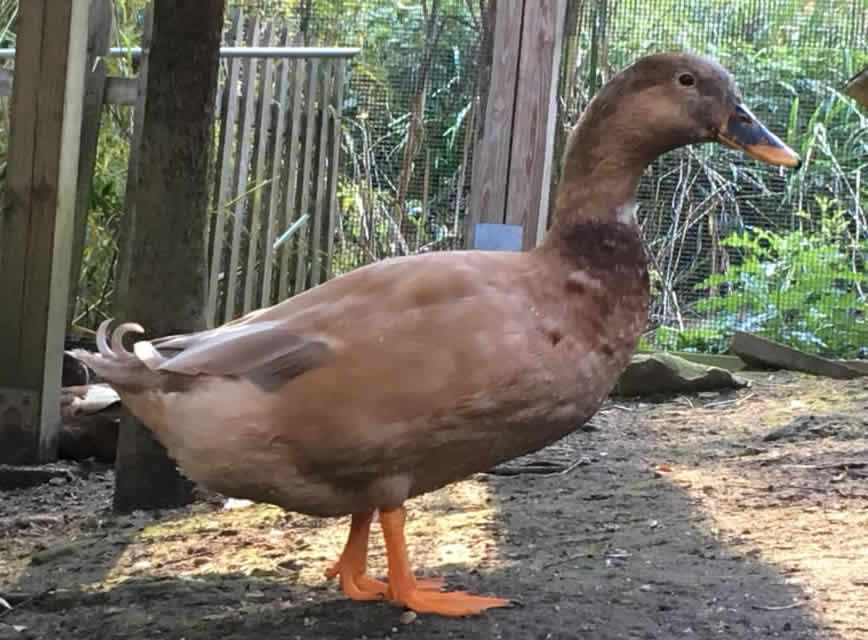 Lookout arrives and her adoption is pending!
Majestic Newcomer & Adoption!
Sprout is rescued, adopted and is now "Ottis" at Fred & Friends!
Special thanks to his foster family: Lisa, Tony, Marv, Dean & Crowley!
Majestic T-Shirts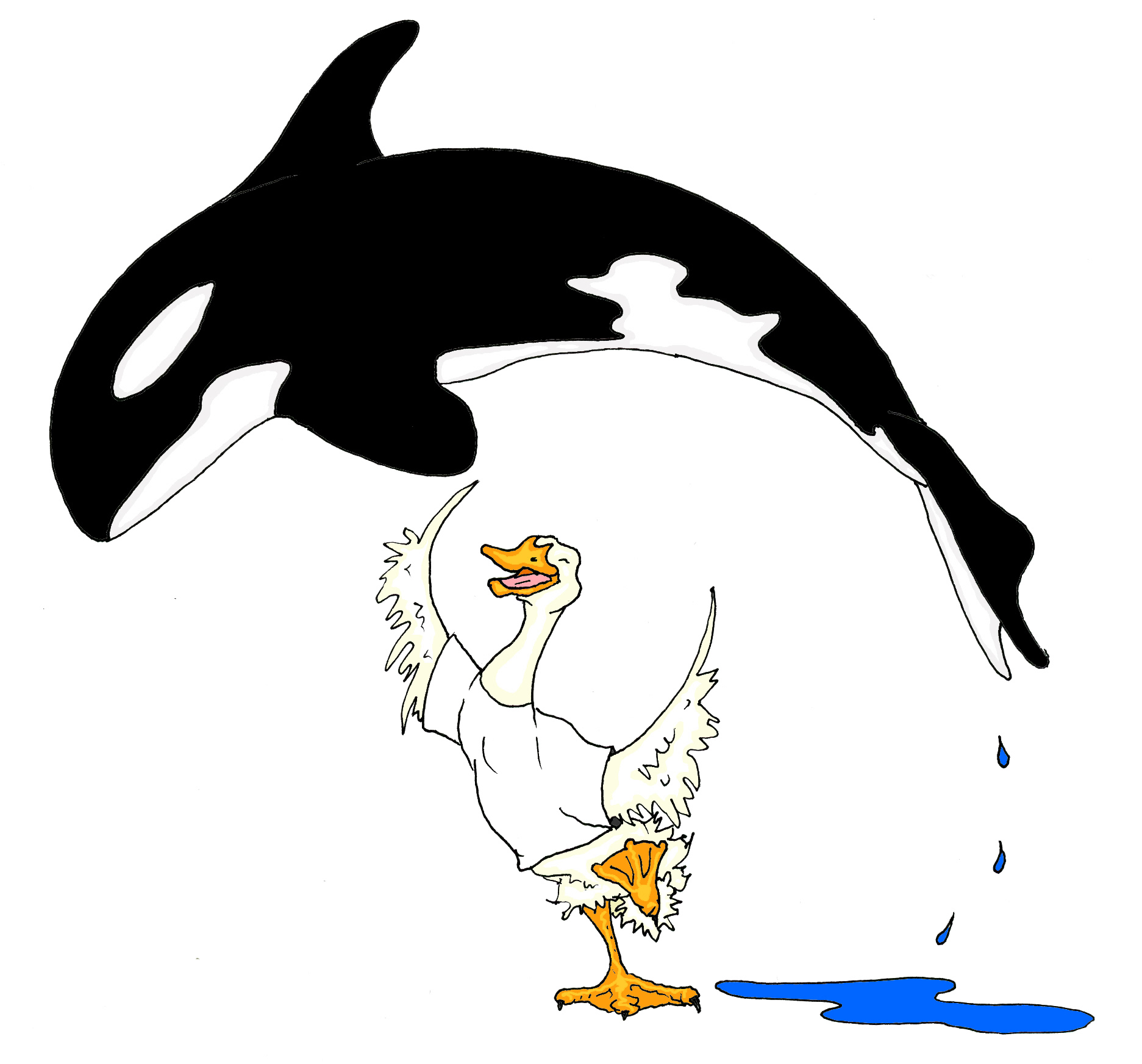 Our new Waterfowl Memorial T-shirts and our classic Muckin' Fun for Everyone t-shirts are now being sold, printed and shipped by Chook Shirts. This change means a much bigger chunk of the proceeds are now received by our sanctuary. Thank you so much for all of your help and services, Jenn!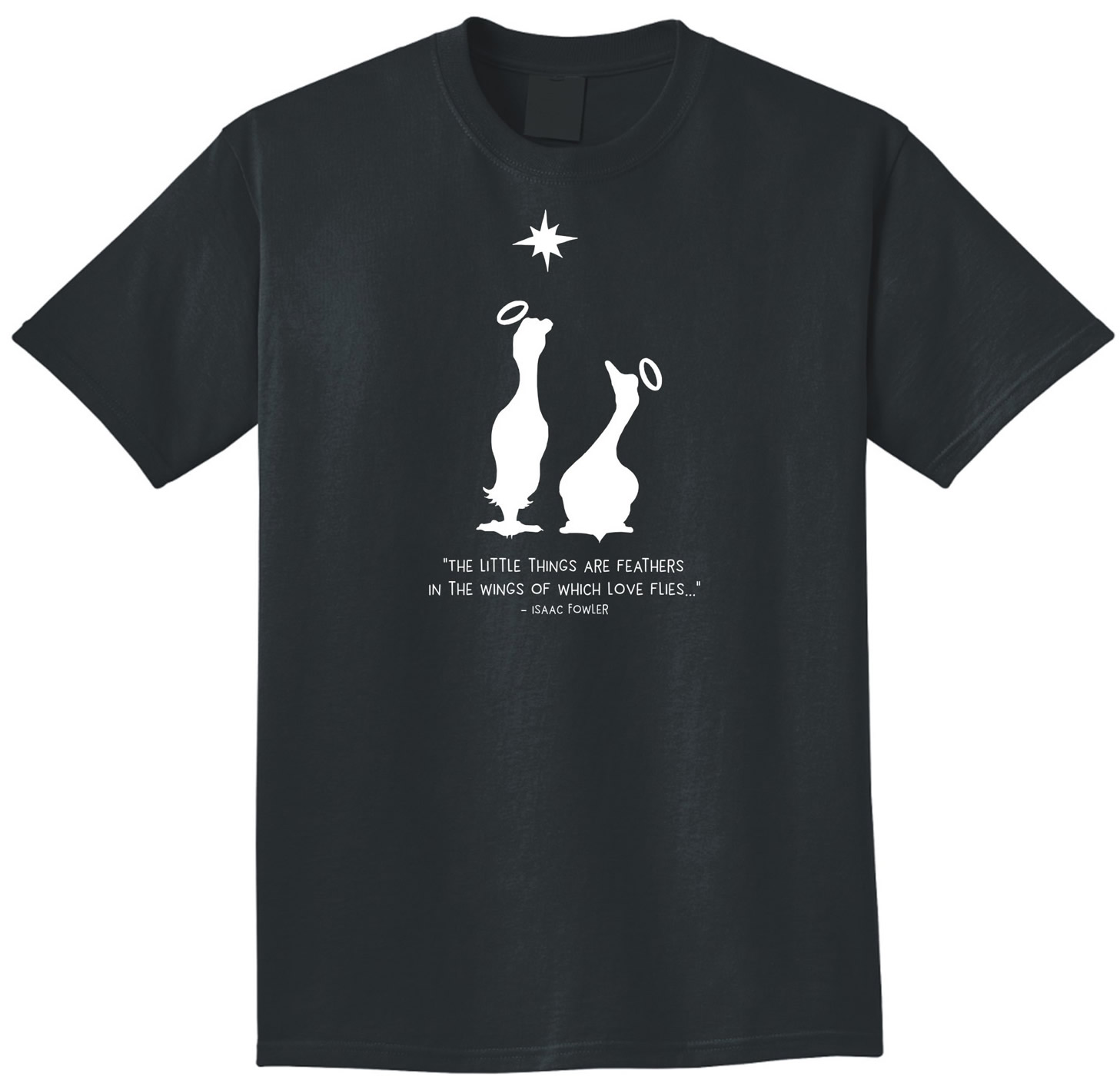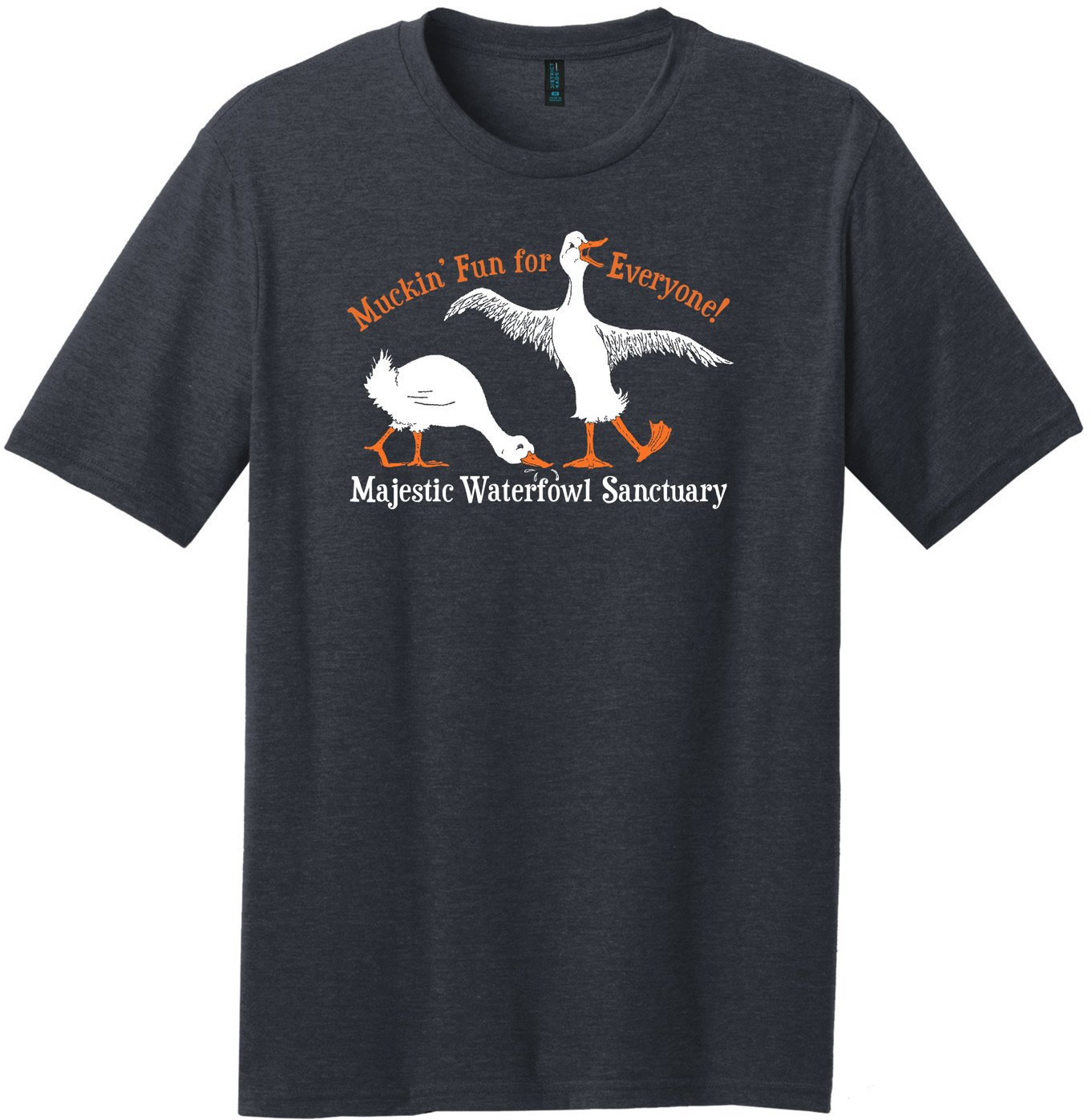 Gift Keepsakes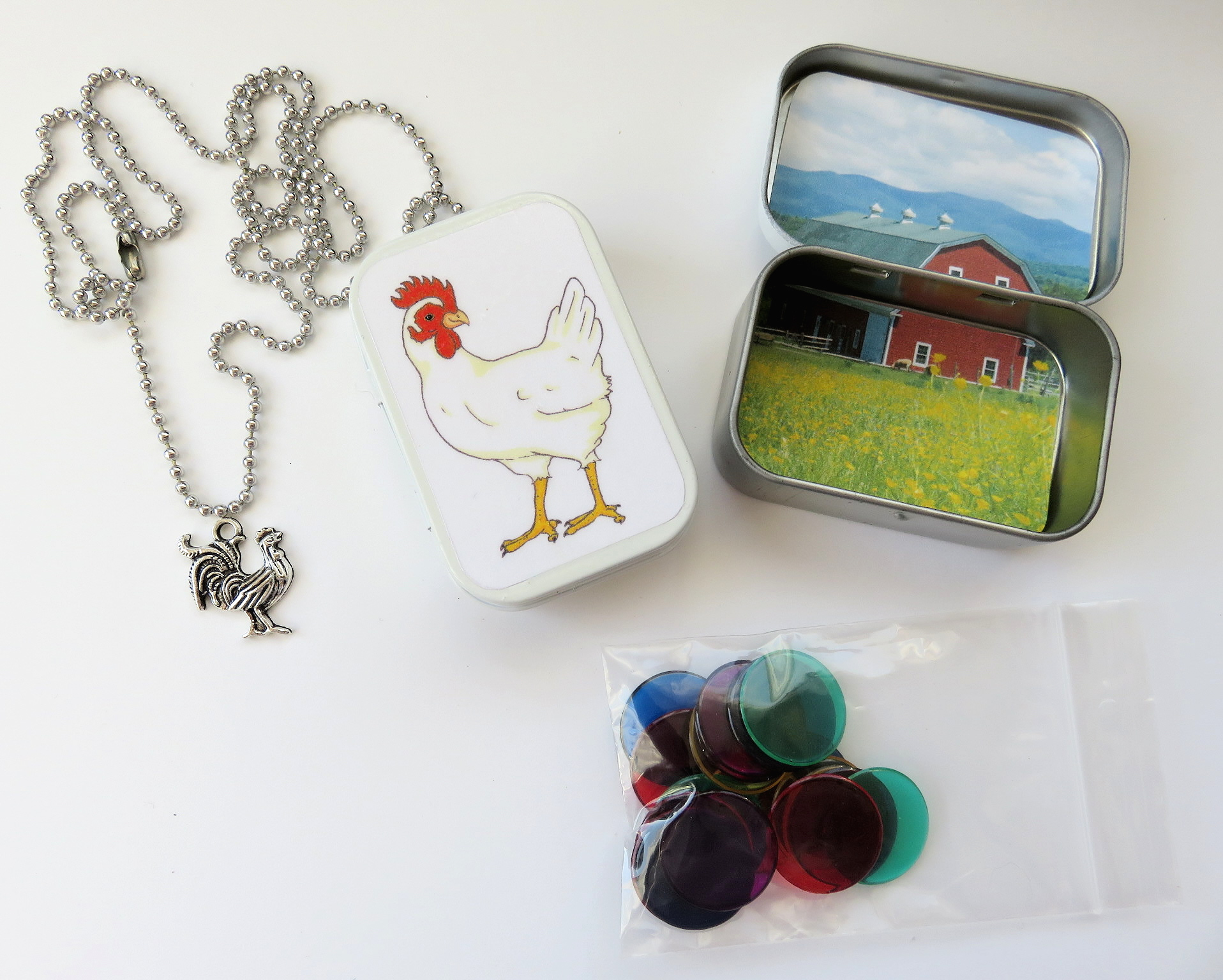 Visit our external website that features photos and descriptions of all of our Pet Keepsakes and Pet Memorial Care Packages.
These gifts are all customizable and are available in various donation levels to suit different budgets.
Please keep in mind, you still need to visit the Pet Memorial page of our own Majestic website in order to donate for yours.
Majestic Gift Shop
Visit our Majestic Gift Shop for some fun Majestic items! Proceeds from the shop benefit our sanctuary!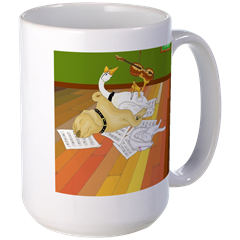 Majestic Sponsorships!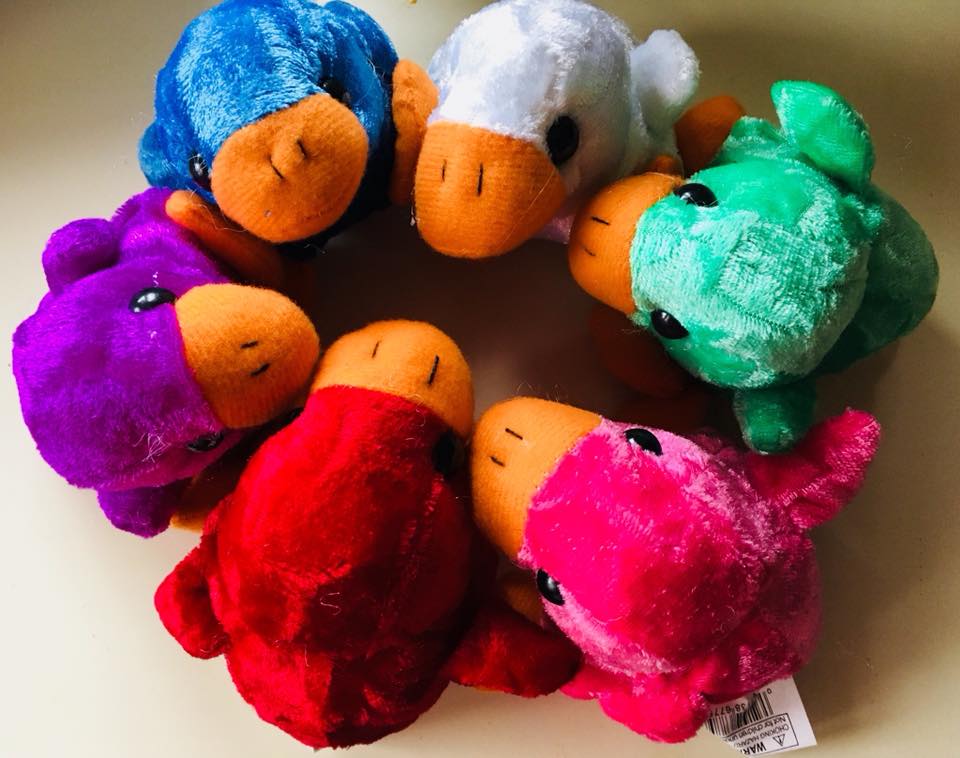 Give the gift that keeps on giving! Please consider sponsoring our rescued ducks and geese. Visit our Sponsorship Page to learn how!
*Sorry... Continental USA only.
Contact Us
Majestic Waterfowl Sanctuary
17 Barker Road
Lebanon, CT 06249
director@majesticwaterfowl.org
Our Newsletter
The Majestic Monthly is published 12 times per year. Previous issues are available in our Archives.
Respiratory Health
Breathe in... And... Breathe out... Ahhhhh...
Let's celebrate healthy breathing this month by learning a little bit about your pet's respiratory system and how to recognize and treat a few of the troubles that can occasionally arise.
Your duck's trachea, lungs and multiple sets of air sacs make up their respiratory system: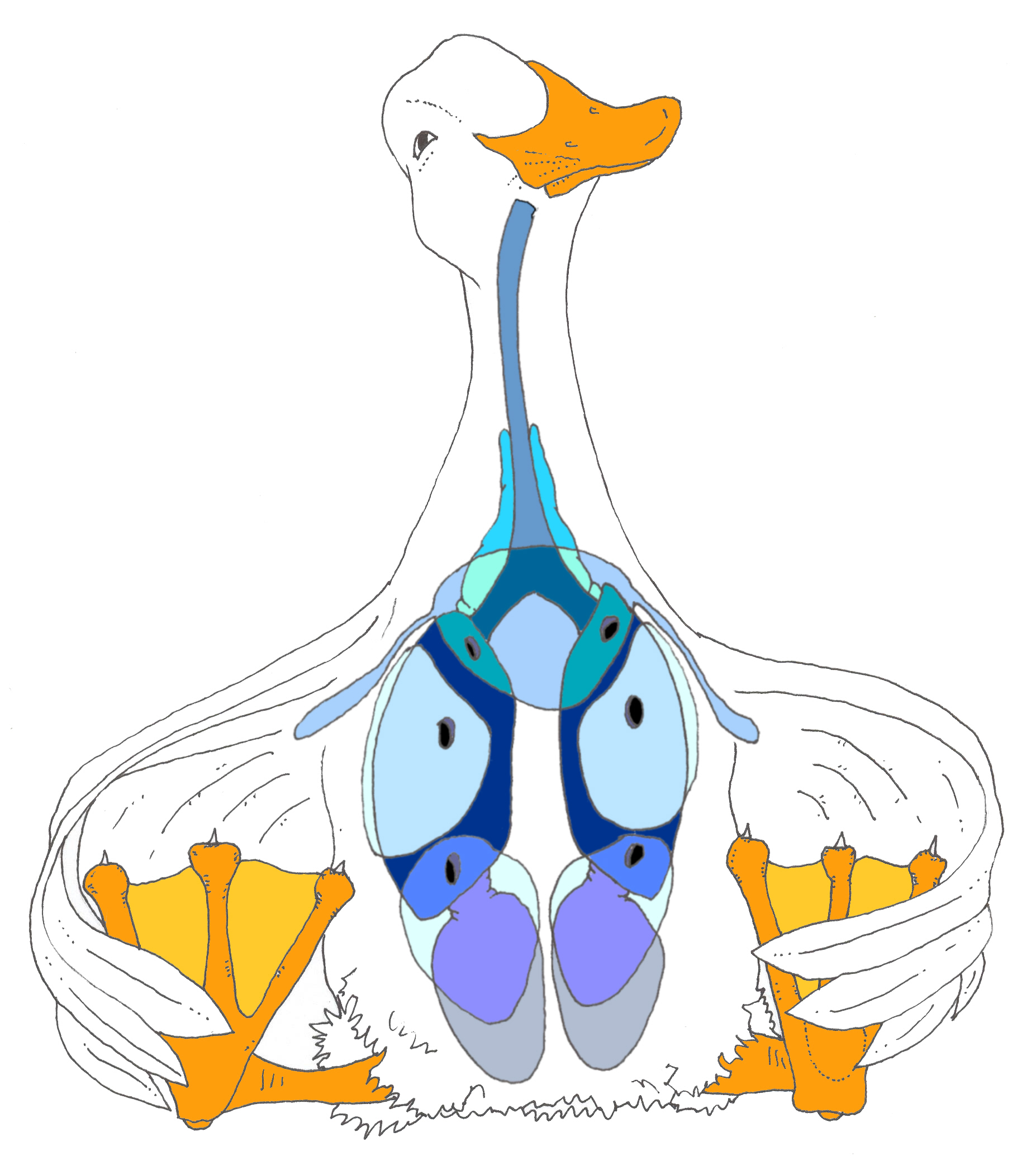 Or a little more like this if you have a pet goose: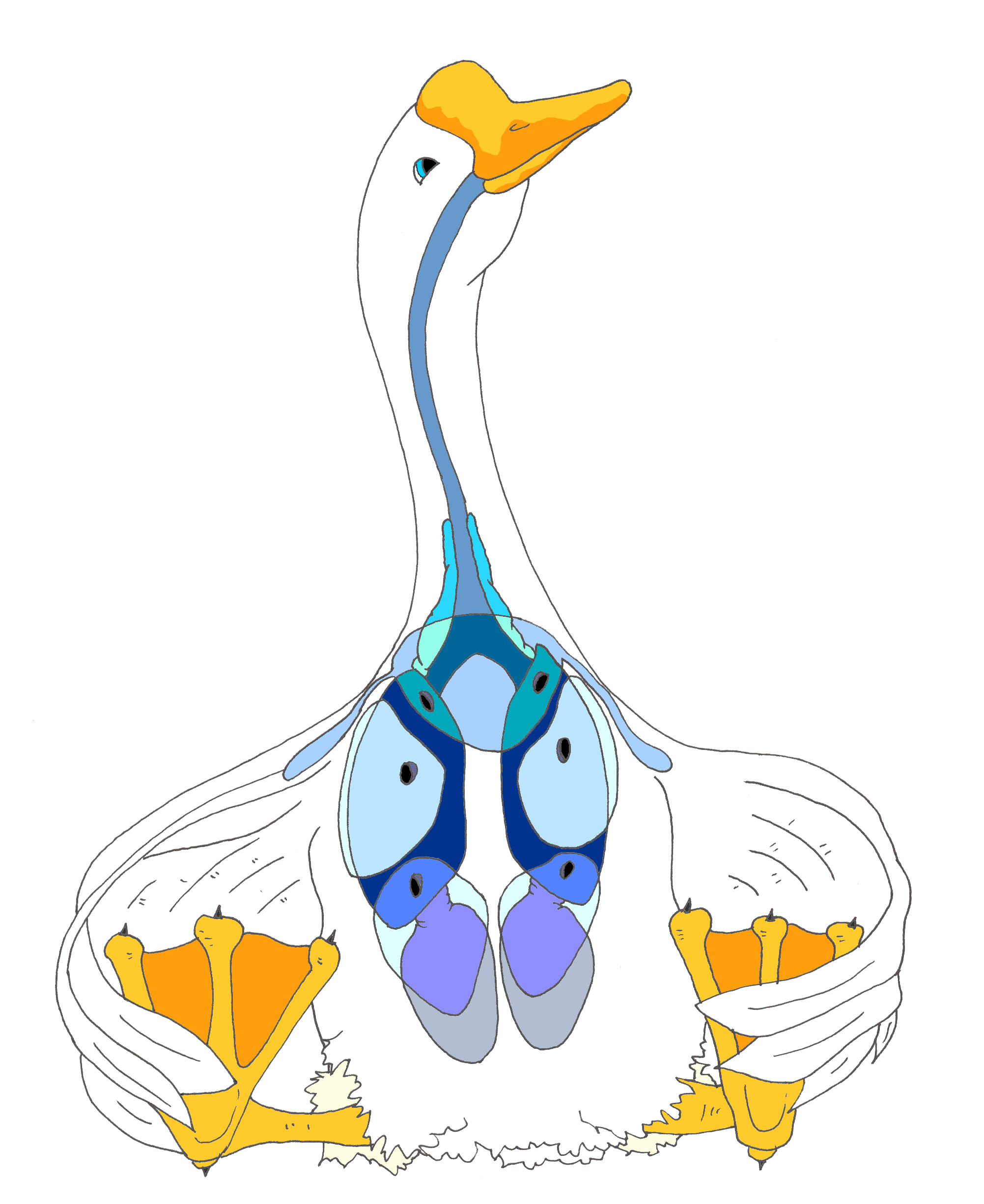 ---
Air Sac Injury & Infection
In addition to a set of lungs, your duck (or goose) also has a complex system of air sacs throughout their body. Complete air movement in and out of their body takes place over the course of two of their breaths. An injured or ruptured air sac will often change the buoyancy of your pet.
Some symptoms of an infected air sac may include: difficulty breathing, wheezing, coughing, excessive open-bill panting and abdominal heaving.
Symptoms of a ruptured air sac may also include: a duck or goose who floats incorrectly in water (unbalanced). If infected, the above symptoms may also apply.
Vets will confirm the diagnosis by listening to your duck or goose 's lungs and air sacs and by performing an x-ray. If they discover a punctured air sac there's not much they can do other than prescribe antibiotics to help prevent the risk of infection during healing.
90% of all air sac injuries in adult ducks and geese tend to remedy themselves on their own (provided antibiotics are prescribed). While your pet's overall healthy usually returns back to normal, occasionally, an air sac may remain collapsed. As long as your duck or goose isn't having any difficulty breathing there's often no need to intervene any further--even if they float a bit crooked.
About 10% of all air sac punctures require more invasive intervention. Younger ducks and geese seem to have more trouble recovering from ruptures than mature waterfowl. In these more difficult cases, an open catheter is often inserted and sutured into place to assist in your pet's recovery.
---
Pneumonia
Pneumonia is the result of a bacterial, fungal, parasite or viral infection, which attacks your duck's respiratory system and causes fluid to accumulate in their lungs.
Some symptoms of pneumonia may include: difficulty breathing, wheezing or gurgling, coughing, sneezing, nasal discharge, excessive open-bill panting, abdominal heaving, fever, fatigue and loss of appetite.
Breathing difficulties should always be taken very seriously. Bring your duck to the vet immediately. They'll confirm the diagnosis by listening to your duck's lungs (and air sacs), taking their temperature and possibly performing an x-ray.
Upper respiratory infections like pneumonia require immediate antibiotic intervention. Vets will commonly jump-start their treatment by administering an injectable dose (commonly Baytril®) right away, while sending you home with a prescription of oral antibiotics to be given over the course of the next 10-14 days. During this time, try to keep your duck out of extreme temperatures to reduce their stress levels and minimize their recovery time.
---
Aspiration Pneumonia
Aspiration pneumonia occurs when your duck or goose accidentally inhales liquid, food, blood or vomit down into their trachea and lungs.
Some symptoms of aspiration pneumonia may include: gurgling when breathing, coughing, trouble swallowing, hoarseness, shortness of breath, panting and fever (if an infection sets in).
The aspiration of a small amount of water will usually work itself out. If your duck or goose exhibits symptoms for more than two hours, or if their condition worsens (even mildly), it's time to call your vet for help. In extreme cases where food, blood or vomit is aspirated, a favorable outcome is far more unlikely and vet assistance should be sought out immediately.
Your vet will confirm the diagnosis by listening to your pet 's lungs and possibly performing an x-ray. Antibiotics (commonly injectible Baytril®) may be required to prevent infection, hinder the formation of lung abscesses and avert the risk of related tissue necrosis. In severe cases, your duck or goose may need to be put on oxygen to help them breathe.
---
Helpful Books for Momma & Poppa Ducks and Geese
For more thorough information regarding lungs, air sacs and other health and care topics, check out The Ultimate Pet Duck Guidebook and The Ultimate Pet Goose Guidebook, which are both available in b&w and color versions on AmazonSmile.
Links to all of Kim's waterfowl books can be found here: Happy Duck Publications.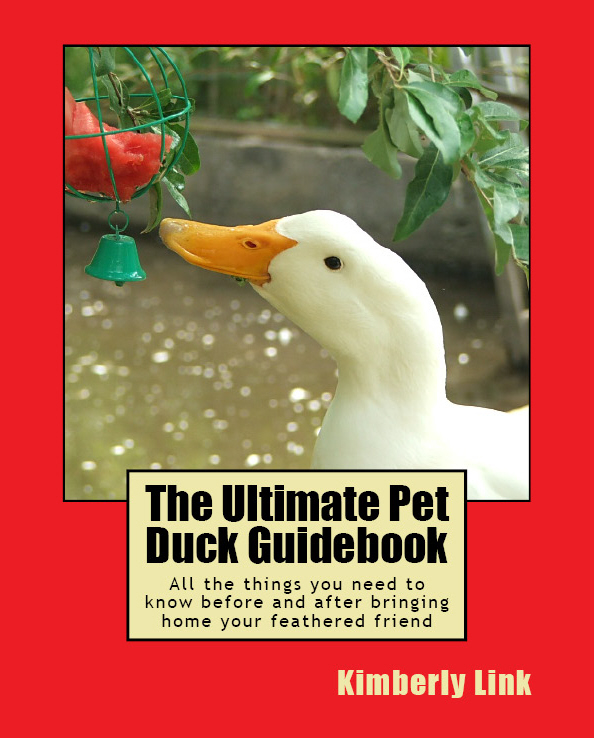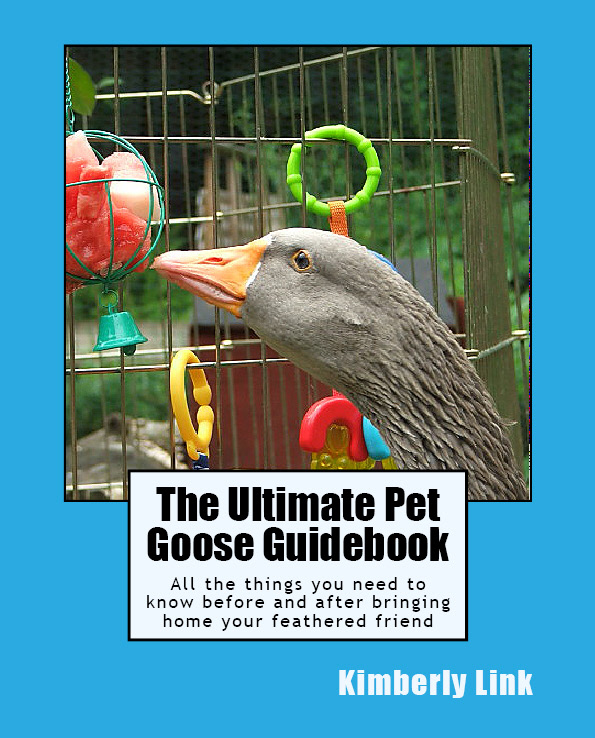 ---
Untitled Goose Game Most Annoying Goose Ever!
Check out this fun new Goose Game!