Oreo Update

Assisi Loop

Matched Fundraiser Results

FREEZING Cold Temps!

The Month in Photos!

Majestic Newcomer!

Majestic Adoption!

Gift Keepsakes for Animal Lovers

Majestic Gift Shop

Majestic Sponsorships

To Make a Donation, please click here: Donation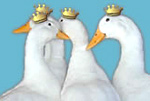 Please Help Today!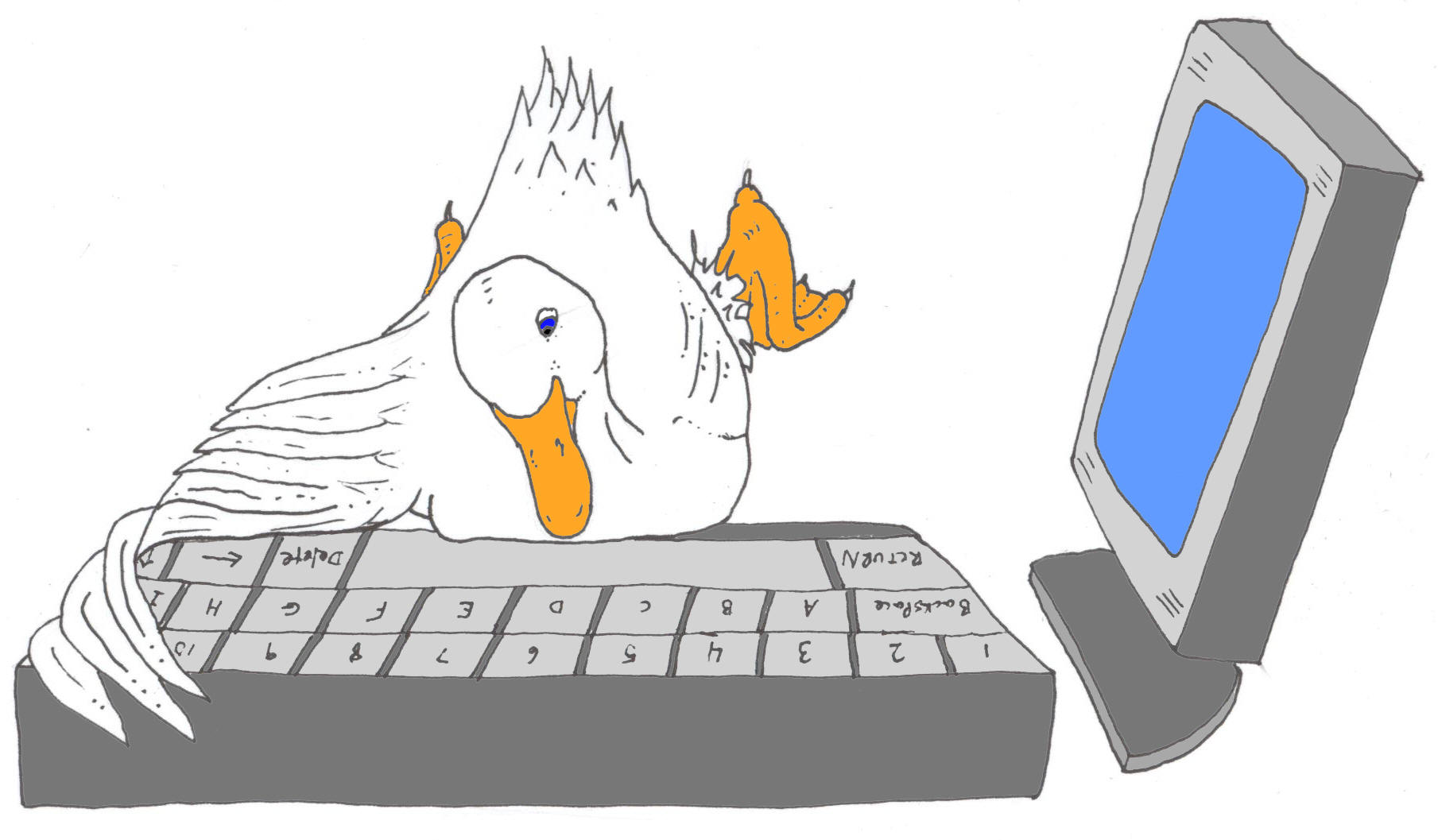 For lots of photos and updates as they happen! This is where you can see and hear all the latest news FIRST!
The Month in Photos!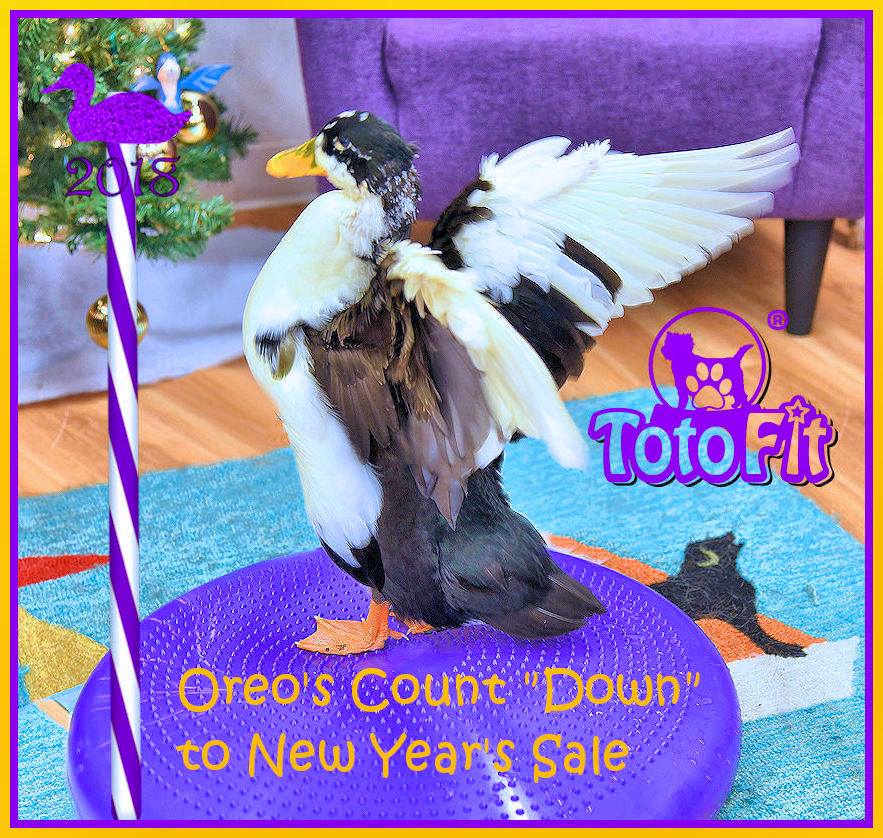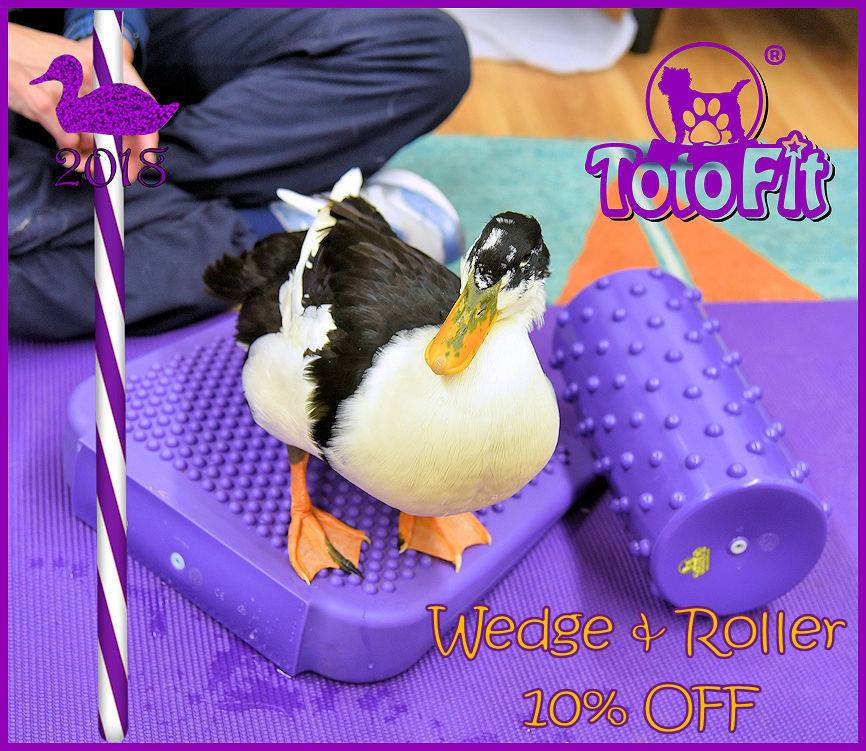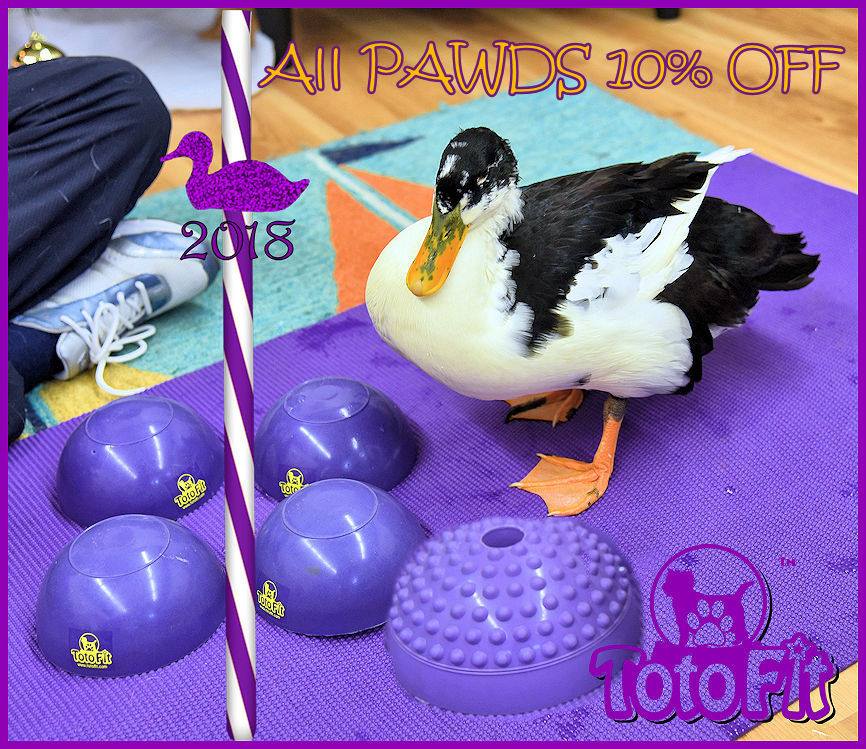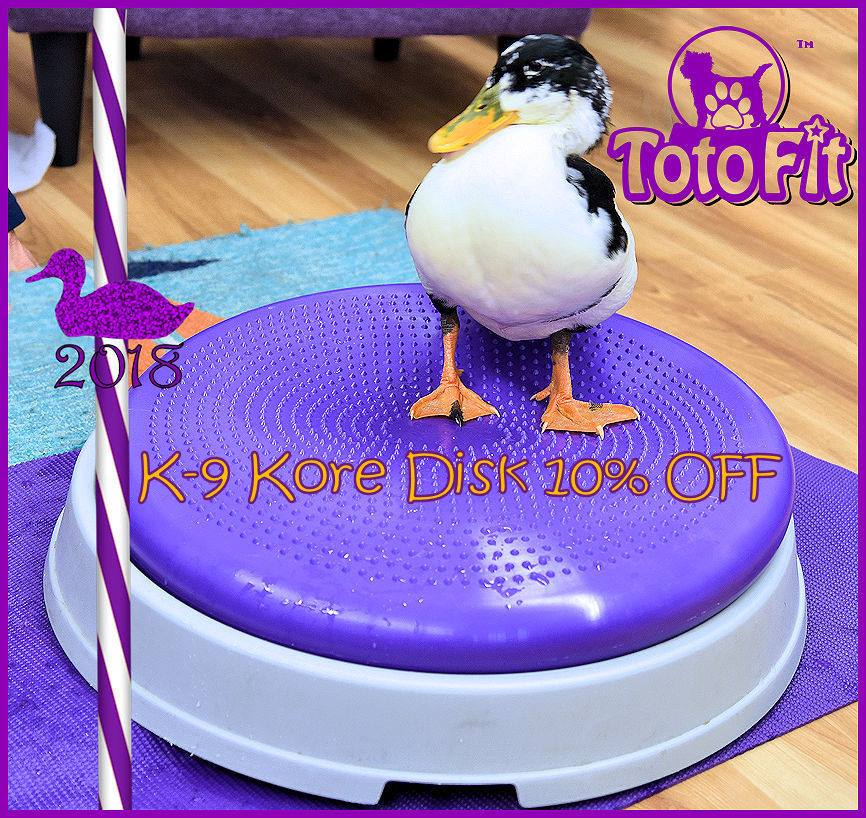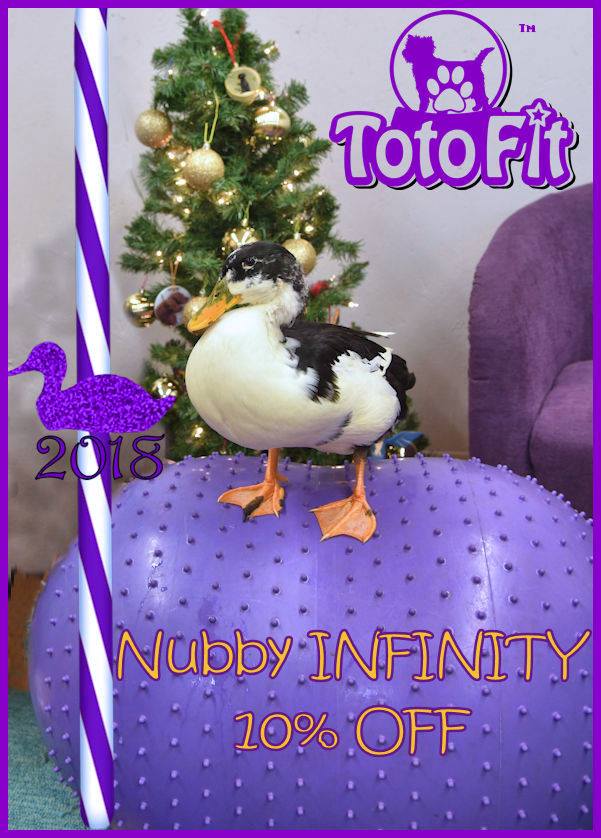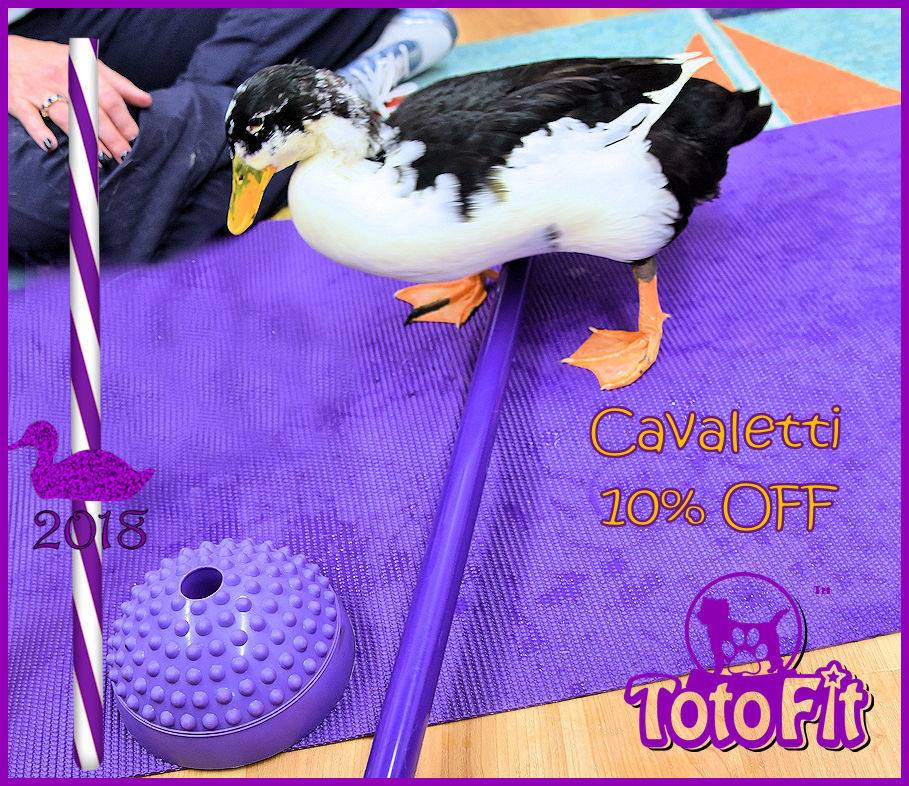 Oreo's New Year's Count Down
Ad campaign for TotoFit at
Wizard of Paws
Majestic Newcomer!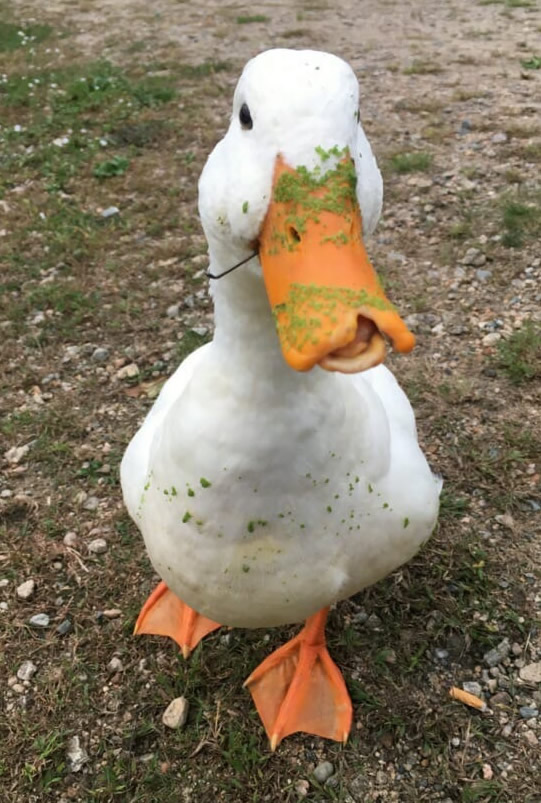 Welcome Lincoln!
Majestic Adoption!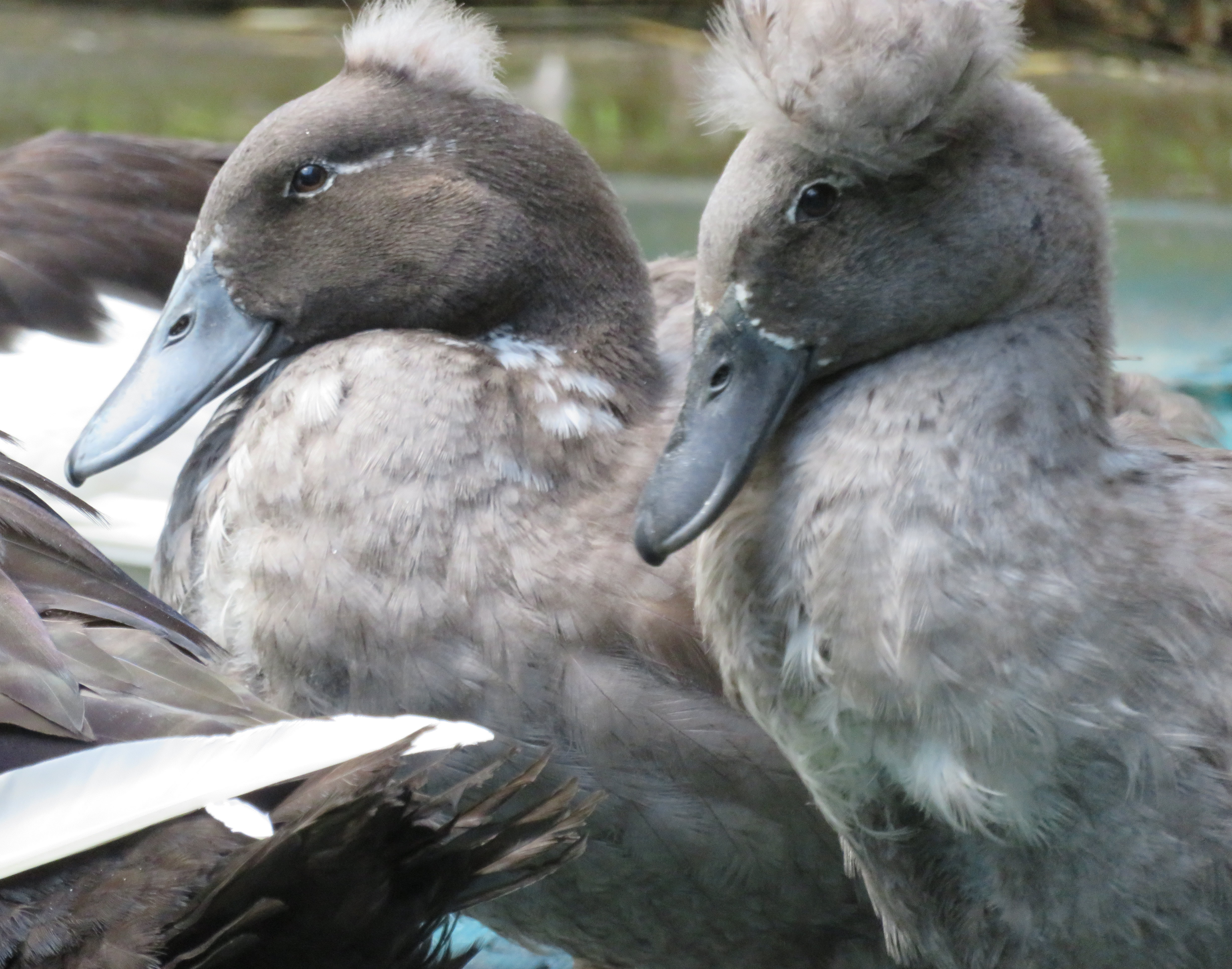 Wishing Joxephine & Kyoto love and Joy in their new home!
Gift Keepsakes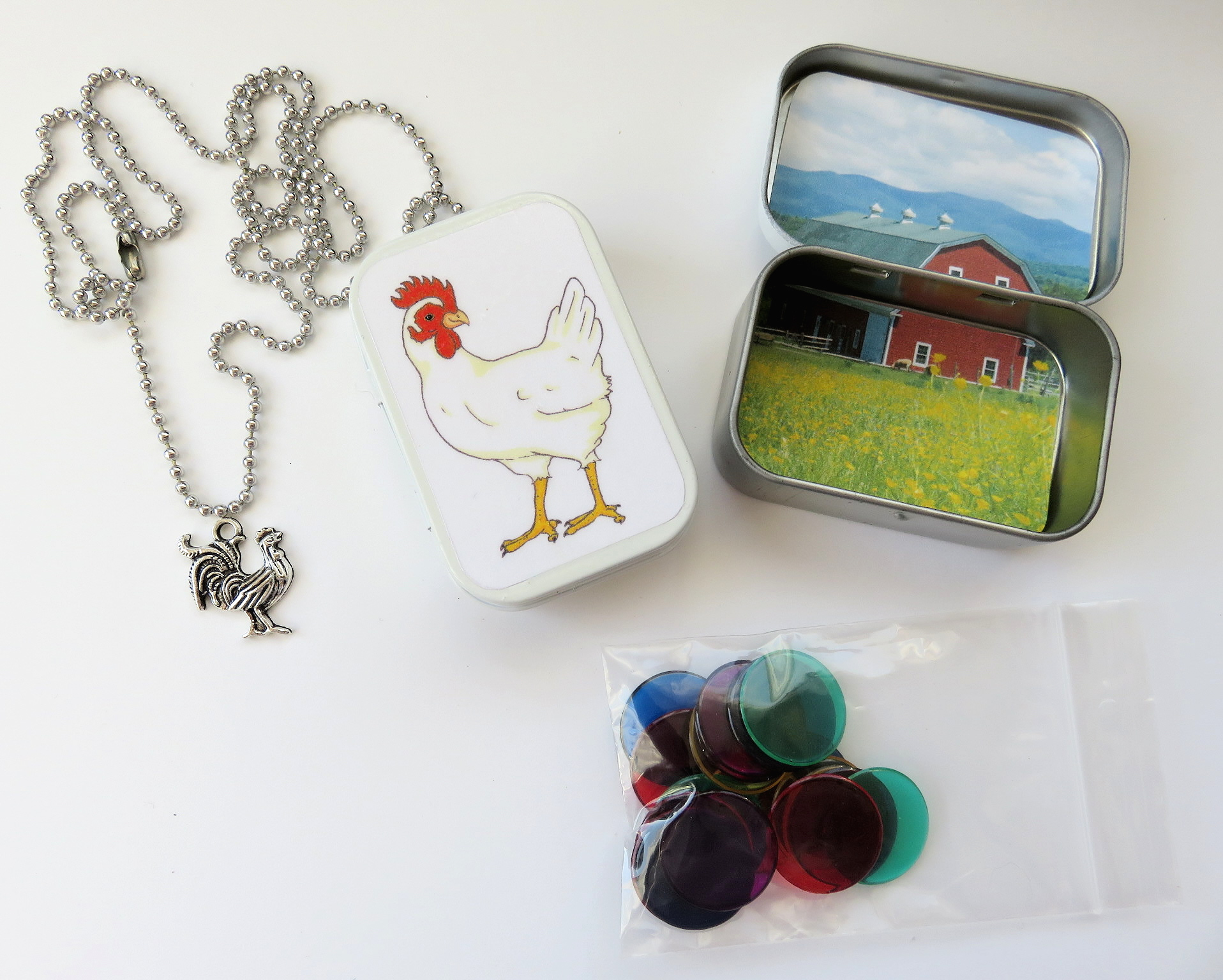 Visit our external website that features photos and descriptions of all of our Pet Keepsakes and Pet Memorial Care Packages.
These gifts are all customizable and are available in various donation levels to suit different budgets.
Please keep in mind, you still need to visit the Pet Memorial page of our own Majestic website in order to donate for yours.
Majestic Gift Shop
Visit our Majestic Gift Shop for some fun Majestic items! Proceeds from the shop benefit our sanctuary!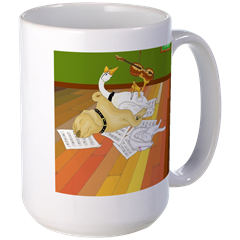 Majestic Sponsorships!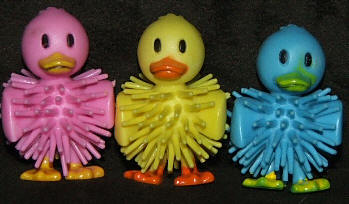 Give the gift that keeps on giving! Please consider sponsoring our rescued ducks and geese. Visit our Sponsorship Page to learn how!
*Sorry... Continental USA only.
Contact Us
Majestic Waterfowl Sanctuary
17 Barker Road
Lebanon, CT 06249
director@majesticwaterfowl.org
Our Newsletter
The Majestic Monthly is published 12 times per year. Previous issues are available in our Archives.
Oreo Update
As many of you know, Oreo came to us in November following a weasel attack that nearly took her life.
We're thrilled to report that today Oreo is doing great and has gained back a pound of her lost weight! She is eating and quacking and doing all kinds of ducky things--she's even outside in our barn enjoying the company of other ducks again. She still has one large scab that hasn't released yet (and won't for a couple of weeks with any luck--no scratching!), so she still has to be separated from the others, but she can see everyone and interact pretty readily with the crowd.
She still has a sore spot in the muscles where her neck meets her chest (identified during her check-up by our vet), so we are continuing with her laser therapy and physical therapy at Wizard of Paws in Colchester, CT. Special thanks to Debbie for donating their services to help our little Oreo recover!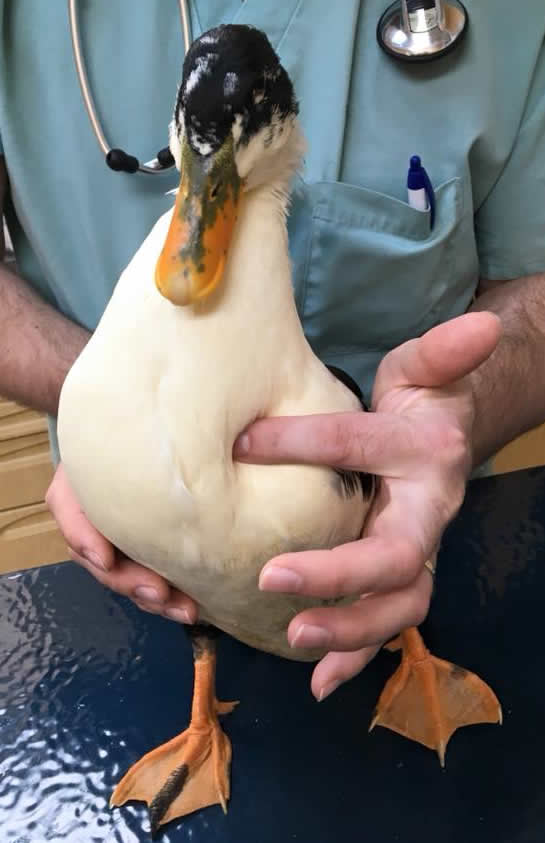 We have noticed a slight targeting issue when she aims for her food and water bowls. Sometimes she misses and starts walking backwards a little ways before coming forward and trying again. It could be that the weasel's tooth pierced her middle ear, or perhaps the large scab near her ear and some associated swelling is causing this targeting problem (although she has no trouble with her balance). It could also be that the weasel's tooth nicked an ocular nerve and interfering with her eyesight. There's really no way of knowing. We just have to hope that as the next few weeks go by, and the last of her swelling comes down, that a complete recovery will follow. If not, this little targeting issue will remain with her. Either way, she will thrive and live happily!
Oreo will probably be available for adoption sometime in February or March. Interested adopters should complete our Online Adoption Application now in order to get pre-approved.
---
Assisi Loop
When Debbie at Wizard of Paws donated an Assisi Loop to Oreo to help in her recovery, we were baffled. We'd never heard of this therapuetic loop that can be slipped over a leg, wing, or in Oreo's case, around her neck (while supervised, of course).
The Loop itself is lightweight, easy to use, and offers 150 treatments, each 15 minutes long. You just push a button to turn it on and it shuts off automatically at the end of the session. While Oreo was no fan of the blinking green light (we quickly learned to put the loop on with the light facing down, so she couldn't see it), it did let us know when her treatment period was over.
But how does it work? The Assisi Loop is a delivery system for a targeted Pulsed Electromagnetic Field. In simple terms, the pulses it creates, result in the production of nitric oxide--a principal anti-inflammatory molecule. Nitric oxide reduces pain, improves blood flow and reduces swelling. It further triggers the production of "energy" molecules, which drive growth factor production, which in turn support new blood vessel formation and tissue regeneration.
We placed the Loop on Oreo 2-3 times daily and each time, she reacted with some long comfortable neck stretches followed by some relaxed snoozing on Kim's lap.
We look forward to trying the Loop out on some of our older and arthretic ducks, to see if it helps with ankle, knee and hip issues.
For more information on the Assisi Loop or to purchase one your pet, you can visit the Assisi website, your pet therapist or your veterinarian.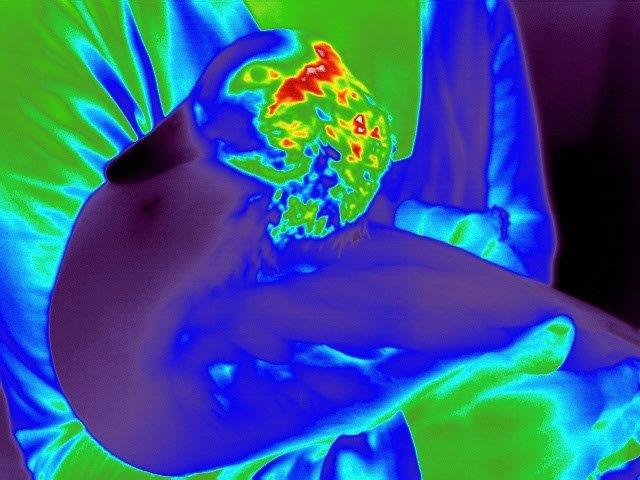 Thermal imaging at Wizard of Paws helped them focus Oreo's laser therapy sessions where she needed it most. Through this technology they could see below her feathers to her hidden puncture wounds and swollen areas. Wow!
---
Matched Fundraiser Results
Our dollar-for-dollar matched fundraiser on December 8th was a success! We reached our goal of $2o00 and our sponsor even went on to cover the extra $225 we raised on top of that... and then... they surprised us with a DOUBLE MATCH and donated TWO dollars for every dollar donated that day!
THANK YOU to everyone who donated and helped spread the word to others who gave as well!
And... THANK YOU to our private sponsor for helping us in our continued endeavor to rescue, provide care and find new homes for our very special ducks and geese!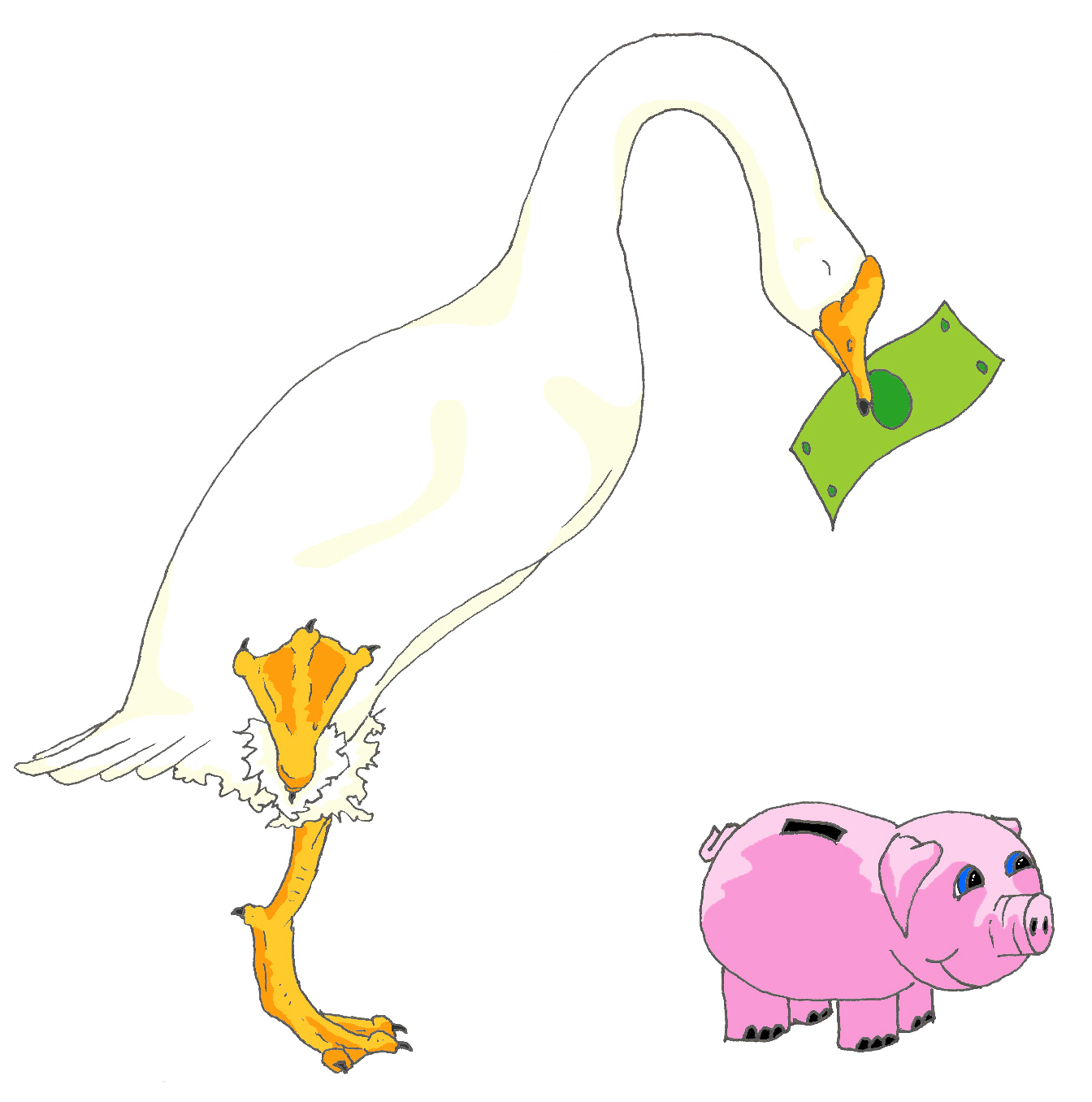 We have another private sponsor lined up to do a similar matched donation fundraiser day sometime in May or June, so stay tuned for more information on that as we head into spring!
---
FREEZING Cold Temps!
It's so cold in Connecticut! How cold is it?! It's SO cold that our relatives from Alaska came in over the holidays and said, "It's freezing here!"
We've been enduring daytime temperatures in the single digits with windchills that make an 8 degree afternoon feel like negative 15 degree one. And then, once the sun goes down, our nights are even colder.
Ducks and geese need to be protected from extreme cold in order to prevent frostbite to their bills and feet. If you have Muscovy ducks you also need to be extremely mindful of their faces, which can succumb to frostbite very rapidly.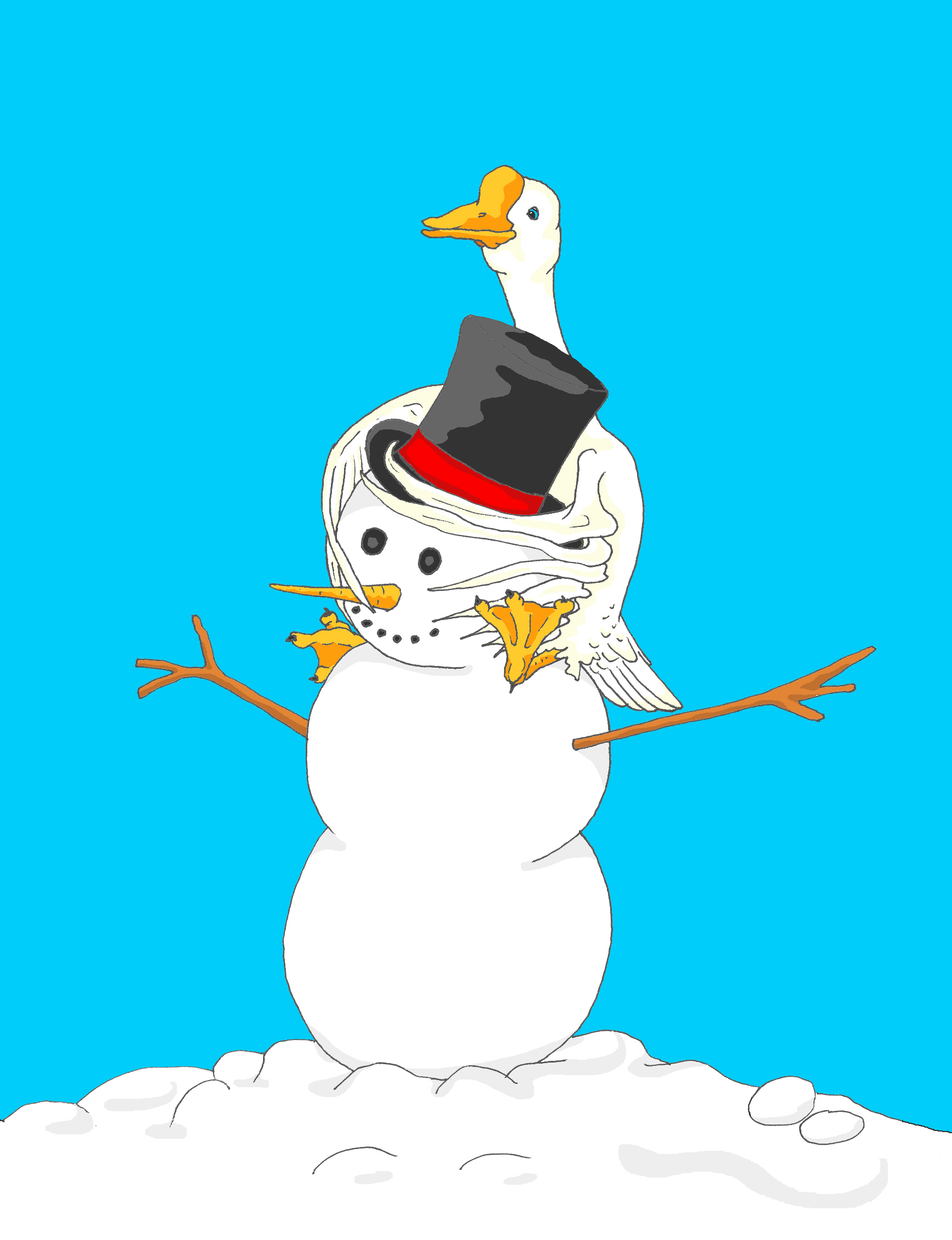 Whether you have a barn, shed or duck/goose house, it needs to be bedded with a thick layer of hay. Doors and windows need to be closed for the night to help keep the cold outside. Remember, smaller houses are warmer than larger, more open structures. This in mind, we have little vents on the doors of our smaller duck houses that allow a controlled amount of fresh air inside to prevent ammonia build-up when they poop.
While our barn ducks (comprised mostly of older, special needs and Muscovy ducks) have heated water buckets and food bowls available to them all night long, our smaller goose barns and duck houses do not have enough interior space to comfortably accomodate heated water buckets. As we all know, the rule of thumb with waterfowl is to remove their food bowls when they don't have access to water for the evening (in order to prevent choking).
Waterfowl houses and barns do not need to be heated in most regions because ducks and geese have a nice layer of down that will keep them warm provided they are protected from the wind and elements (especially icy rain). If you close them inside a bedded house for the evening, they will tuck their feet up into their belly fluff and nestle their bills beneath the warmth of their wing feathers.
How cold is too cold? We have completely predator proof pens at our sanctuary, which eliminate the need for evening lock-ups. Even so, when nightime temperatures are going to plummet below 15 degrees (and that is "feels like" degrees, not actual degrees), even our younger and healthier ducks and geese get loaded up for the evening.
Usually ducks and geese come back outside at sunrise the following morning, at which point feed bowls are set back into place again. However... due to recent extreme temps, we've had to make some adjustments. With frostbite warnings in effect until ten in the morning some days, we've opened up doors and served a "breakfast in bed" to a number of our residents. A nice warm bowl of water blanketed with a handful of floating Mazuri waterfowl food is inserted and then removed after a few minutes (because everyone knows if you leave an unattended bowl of water in your duck house, your ducks will soon SPLASH that water all over their duck house!). Once our guests have had a good chance to eat and drink, doors are once again closed until the sun is high in the sky and temperatures are safe enough for them to come outside.