Become a Majestic Sponsor!

Sorry... Only Available in the Continental USA

Our Majestic Sponsorship Program is important because it helps us provide feed, hay, vet care, basic supplies and other vital necessities to our rescued ducks and geese.
Our sponsorship gifts are shipped in beautifully packaged Gold or Blue shipping tubes, which makes for a great Birthday, Easter or Holiday gift--no need to wrap!
CAUTION: Small parts not intended for children under 8 years of age--or Ducks!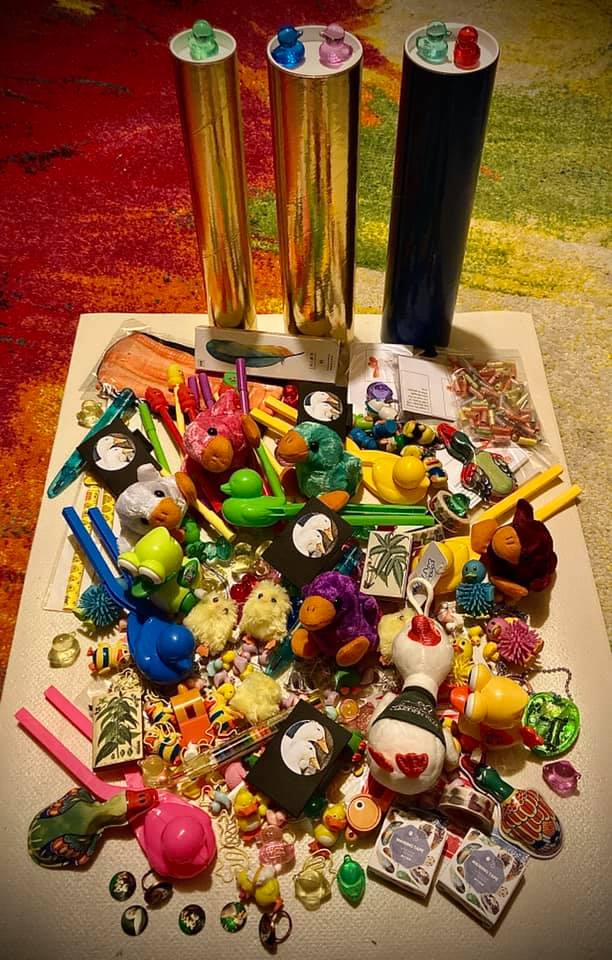 Styles & colors may vary from those shown in photos.
Our Standard $25.00 Majestic Sponsorship Tube includes a beautiful welcome brochure along with a random assortment of small toys and waterfowl gift items.
Our Special $35.00 Majestic Sponsorship Tube is LARGER and also includes our welcome brochure; as well as, a random assortment of added toys and waterfowl gift items (some of them larger!) as well as a very special Luck Bottle!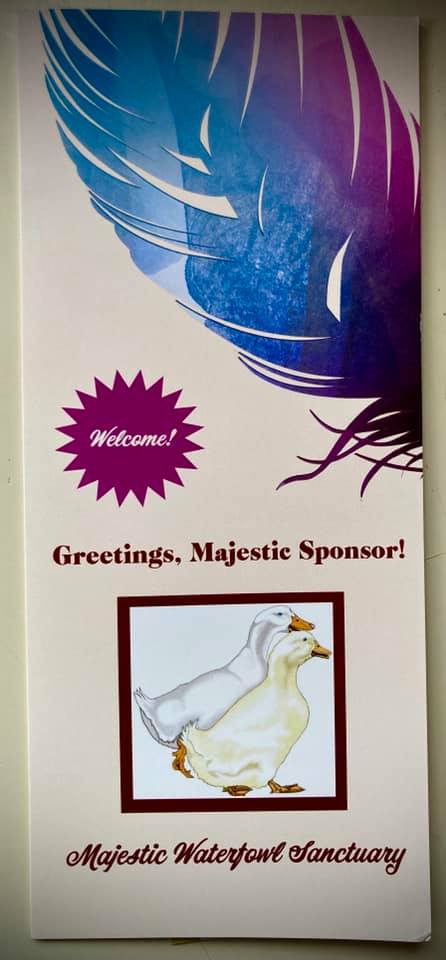 Gift tube items are random and different! As we receive various assortments of cute duck and goose goodies, we spread them throughout our Sponsorship gift tubes in order to keep them FUN!
From snowball makers, to wind-up ducks, from plush waterfowl, to ducky arts & crafts items. There are plenty of tiny bound books and adorable keychains in the mix (some of them hard-to-find treasures!). There are even a few randomly placed extra special treats--like some cool duck feet animal socks! But don't ask us which tube the secret items are in because we pre-stuff all of our tubes and then mix them all up together, so they're ready to ship. Do you feel lucky? Only one way to find out! Send them as a gift, or treat yourself!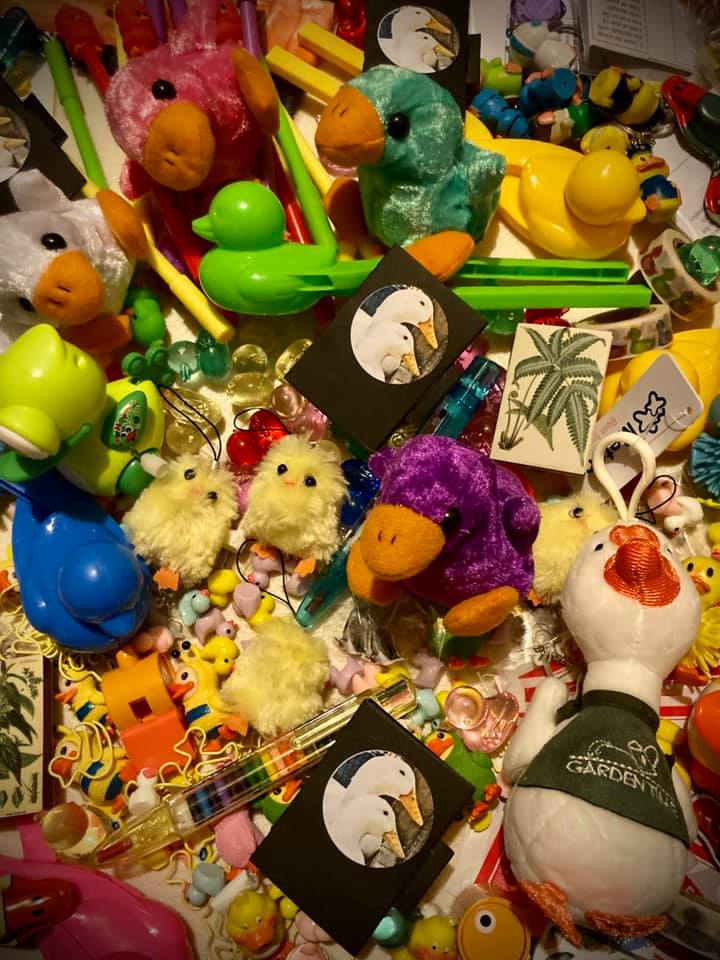 ---
Luck Bottles!
Luck Bottles are a guaranteed item in every Special Sponsorship gift tube, but what is a luck bottle?
Well, we always said that those abandoned ducks who are fortunate enough to make it safely into our sanctuary are some of the luckiest ducks in the world! And some of that luck just has to make it out into those beautiful feathers of theirs, right?!
Now, you can have one of those beautifully bottled Majestic Lucky Feathers by selecting our Special Sponsorship gift tube. Each vial is handmade and comes beautifully packaged--a real treasure!
Luck Feathers are tiny neck feathers that are humanely collected from our grounds during natural periods of molt. They blow in the breeze and land in the grass, and we often refer to them as "duck glitter," which why we bottle them up with some nice sparkly stuff!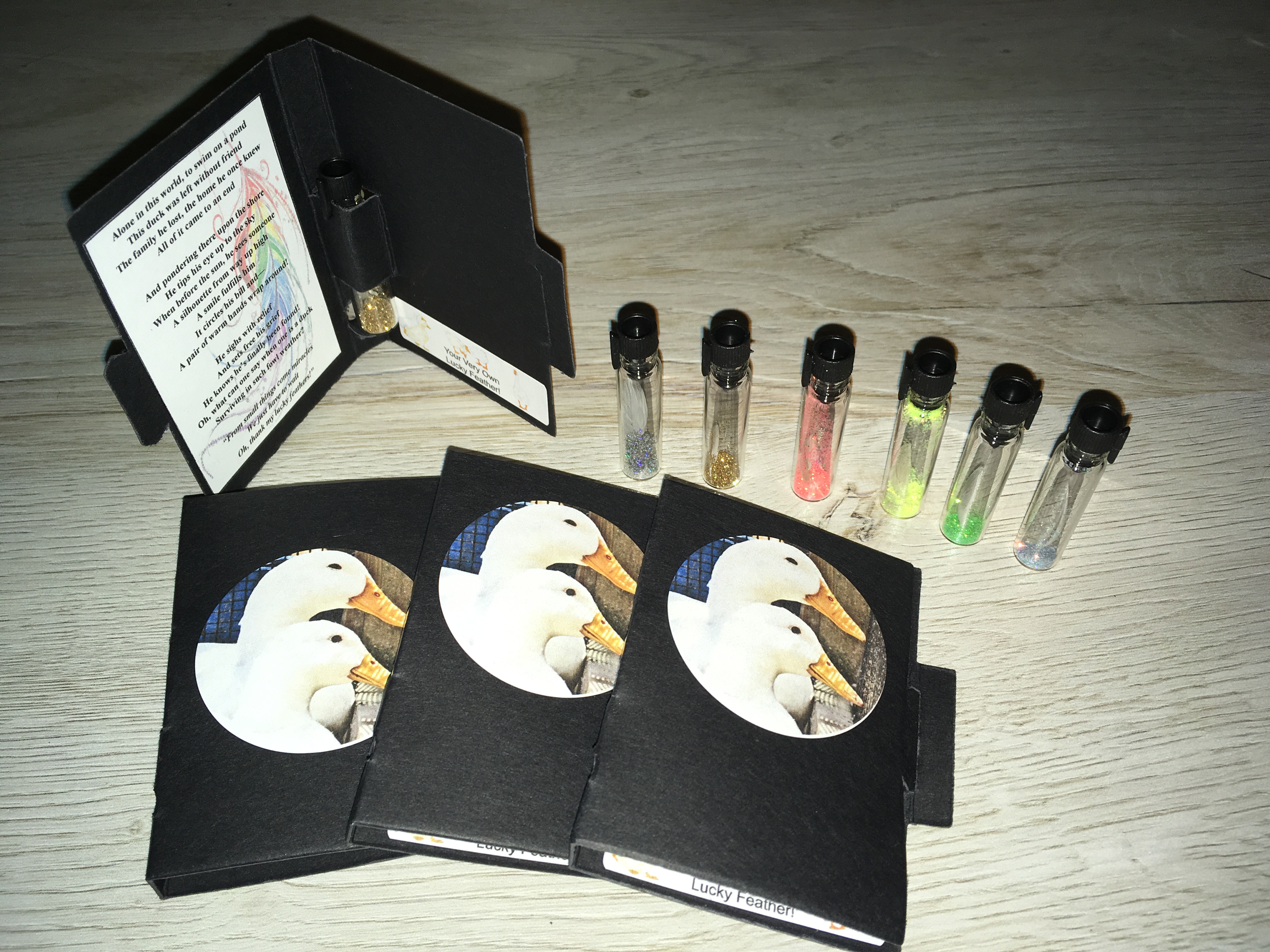 Luck Feather Poem:
Alone in this world, to swim on a pond
This duck was left without friend
The family he lost, the home he once knew
All of it came to an end
And pondering there upon the shore
He tips his eye up to the sky
When before the sun, he sees someone
A silhouette from way up high
A smile fulfills him
It circles his bill and—
A pair of warm hands wrap around
He sighs with relief
And sets free his grief
Because he knows he's finally been found!
Oh, what can one say when one is a duck
Surviving in such fowl weather?
"From small things come miracles,
we just have to wait--
Oh, thank my lucky feathers!"
---
© Majestic Waterfowl Sanctuary 2005, 2015