LAST CHANCE! Blue Ribbon Photo Contest!
What? Still haven't entered our Blue Ribbon Photo Contest? Enter now for your chance to win!
Each of our two lucky winners will receive a GORGEOUS metallic blue and silver, 4 tier, rosette ribbon with three 30 cm long tails and an imprinted silver "1st" in the center.
A personalized and framed Majestic Waterfowl Sanctuary Winner's Certificate will also accompany each Blue Ribbon awarded.
There will be two categories and two First Prizes, one for Most Comical & one for Most Photogenic. In addition to being awarded Blue Ribbons and framed Winner Certificates, winning photos will also be featured in our April newsletter and on our Winner's Circle page.
Photos and entry fees for this year's competition will be accepted through March 15, 2009.
Visit our Blue Ribbon Page for further information, submission guidelines and to view photos of our previous winners.
ENTER WHILE YOU STILL CAN & GOOD LUCK!
---
Miri's Final Days...
After nearly two years in our care and after being diagnosed with cancer in December, ten year-old Miri succumbed to the tumor that had invaded her body in February.
This beautiful girl lost her life-long, special needs friend Glory last August, and the only soul who was able to mend her heart was our special needs newcomer Benny. Miri and Benny spent every single day together, waddling around their pens, sleeping in the sun and swimming on the pond.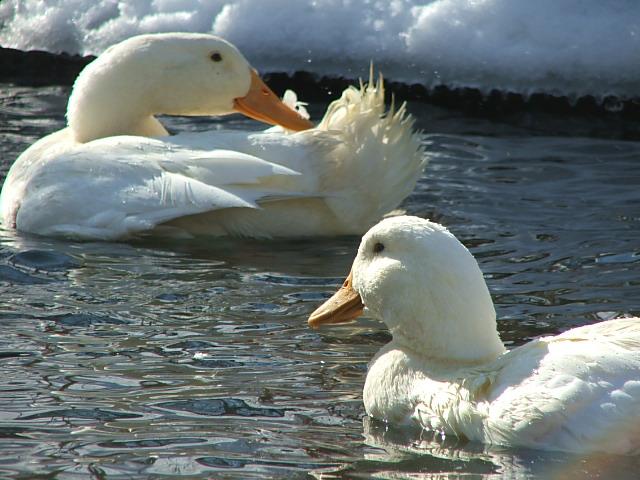 Benny & Miri
We began to notice Miri's health deteriorate further on a Saturday, when we had to increase her medication in order to comfort her. We were fortunate to have a spring-like day in February and carried Miri and Benny out from the barn and down to the pond for a relaxing swim together. But by Sunday, we noticed that Miri was not eating and was no longer wadding around the barn.
On Monday morning we brought Miri inside for a nice, warm bath in the tub followed by a blow-drying session. Normally, Miri lets us know when she has had enough of this routine and wants to go back to the barn, but this time, she did not protest. She was tired, her breathing was labored and for the first time ever, there was that look in her eyes that let us know she was ready to move on.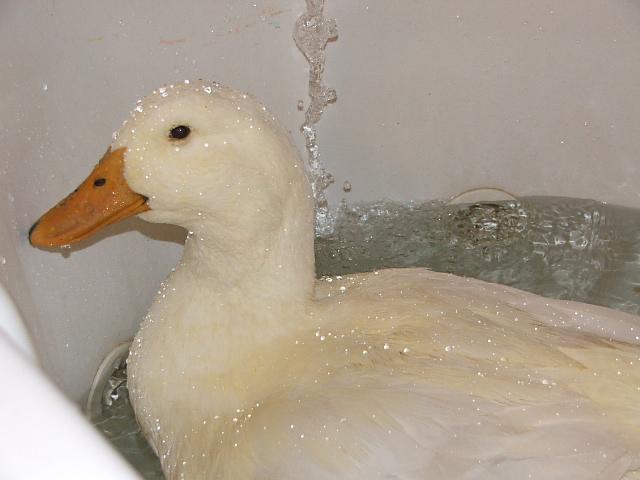 Miri's last swim in the tub...
We brought Miri to the vet that same morning, February 9th, and held her in a blanket in our arms while she drifted off quietly to sleep.
Miri was a beautiful duck with a strong spirit; she always had a special place in her heart for other ducks who were not able to take care of themselves all on their own. She spent most of her days cuddled beside those who could not follow the rest of the flock around the pens. She preferred their company to all others.
Our beautiful, Miri-Miwi, we know Glory was there waiting for you when you crossed over and this time she will take care of you. And don't you worry one bit about your Benny boy; we will take extra special care of him for you. You will always be remembered--always our sweetheart. And we will lay your ashes down to rest, forever beside your Glory angel.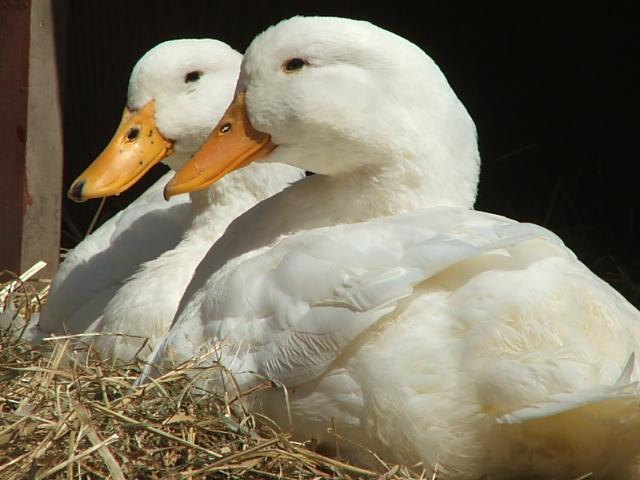 Glory & Miri ... Together again...
---
A Tribute To Neo...
Miri was not the only duck we had to say good-bye to. Unfortunately, as we accept more elder and special needs ducks into our care we realize we invite greater risk into our hearts. Although we have had many great success stories with the likes of Joseph, Elijah, Glory and Benny, our success story with Neo was far too short.
Neo was a mute little duck who joined our sanctuary last September with a serious digestive issue that left him on the brink of starvation and with so little energy he could barely stand up, let alone walk. By grinding up his food and serving it in a specialized, timed feeder we were able to completely rectify his condition and our little boy was able to eat and digest regular food normally again.
But beneath this ailment lied a serious neurological issue and we suspect this is why his owners originally abandoned him. Neo was unable to waddle along like other ducks and tended to walk a bit zig-zagged, struggling for his center and getting confused during some of his normal routines. In order to keep his environment stable and stress free, we gave Neo a pen that was the easiest for him to master and we made it a point to keep him on a very specialized routine.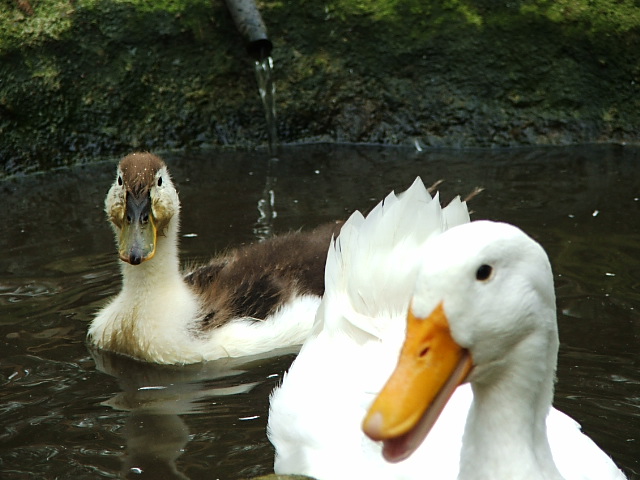 "Stick with me kid" (Neo & Switch)
When winter set upon us, Neo enjoyed his own cozy kennel bedded with a thick layer of hay, his own heated water bucket and an always-full dish of his favorite food, not to mention weekly lettuce treats. Throughout the day we went out to scoop up some of his food into our hands and sprinkle it in his bucket. He would waddle over and we would hold his soft, fluffy belly in our hands and help him balance over his water bucket while he delved in after the food and splashed the water back and over his head and onto us. It was one of his favorite things and ours too.
When the icy pond became inaccessible to him because of his specialized needs, we helped him keep clean by bringing him inside for swims in the tub. He is the only duck we have ever known who loved the blow dryer so much that he made it a point to aim himself towards it and soak up its warmth. And then after his spa time was over, he would fall asleep on our laps until it was time to return to the barn. He was so innocent, taking great pleasure out of the very simplest of things.
Neo began to succumb to mild seizures in late January and his motor coordination rapidly began to deteriorate. So gentle and so fragile, our little Neo was not able to keep up the fight and he fell very ill. We rushed Neo to our vet knowing too well what lied ahead. We held him in our arms and eased his passage in order to spare him any further discomfort in this world.
We are so grateful for the time, however brief, that we had Neo in our care, but heartbroken that we lost him so soon. He was so lovely, and sadly, so broken. But now he is whole again in a world which holds far less pain and far more promises. May you quack loudest now, little Neo.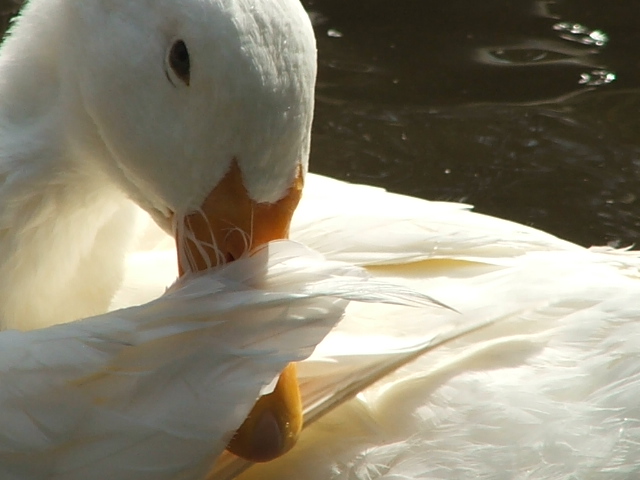 Our innocent, little one... You are a blessing...
---
Naughty Boys!
We are still getting a number of emails about ganders and Muscovy drakes going a little crazy and attacking their caretakers. This is not a sign of aggression, your darlings haven't turned on you; in fact, quite the opposite is going on. During this time of year, boys get all riled up with Spring Fever and their displays may be aimed at you.
So if your gander suddenly becomes hot headed and gives you a good bruise or your Muscovy drake suddenly comes chasing after you, biting at your ankles, understand that they are not trying to hurt you, but rather show you how much they love you in the only way they know how.
Behavior can sometimes be controlled by mounting them when they get too out of line and this is necessary when dealing with these large male birds or else they will displace you as the alpha leader. You want to hold onto you position in the hierarchy to avoid future problems. Just squat down over your boy and gently push his neck down to the ground, hold it there for one second, release and dismount. Now you are communicating in his language. This works for ganders too.
In warmer weather, follow this action up by picking up your bird and then plopping them down into water (or setting them down if you have a small water source or kiddie pool). They will often stop behaving badly and immediately start taking a bath.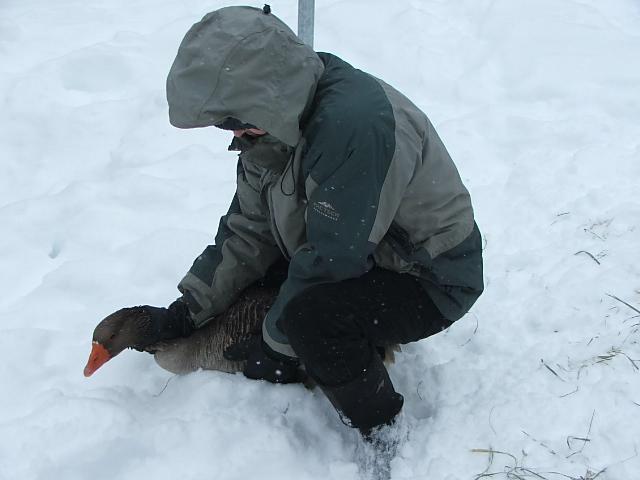 And remember, as boisterous as your boys are now, they will return to their old loveable selves as the mating season wanes off. They will still be feisty in Summer, but will calm down to be your darlings again in Fall.
---
Tax Receipts
Please contact us if you need us to mail you a tax receipt for your total donations for 2008. Please include your full name and complete mailing address in the email. Thank you!