Annual Duck-Duck-Goose Blue Ribbon Contest!
There are only two weeks remaining to officially enter your duck or goose in our annual Blue Ribbon photo contest!
Photos for this year's competition will be accepted through June 15, 2010 until 12:00 midnight. Both photographs and full entry donations must be received by the deadline in order to be officially entered. Please click Contest Rules for further details.
Two beautiful Blue Ribbons will be awarded for our Most Photogenic and Most Comical entries! Winners will be chosen by a board of anonymous Judges who will not have access to contestants identities.
Winning photos will be permanently displayed in our upcoming July 2010 Newsletter and on the Winner's Circle page of our website.
Our Winners:
Each of our winners will receive a gorgeous Metallic Blue and Silver, 4 tier, rosette ribbon with three 30 cm long tails and an imprinted Silver "1st" in the center. Now that's something you and your feathered friend can display proudly!
A framed and personalized Majestic Waterfowl Sanctuary Winners Certificate will also accompany each Blue Ribbon awarded.
This is a great way to honor your duck or goose while helping other less fortunate birds, so please enter today!
---
Broken Toes
Even in the best circumstances accidents can happen, as our little recued duck Jessie has proven. We are still puzzled over exactly how she broke her toe, but think she might have stubbed her toe on a quarter inch cement lip where some soil erosion occurred, which has since been remedied.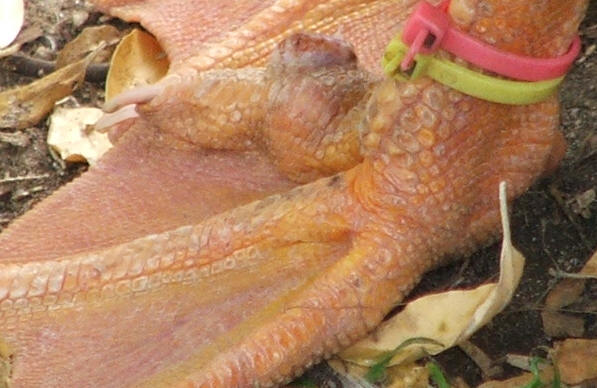 Jessie's broken toe before surgery
To prevent any further injury, we put a temporary divider fence between Jessie and her mate Barney, and kept her confined in a flat and grassy area until getting her to the vet. We immediately started her on a round of Clindamycin (antibiotic) and Rimadyl (anti-inflammatory) as well as some Lacto-plus (probiotics). Then we brought her to our vet for an x-ray.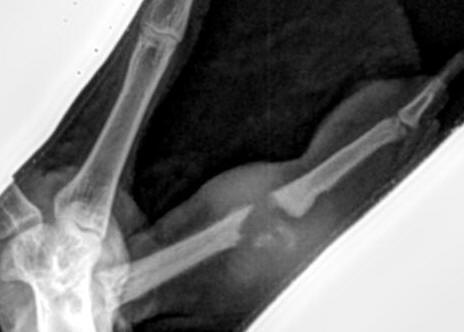 Jessie's x-ray
Broken toes will sometimes heal themselves and fuse together provided antibiotics and pain medications are administered and the duck or goose is kept in a relaxing setting in a small pen (to reduce their urge to go exploring). A pond with a sloped bank and easy access is a good idea to give them some time off of their feet and floating.
In some cases, the bones can be reset and an acrylic splint can be made out of a secret recipe of super glue and baking soda. This should NEVER be done at home. It should ONLY be performed by an experienced and qualified veterinarian who knows exactly what they are doing and has access to the secret mixture (your vet can contact Dr. Echols or Dr. Speers directly via avian vet forums for more information, or they can check out their listing on our Vet Finder for detailed contact information). In time, and as healing occurs, the glue splint will eventually wear off and may or may not need to be reapplied.
In Jessieís case however, the break was severe enough to warrant toe amputation. Since she broke one of her outer toes, amputation became the best option to prevent an extended healing time (2-3 months) and long-term exposure to antibiotics, which could be unsafe for her liver and can lead to other health complications.
Another consideration we had to keep in mind is Jessie's future health. Jessie is one of our adoptable ducks, so it's important that her new family adopts a healthy duck with a bright future ahead of her. The last thing we want for Jessie is for her fused toe to cause her any long-term pain or arthritis; or worse yet, to result in future lameness or require future surgery.
After careful deliberation with our vet, the inside toe of Jessie's left foot and the triangle of webbing attached to it were surgically removed. Jessie is currently spending two weeks in our basement infirmary on clean pine shavings. She is on antibiotics, pain meds and probiotics to prevent infection, alleviate any discomfort and protect her intestinal flora during her recovery.
Her friend Barney is brought in for frequent visits and sits on the opposite side of a divider fence to keep her cheerful and motivated to get well. When Barney is outside in his pen, Jessie has a mirror to keep her company and she really enjoys it. Remember, companionship is a vital part of waterfowl recovery since they are flock animals and do best in one another's company.
Following Jessie's two week stay in our infirmary, she will return to her grassy outdoor pen. She will only be given access to pond water once our vet deems she is completely clear of any risk of infection. Medications will be stopped at the instruction of our vet and then Jessie will live happily ever after.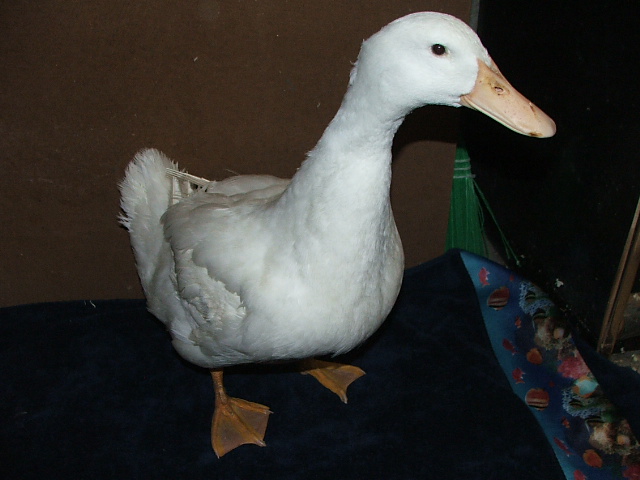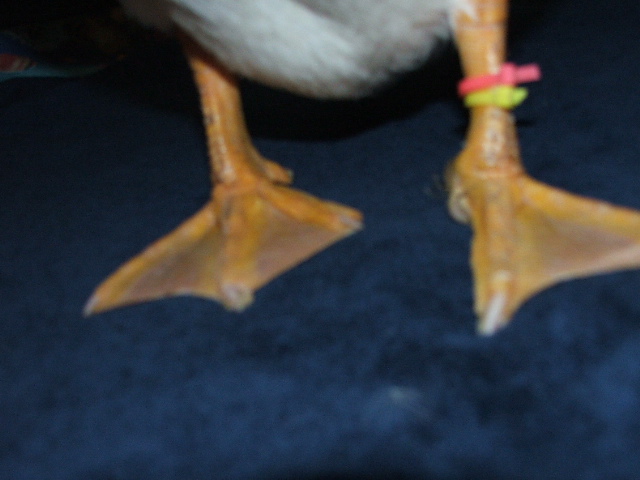 Jessie's foot following surgery
---
Whisper in the Heart: W.I.T.H. Pendants
The Whisper in the Heart website features memorial urn pendants. These tiny cremation containers (or cremulates) are just right for cremated remains (ashes), small feathers, or any other small item that helps you feel closer to your lost pet.
You can choose your own combination of pendants and charms, add stones, photographs and even have your W.I.T.H. pendant personally engraved in remembrance of your beloved pet.
Visit their website for more information and more personalized options.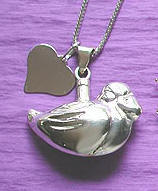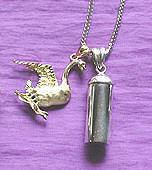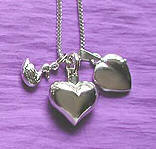 --Jenn, Thank you for memorializing our lovely Vida with one of these beautiful pendants.
---
Pen Building Page
Interested in finding out what works for us?
Details about how we build our pens, our construction materials, supplier names and more is all on the Pen Building page of our website.
From electric fencing to aviary netting, from pumps to ponds, this page will give you some good ideas of how to protect your fine feathered friends!