Majestic Waterfowl Sanctuary: Staff Bios
Kimberly Link: President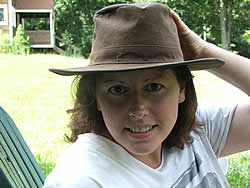 Kim is the President of the Majestic Waterfowl Sanctuary based out in the backwoods of southeastern Connecticut. She created the sanctuary upon discovering the waterfowl abandonment issues in her area. She sees to the humane capture of domestic waterfowl in need of care, transports them for veterinary care, provides treatment under the guidance of her veterinarian, and generally nurtures them until new homes can be found for them. Kim is also responsible for landscaping, designing and maintaining our enclosures.

In addition to caring for the animals, she also handles our day-to-day website maintenance and composes our monthly newsletter.

Her goals are both to rescue abandoned waterfowl and to educate potential buyers of the many responsibilities of duck ownership in order to help prevent frivolous duckling purchases. She is also working to locate other Connecticut residents willing to assist in her local rescue efforts.

Kim is an animal-lover and a Wildlife Conservation Society member. She is a financial supporter of both conservational zoos and aquariums in Connecticut and New York.
---
Anthony Link: Vice President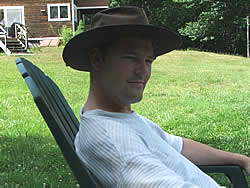 Tony is the Vice President of the Majestic Waterfowl Sanctuary. In addition to his board responsibilities, Tony is our technical advisor, carpenter, plumber, electrician and rescue coordinator. Tony is also responsible for turning ideas and designs into actual buildings and sanctuaries.

His goals are both to rescue abandoned waterfowl and also to obtain state and federal wildlife rehabilitation certification, so the sanctuary can one day grow to welcome in other animals in need of our care.
---
Abby Garcia: Website Designer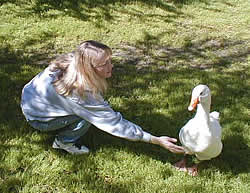 Abby is our website designer. She lives in the San Francisco Bay Area, California. Her interest in waterfowl started about five years ago when she obtained a day-old Embden gosling. After that she acquired a female Pilgrim gosling which she raised and kept for several years as a "house goose." She became acquainted with Kim and her husband through their volunteer work with Angel Wings Waterfowl Rescue.

Abby's has designed our website so that visitors of our site will have access to important information on care and keeping of waterfowl as well as be inspired to help waterfowl in whatever way they can.
---
Kat Startz: Waterfowl Care Specialist / Facility Maintenance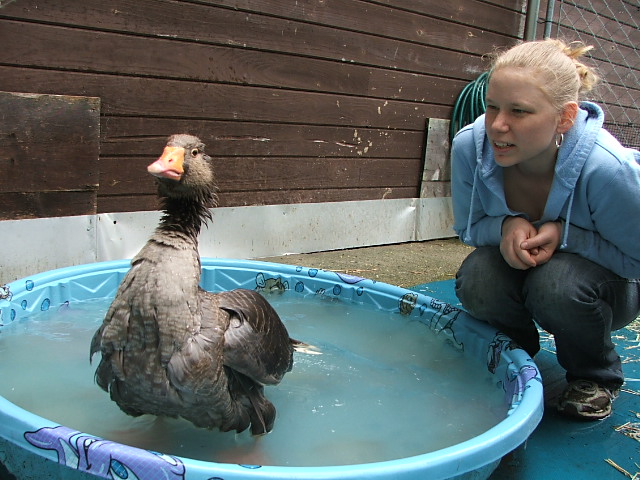 We first met Kat when she adopted Haley duck from us. Since then she has become a near & dear friend and supporter of our sanctuary.
Kat helps out with a wide variety of tasks that range from routine animal care and rescuing birds, to helping us build and maintain our sanctuary pens.
Kat is an all-around volunteer who isn't afraid to get her hands dirty and she is always the first to offer her help in any situation and our ducks and geese LOVE her!
Kat has a flock of ducks of her own that includes: Haley, Elmer, Curly and Aflac!
---
Patty & Bob Child: Facility Maintenance / Sanctuary Expansion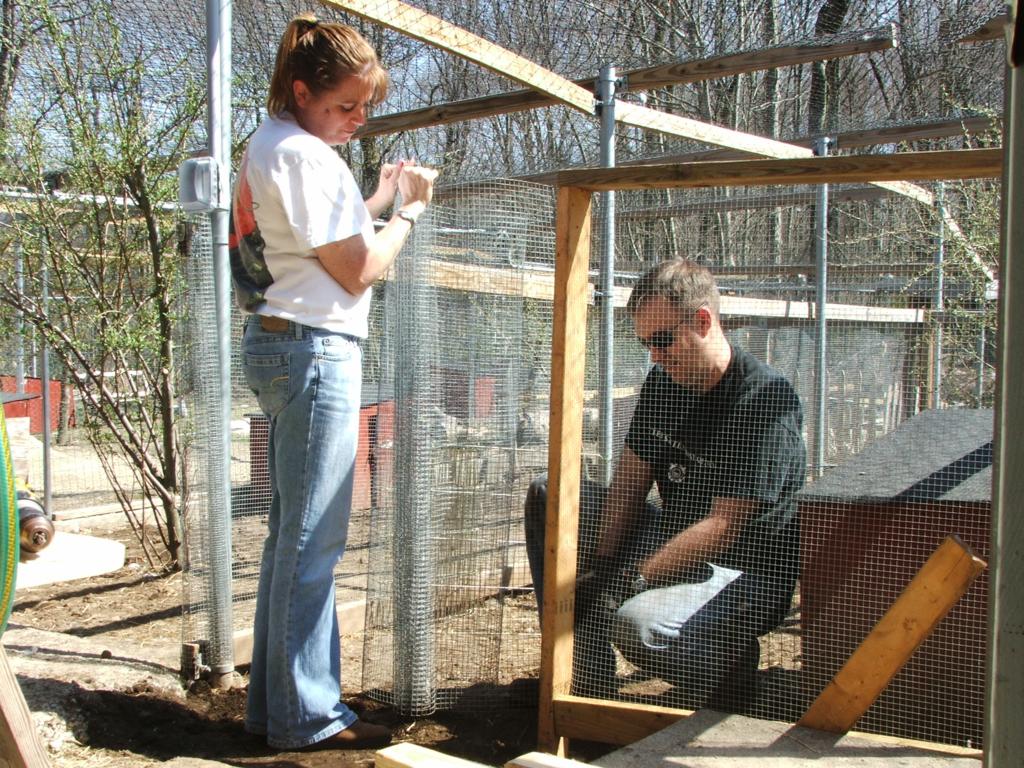 Patty & Bob are two of our amazing hands-on volunteers. Bob is a skilled carpenter/technician who is particularly adept at working on rooftops.
Aside from helping us with vital sanctuary tasks (like getting her husband to help us), Patty is just plain funny.
We love anyone who does this much work for ducks--including members of the Coast Guard (even in they are not in the song).
---
Jenn & Mike Garey: Rescue Volunteers / Video Surveillance Team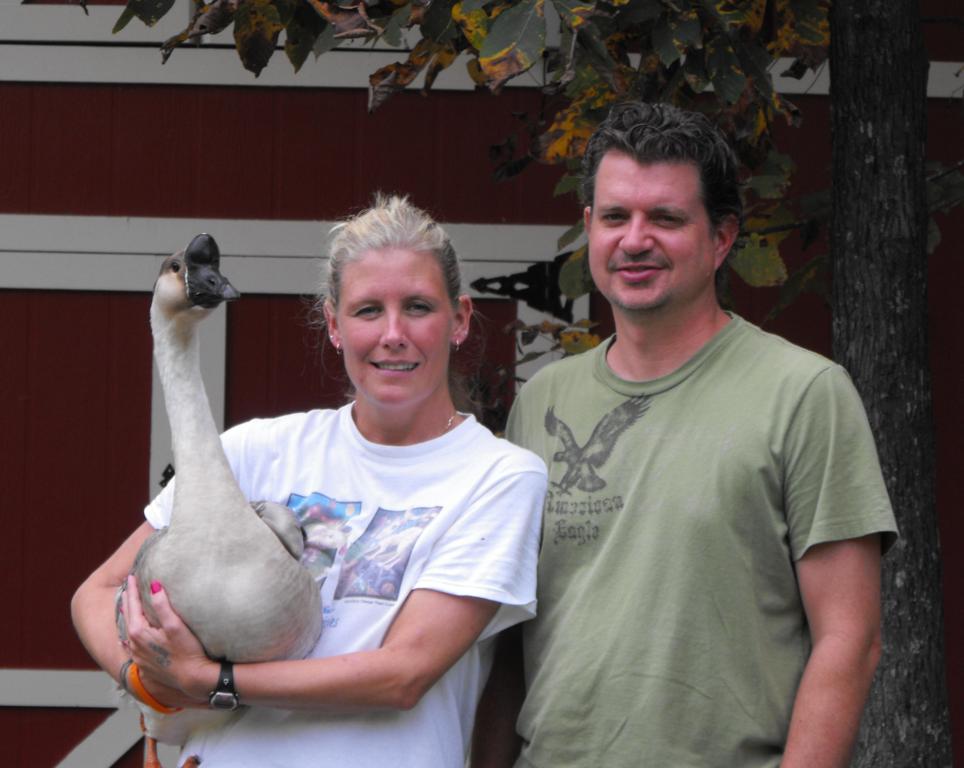 The Garey family lives in Tennessee. They first came to us for advice with their flock of five geese and then they stayed in touch and became good friends and invaluable volunteers.
Jenn, Mike, Elizabeth, Marylynne & Kristina assist with domestic waterfowl rescues within their area. They work with a local vet to ensure their rescues have the proper medical care they need. Their years of hands-on experience with geese has proven indispensable in assisting abandoned waterfowl in their state.
Not only do the Gareys strive to provide the best care for their waterfowl family, but they are dear supporters of our endeavor as well, and we are so grateful to have them on our team.
Mike has also volunteered to take on the project of equipping and connecting our website with a video surveillance system that will enable Majestic Members to view our sanctuary and onsite projects. We are all looking forward to our new Webbed Cam!
---
Karen Hobbes: Facility Maintenance / Majestic Fundraiser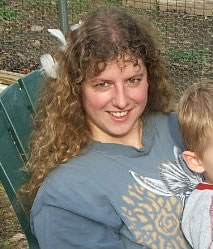 Karen was one of first true "hands-on helpers." She showed up for our volunteer work days back when we first began building our sanctuary and was infamous for rounding up extra hands on work days and really making a difference in getting things done.

Karen runs can and bottle drives to raise money for Majestic. She also participates in an Aetna match donation program, which is a big help to the waterfowl in our care.
---
Damiana Gonzalez: Majestic Fundraiser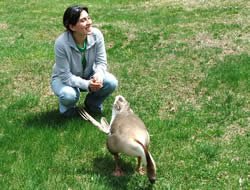 Damiana is one of our dedicated fundraisers. In her first two years on board she raised nearly $1000 for our sanctuary. We are thrilled to have her on board and enjoy her visits.

Damiana lives in Massachusetts and has a gorgeous flock of her own -- a few adopted from us! She attends Holyoke Community College. She is currently taking business courses and plans to open up her own doggy day care / sandwich shop called "Box Lunch."

Damiana loves being outside, snowboarding, playing with her ducks, hiking, bird watching, anything outdoorsy and most of all, she LOVES to travel.
---
© Majestic Waterfowl Sanctuary 2005, 2006, 2007, 2008, 2009