Volunteering Opportunities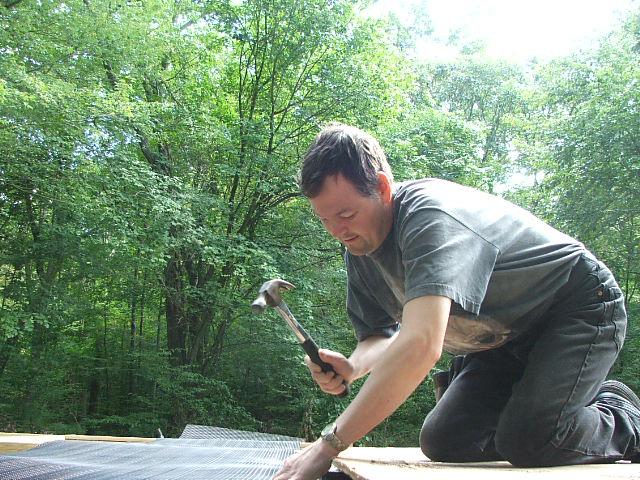 We have some great volunteer opportunities for animal lovers, aspiring vets, vet technicians or anyone wanting a future in the field of animal care.
Make your resume stand out from the rest with some serious hands-on experience!
All volunteers must be 18 years or older.
Please read ALL info on this page before signing up!
---
Onsite Volunteering...
Originally, Majestic did not offer Onsite Volunteer opportunities, but at the request of waterfowl-lovers, who wanted to take part in our endeavor, we began welcoming in outside assistance. We have enjoyed meeting wonderful new people and had some great laughs all while benefiting from their added assistance.
Recently, however, we have been very disappointed with the number of first-time Onsite Volunteers who have failed to show up without any notification at all. We understand that your time is valuable, but please understand that our time is just as valuable. Although we enjoy helping hands, good company and quite a few laughs, we are also looking for serious, committed and hardworking individuals.
We used to spend a lot of time reviewing volunteer applications and corresponding with what turned out to be no-show volunteers. Unfortunately, we just cannot afford to take this time away from our animals anymore.
Going forward, we are requesting that all of our Onsite Volunteers take a more proactive role in the scheduling of their sanctuary workdays. We have updated our Volunteer Application (for first-time Onsite Volunteers) and our Sanctuary Calendar (for returning Onsite Volunteers) with the means to schedule your own workdays. A Volunteer Coordinator will confirm your schedule within 24 hours of receipt.
For those of you who are sincere in your endeavor to help, we apologize for this more formal handling of your volunteering activities.
Onsite Volunteering is hard work...
We work hard at Majestic and if you ask any of our volunteers who also dedicate their time to other shelters, they will tell you in an instant that the work they do here is much more intense than what they've experienced elsewhere. Tending to the needs of waterfowl is far different from providing for other animals and it involves a completely different range of considerations. Our sanctuary visitors are continually taken aback by the amount of effort we put into our sanctuary every day.
In the words of one of our long-time volunteers:
"I have volunteered for large-dog shelters and have scrubbed kennels, laundered soiled bedding, and walked and handled powerful dogs. Still, this did not compare to the level of work that I have devoted to Majestic. I would tell a new volunteer that at the end of a hard day's work, they will feel very satisfied that they have improved the quality of life of these abandoned animals and that is its own self-reward." --Karen Hobbes
SO PLEASE... do not fill out our volunteer application if you have no interest in committing to working hard and preferably more than ONCE.
---
Liability Waiver
All volunteers are required to sign our Liability Waiver. Please preview our waiver before signing up. We will provide an actual copy to you for signature upon your acceptance into our volunteer program.
---
Majestic Calendar
Please view our Majestic Calendar for upcoming onsite sanctuary projects.
---
FOR THE SAFETY OF OUR ANIMALS:
Quarantine procedures:
All volunteers MUST wear clean, waterproof boots (preferably with good tread).
All volunteers will be required to step into a sanitizing footbath upon entering and leaving our pens and barn. This footbath consists of Virkon S and water.
Jewelry is not permitted:
All volunteers must remove their watches, earrings, necklaces, bracelets, rings*, etc. before stepping onto the premises. Please leave them in your car or at home!
*Wedding/engagement rings that can't come off are fine.
Empty your pockets:
Please empty your pant, shirt and coat pockets before leaving your home.
We will ask you to turn out your pockets to confirm no foreign objects gain access anywhere near or into our pens.
Absolutely No Smoking:
For the health & safety of ourselves, our animals and our volunteers, smoking is not permitted anywhere on the property.
Unacceptable Sanctuary Behavior
Majestic reserves the right to ask any volunteers to leave the premises immediately.
Non-liability
Majestic is not responsible or liable for any lost, stolen or damaged property including, but not limited to clothing. If you bring it into our pens, it is entirely at your own risk.
---
We have two types of volunteer opportunities:
Offsite volunteer opportunities can be done from your own home and in your own town. These positions are for self-motivated individuals. These include fundraising, raising local awareness, calling avian vets to confirm which practices treat waterfowl or running a local pet carrier drive.
Onsite volunteer opportunities normally take place here at Majestic on WEEKENDS ONLY. Onsite work is very hard work. We do everything ourselves to maximize our funds. Tasks vary seasonally and range from building pens, pouring cement, working on ponds, shoveling sand, pushing wheelbarrows, pitching hay, barn cleaning, digging ditches, transplanting trees, landscaping to clearing snow. If you like this kind of earthy, outdoor work, then volunteer!
Please Note: We are not currently accepting volunteer applications solely for waterfowl care or rehabilitation. These wonderful and interactive positions with the ducks and geese are reserved for volunteers who also donate their time and energy in other much-needed areas.
---
Offsite Volunteer Opportunities
Volunteer Coordinator Sorry, this opportunity is currently unavailable.
We are currently looking for a Volunteer Coordinator. This person will be responsible for reviewing and responding to all Volunteer Applications and communicating directly with our volunteers. They will report/coordinate all volunteer activities directly with the President.
Our Volunteer Coordinator must have access to review and respond to all emails within 24 hours of receipt. Excellent written/grammatical skills are required. We are looking for a friendly, responsible and organized person who is motivated by our endeavor and understands and respects this dedication in our volunteers.
The Volunteer Coordinator will also acquire digital photographs and write up profiles for our volunteers to be listed on our website.
We prefer to have a Volunteer Coordinator who has physically visited our sanctuary and can offer insightful and first hand information to our other volunteers. We would also like this person be someone who has volunteered for us in some other regard prior to taking on this role.
---
Professional Grant-Writers
We are currently seeking pro-bono, professional & experienced Grant-Writers. No first-timers please. We are desperately in need grants for a small backhoe, water rescue equipment, electricity costs, and one salaried position. If you can assist with a grant in any of these areas, please consider volunteering your services.
---
Fundraising Assistants
We are always in need of Fundraising Assistants. This is a self-starting, self-motivated and self-managed volunteer opportunity. When you sign up to be one of our Fundraisers, please be proactive and let us know what kind of fundraiser you would like to do along with a time frame (estimated start & end date).*
Some ideas:
Volunteers have successfully run bake sales, flower bulb sales and other magazine-based sales to raise funds for our sanctuary.
Volunteers have run profitable can drives. They help the environment through recycling and then donate the proceeds to Majestic to help the ducks and geese in our care.
Volunteers have also been successful in auctioning off artwork or items on Ebay. If you are interested in this option, please understand that we do not auction off items through our website. Volunteers will need to have their own venue to handle all aspects of the auction.
If you have another fundraising idea, please contact us with your proposal. We'd love to hear from you!
*If you plan to state that any of the proceeds from your activities are being directed to Majestic, please contact us first for pre-approval.
---
Supply Team Sorry, this opportunity is currently unavailable.
The Supply Team is comprised of volunteers who run drives in their own area to gather up much-needed sanctuary supplies to be delivered to Majestic. Pet carriers are always needed, commonly disused in many households, and a great idea for your first drive. You can visit our Wish List for other good ideas.
---
Donation Team Sorry, this opportunity is currently unavailable.
The Donation Team is always looking for outgoing, personable, well-connected and experienced individuals with a strong sales background to contact businesses in a professional manner for 501(c)(3) donations to Majestic. Examples of items needed by the sanctuary can be viewed on our Wish List page.
---
Publicity Team Sorry, this opportunity is currently unavailable.
Our Publicists are responsible for providing factual information to raise awareness of the plight of waterfowl abandonment with the goal of prevention. This team works especially diligently a couple months prior to Easter. They work directly with the President to organize a campaign of newspaper editorials & articles, television appearances and magazine stories. This team is also responsible for gaining national publicity for Majestic and getting our website information listed in appropriate venues. Experienced publicists and meticulous writers only please.
---
Vet Directory Team
Members of our Vet Directory Team volunteer their phone line to call on avian vets state-by-state and determine which practices see pet ducks/geese as patients. Address and contact information is confirmed and then forwarded to Majestic. The practices are then added to our "Vet Finder" listing.
You can choose any state except those that are already completed. Good verbal/phone skills required. Volunteers choose a state they wish to work on, and Majestic provides the phone list of vets to call within that state. Phone charges are non-reimbursable and donated by the volunteers making the calls.
---
Onsite Volunteer Opportunities
Weather permitting, onsite volunteer opportunities usually take place on Saturdays between 11:00 a.m. – 6:00 p.m. and occasionally on Sundays 12:00 – 4:00 p.m.
We ask that our onsite volunteers each show up for at least 2 hours of service on any given day. Volunteers need to commit to volunteering on a consistent basis--on a weekly or monthly basis.
Facility Maintenance Team
There is a lot to do at our sanctuary and this team works hard doing it, but we have a lot of laughs too. Volunteers on this team must be willing to participate in any of the following tasks. What we do that day, you do that day.
Our Facility Maintenance Team is mainly responsible for cleaning and refilling water buckets, disinfecting the quarantine pen & pet carriers, pitching and refreshing hay in the barn and enclosures. Friends of shovels, pitchforks, wheelbarrows, duck poop and hard work only please.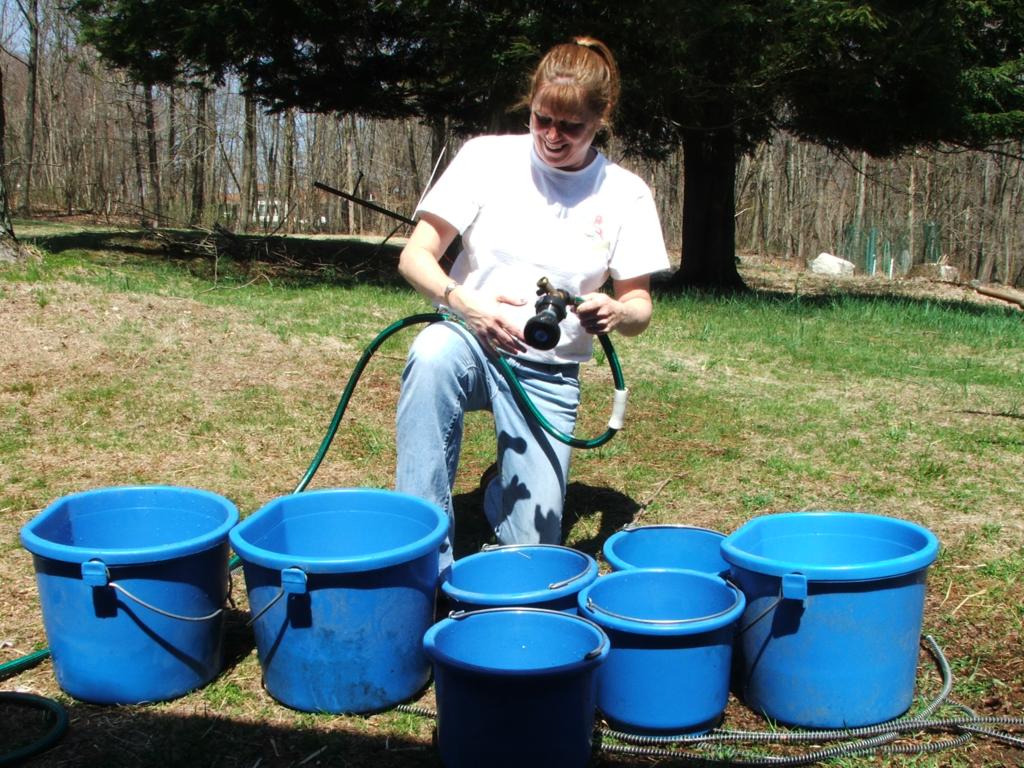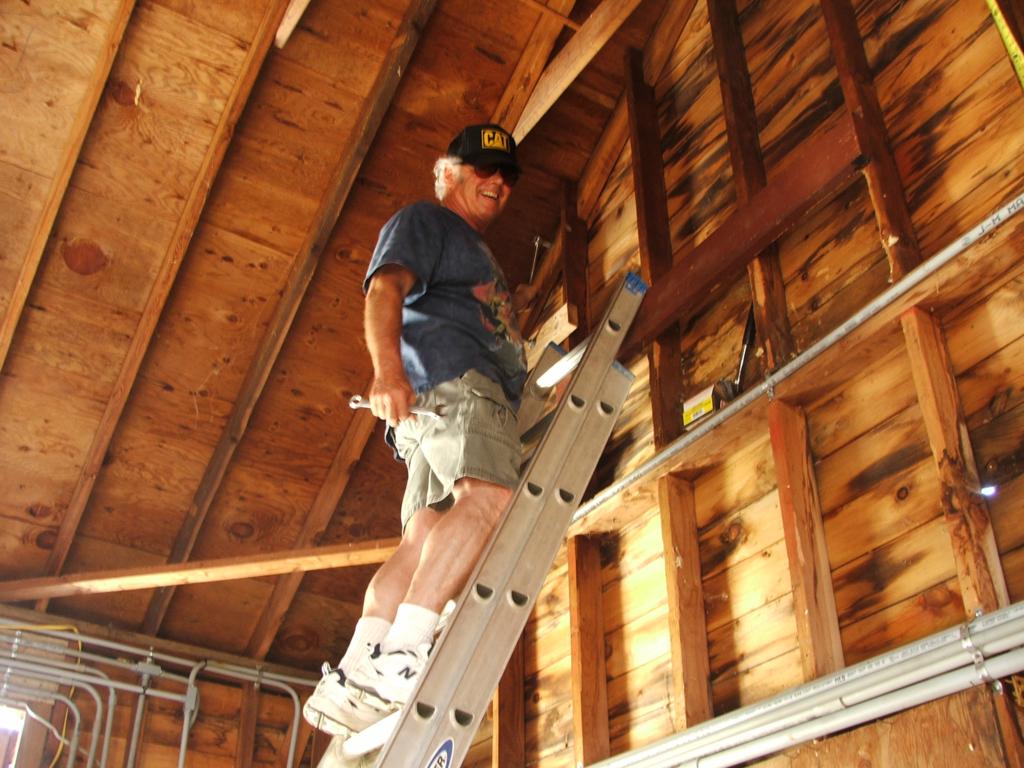 In Spring, in addition to their regular tasks, this team is also responsible for landscaping. They help to rake out all of our pens, turn over soil, seed grass, and transplant saplings and plants into our enclosures. They also assist in pond maintenance.
In Summer, this team also helps with tasks like installing and maintaining our misting system. During times of drought they help clean and refill kiddie pools and buckets.
In Fall, additional responsibilities include pen inspections and helping with maintenance and repairs to prepare for the approach of rough winter weather.
In Winter, this team also helps to sand down icy pens, clear snow from aviary nets, gateways and doorways and make safe paths in the snow for our ducks and geese to walk along.
There are other fun things this team gets to do as well, including enjoying some one-on-one time with the animals, providing enrichment activities, banding legs and just talking shop with the geese.
Experienced team members also assist with pond rotations. This requires guiding birds through the pens to ponds to ensure that all members have a turn on the water. It is vital that certain ducks do not co-mingle with others during this enrichment activity, which means that volunteers must learn the identities of every bird and also understand their complex interrelations.
---
Sanctuary Expansion/Construction Team
Our Sanctuary Expansion Team is always looking for strong, healthy, outdoorsy people to help build new waterfowl enclosures, or to lend improvements to existing pens. Carpentry skills are a real plus if you want to join this team.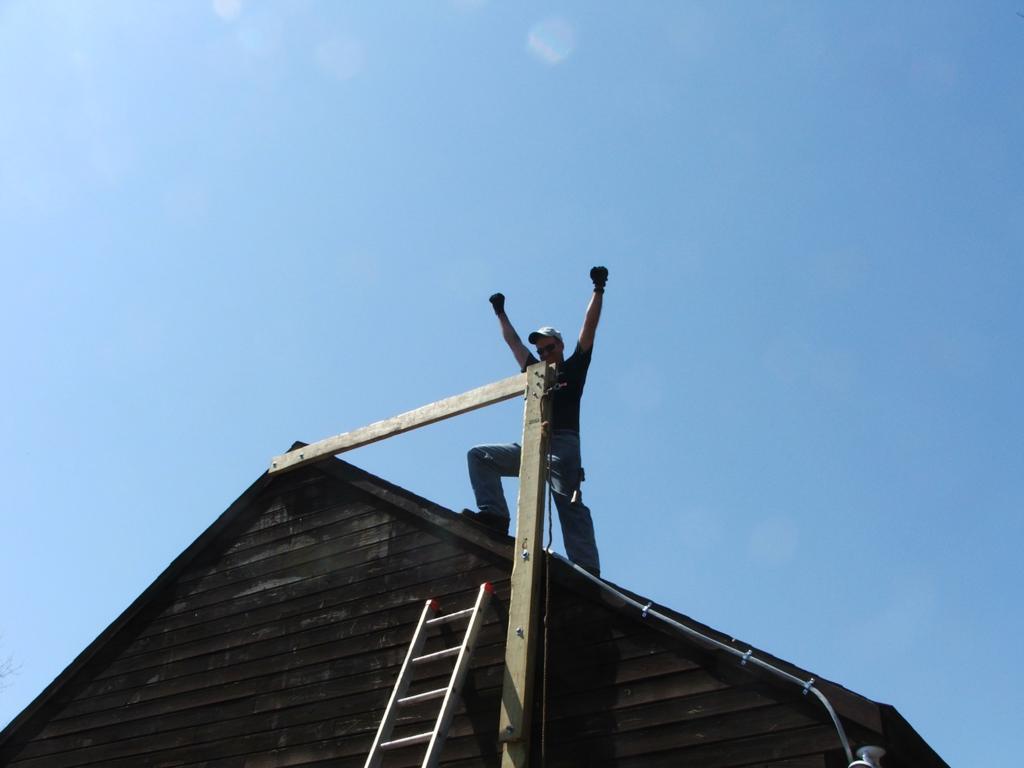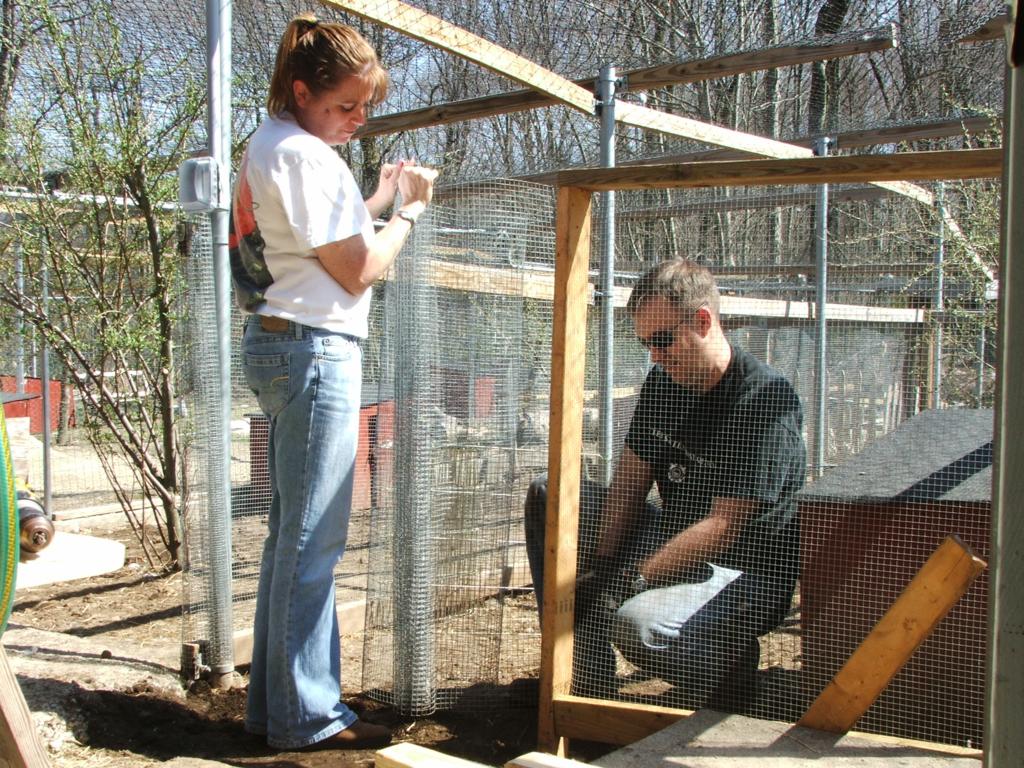 ---
Waterfowl Rescue Unit
Waterfowl rescues are normally scheduled on Saturday mornings. Most rescues are scheduled so that we are at the rescue site by 8:00 a.m. This means that we are leaving the sanctuary as early as 6:00 a.m. Some rescues take minutes, others hours and still others, multiple trips to the rescue site. In order to participate, our rescuers must be prepared to commit to at least six hours at the rescue site (in addition to driving time) on the day of any given rescue.
Connecticut residents are invited to join our Waterfowl Rescue Unit. Volunteers must be able to provide their own transportation to our sanctuary and to rescue sites. Punctuality and reliability are key factors to be on this team. Rescuing can entail canoeing, so all volunteers MUST know how to swim in case of emergency.
Rescue detail also includes setting up nets, preparing and maintaining pet carriers and packing and carrying equipment. Waterfowl handling experience is recommended, especially in goose rescues, but not necessary.
Rescuers with access to their own wetsuits are always appreciated.
Attendance to our Annual Waterfowl Rescue Training Seminar is required.
---
Signing Up!
Did you see something that interested you? Sign up today!
© Majestic Waterfowl Sanctuary 2005, 2006, 2007, 2008, 2009