All Wildlife Rescue and Education (AWRE)
AWRE is a non-profit organization devoted to rescuing and rehabilitating wildlife and educating the community to respect and be aware of wildlife and their environment.

Animals in Distress Association, Inc.
Animals In Distress Association, Inc. (AIDA) is a non profit volunteer organization dedicated to the rescue, rehabilitation and successful release of injured, displaced and orphaned wildlife.

Bay Beach Wildlife Sanctuary
Location: Green Bay, Wisconsin
Bay Beach Wildlife Sanctuary began in 1935 as a waterfowl rehabilitation site. Today, it continues to receive over 3,000 injured, orphaned and sick animals each year. Their goal is to release as many of these rehabilitated animals back into the wild as possible.

Black Bear Crossing Wildlife Rehabilitation Center
Location: CT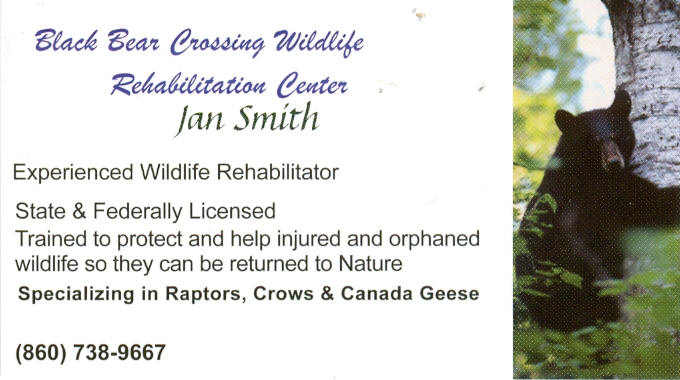 Canton Raptor Care (CRC)
Location: Canton, Connecticut
CRC is a 501c(3) non-profit organization that admits sick and orphaned birds of prey and reconditions them so they can be returned to the wild.
Citizens for the Preservation of Wildlife, Inc. (CPW)
Location: Fairfax, Virginia.
CPW is an all-volunteer organization. They provide waterfowl rescue and rehabilitation to injured, orphaned, displaced, or at risk waterfowl. Volunteers respond to thousands of calls each year from local counties, states, and nationally. The Center has State and Federally Permitted Wildlife Rehabilitators, who maintain a current required Permit to rehab Migratory Birds.
The Center's Waterfowl Rehabber provides rescue to injured waterfowl, triage on seriously life and death matters to waterfowl, and rehabilitates all waterfowl. Volunteers spend all their free time responding to incoming calls, conducting rescues, transporting injured animals to Vets and Hospitals, and assisting with the care and maintenance of the Aviary where wildlife is sheltered and rehabbed until released back into their habitat, and to their family.
Dianne Hartley
Location: Andover, Connecticut
(860) 897-0677
Duck Tales Sanctuary
Location: Ada, Michigan
6749 East Fulton Ste B-424
PH: 616-676-3318
JoAnn Flynn
Duck Tales Sanctuary is a federally licensed, non-profit organization. They specialize in wild migratory ducks. They are dedicated to the rescue, rehabilitation and release of all wild migratory ducks. They provide their medical attention needed in all situations especially for ducks who have been abandoned, abused or are victims of natural disasters. We love JoAnn!
East Valley Wildlife
Location: Chandler, Arizona
East Valley Wildlife is a non-profit organization of wildlife volunteers who work in their their home to care for songbirds, quail, water birds, waterfowl and small mammals like bunnies and squirrels.
Ellijay Wildlife Rehabilitation Sanctuary
Location: Ellijay, Georgia
The Ellijay Wildlife Rehabilitation Sanctuary is a 50-acre facility that medically cares for all species of orphaned and injured wildlife indigenous to Georgia and the southeast.
Fellow Mortals Wildlife Rehabilitation
Location: Lake Geneva, Wisconsin
Established in 1985 and incorporated in 1991, Fellow Mortals is one of the largest wildlife rehabilitation facilities in Wisconsin.
Foothills Animal Rescue
Foothills Animal Rescue is a federally permitted volunteer group dedicated to the rehabilitation and release of injured and orphaned wildlife encompassing the entire area of upstate South Carolina and part of Hendersonville, North Carolina.
Fox Valley Wildlife Center
Location: Kane County, Illinois
The Fox Valley Wildlife Center is a nonprofit, volunteer rehabilitation center that cares for orphaned and injured wild birds and mammals located in Kane County, Illinois.
Geese Peace
Location: Falls Church, Virginia
GeesePeace is dedicated to building better communities though innovative, effective, and humane solutions to wildlife conflicts.
Goose Hollow Farm
Location: New Ipswich, New Hampshire
PH: 603-878-3795
Contact: Lance dePlante Email Him
Founded in 1984, Goose Hollow Farm, has both State and Federal permits which allow them to maintain Canada geese who are healthy but cannot fly due to injury. GHF is comprised of 15 acres with 1 mile of shoreline on a lake and river and is a natural setting for waterfowl. We love Lance!
Gooseneck Hill Waterfowl Sanctuary
Gooseneck Hill Waterfowl Sanctuary is a family owned, not-for-profit bird sanctuary, located in northeastern Cattaraugus County New York.
International Bird Rescue Research Center
Location: San Pedro and Fairfield, California
The International Bird Rescue Research Center (IBRRC) is dedicated to mitigating the human impact on aquatic birds and other wildlife, worldwide. This is achieved through emergency response, education, research and planning.
International Wild Waterfowl Association
The International Wild Waterfowl Association (IWWA) was established in 1958 by a group of farsighted aviculturists, conservationists, and ornithologists. Members include private aviculturists, students, researchers, conservationists, educators, zoo professionals, and waterfowl enthusiasts from around the world.
Livingston Ripley Waterfowl Sanctuary
Located in Litchfield, Connecticut.
Messenger Woods Wildlife Care & Educations Center
Location: Orchard Park, NY
PO Box 508
(716)648-8091
National Wildlife Rehabilitators
Location: St. Cloud, Minnesota
The National Wildlife Rehabilitators Association (NWRA) is dedicated to improving and promoting the profession of wildlife rehabilitation and its contributions to preserving natural ecosystems.
New York State Wildlife Rehabilitation Council
Location: Owego, New York
The New York State Wildlife Rehabilitation Council, Inc (NYSWRC pronounced "Nice Work!") is a not-for-profit statewide organization that has been in existence for 20 years. The primary goal of their membership-based organization is to promote professionalism in the field of wildlife rehabilitation and to provide wildlife rehabilitators with educational and technical support.
Pennsylvania Association of Wildlife Rehabbers
Location: Pennsylvania
PAWR's goal is to further wildlife rehabilitation and wildlife in the state of Pennsylvania. Website contains a locator map to help you locate a rehabber in Pennsylvania: www.pawr.com/rehabbers.htm.
Possumwood Acres Wildlife Sanctuary
Location: North Carolina
Possomwood Acres is a non-profit center whose goal is to treat and release each animal back to the wild. Many animals come to us due to conflicts with people, being attacked by cats and dogs or being picked up as presumed orphans. They are state and federally licensed.
Pricilla Ann's Old Hickory Lake Wildlife and Recreation
The purpose of this website is to inform the public of the resources available for waterfowl wildlife rescue on Old Hickory Lake in Tennessee.
Project Wildlife
Location: San Diego, California
Project Wildlife cares for injured, orphaned, and sick native wildlife of San Diego County, and releases rehabilitated animals back into their natural habitats.
Raptor Education Group, Inc.
Location: Antigo, Wisconsin
Raptor Education Group, Inc is a non-profit 501(c) (3) organization dedicated to caring for injured or orphaned avian wildlife.
The Regal Swan Foundation, Inc.
Location: Florida
Committed to the humane treatment and veterinary medical care of swans worldwide.
Salem Wildlife Rehabilitation Association (SWRA)
Location: Salem, Oregon
SWRA is dedicated to the wildlife in and surrounding the community of Salem, Oregon. They work closely with the Oregon Department of Fish and Wildlife Department to meet its goals of rehabilitating native wildlife and releasing them back into the wild. Their licensed wildlife rehabilitators rely on your donations and often their own pockets to nurse the sick, injured and orphaned animals back to health.
Tri-State Bird Rescue & Research Inc.
Location: Newark, Delaware
A private, non-profit wildlife rehabilitation organization located in Newark, Delaware. Provides professional care for injured, oiled & orphaned wild birds, from hummingbirds to bald eagles, at its modern medical rehabilitation facility.
Tufts School of Veterinary Medicine Wildlife Rehabbers Resources
Location: North Grafton, Massachussetts
The Wildlife Clinic at Tufts regularly lectures, publishes and helps prepare web-based educational materials, and has a major commitment to improving the skills of veterinarians and rehabilitators to enhance the care that is given to native wildlife everywhere.
Urban Wildlife Rescue
UWR is a Colorado-based Non-profit organization with a 501(c)(3) classification.
Water N' Webs Waterbird Rehabilitation Center
P.O. Box 514, Northford, CT 06472
A non-profit water bird rescue and rehabilitation centre founded in 1995 and run by licensed, highly skilled rehabilitators. They provide compassionate, quality care to water birds statewide. Also admitting domestic waterfowl, songbirds and fawn deer.
Webbed Foot Wildlife Rehabilitation Clinic
Location: Litchfield, CT
Webbed Foot Wildlife is a unique wildlife care facility that specializes in treating waterfowl, birds of prey, shorebirds, game birds and wading birds. They maintain state and federal permits that allow them to care for wildlife.
Contact: Michele Goodman: (860) 307-7870
Wildlife Rescue, Inc.
Location: Hampstead, Maryland
Wildlife Rescue, Inc. (formerly Wild Bird Rescue, Inc.) was founded in 1994 as an organization committed to the rehabilitative care of wild birds. It is an all-volunteer network of licensed wildlife rehabilitators, veterinarians, transporters and other interested individuals dedicated to the rescue, rehabilitation and return to the wild of sick, orphaned and injured birds and small mammals in and around central Maryland.
Wild Waterbird Conservancy Inc.
Location: Grand Cane, Louisiana
Wild Waterbird Conservancy Inc. is a 501 (c)(3) charitable organization headquartered in Grand Cane, Louisiana. Wild Waterbird Conservancy specializes in rehabilitation, husbandry and medicine of waterbird species.
Wildlife Rehab of Greenville South Carolina
Location: Greenville, South Carolina
Wildlife Rehab of Greenville South Carolina is a non-profit, all volunteer organization dedicated to the rehabilitation and release of injured and orphaned wildlife in the seven counties of the Upstate.
Wildlife Rehabber
Wildlife Rehabber has a list of rehabbers by state. WildlifeRehabber.com consists of 4 main areas. The Wildlife section provides the public with general wildlife information (assistance with nuisance wildlife, what to do when finding orphaned/injured wildlife, etc). The Contacts section is key in helping the public locate a rehabilitator near them. The Shopping section provides links to online sources of wildlife oriented books, coupons and rehabilitation supplies. The Rehabilitation database is available exclusively to WildlifeRehabber.com members.
Wild Wings of California
Location: San Dimas, California
Wild Wings is a nonprofit rehabilitation center for sick and injured native birds located in San Dimas, California. We have been helping injured birds get back into the wild since 1987.
Wild Wings Wildlife Rehabilitation Center, Inc.
Meredith Sampson
Old Greenwich, CT
(203) 637-9822 or (203) 967-2121
wingsct@juno.com
---
Wildlife Rehabilitator Contacts by State
Follow this link. Click on "Emergency." Then click on "Find Rehabilitator." Complete form for a listing of certified rehabbers near you. Please remember to donate!
---