It has been a hard few days here at the sanctuary. We discovered that Roberta's knee bones have been pulled apart by the infection in her leg and it has seeped into her bones. Our vet has to try to find a way to operate and pin the bones together in lieu of amputation. I'm very worried...
We ran out and rescued three young geese from a lake. Someone moved away and left their Pilgrim gander and Embden goose behind. They had 5 babies in spring. One girl was predated. One boy is very ill. We ran out and caught the boy and 2 of his sisters since we have a home waiting for two hens. It was so hard taking these babies away from their family, but we will ensure that we remove them in groups, so that no one is left alone. After adopting the 2 girls, I am torn as to whether we should take the other young boy, leaving the parents behind until we have room, or whether I should take the mother to ensure no more goslings hatch out next spring. A very difficult decision. We think someone at the lake might build a pen and house them temporarily until we can fit them, which would be an amazing help since we are out of space.
We named the sick gander Egor and took him to the vet yesterday morning. Since his neck is messed up, we were pleased to find no broken bones and nothing lodged in his throat. Limp neck is a sign of botulism and lead poisoning though, so blood work followed the x-rays. Back and forth to the vet for drop-offs, pick-ups, appointments for Egor and Roberta, and getting their medications... the day tallied out at over $600 for both, near $500 for Egor. I suspect Berty's surgery is going to be really expensive and am worried. But... we'll do what we need to do.
After finally arriving home at 7 p.m. and taking care of the ducks and geese and then tucking them in at 8 p.m., I finally sat down for breakfast... first meal of the day. Went to bed early, but then Isabel woke up with a 24 hour bug and I pulled an all-nighter taking care of her. Up again early today... I need a nap...
Flock of six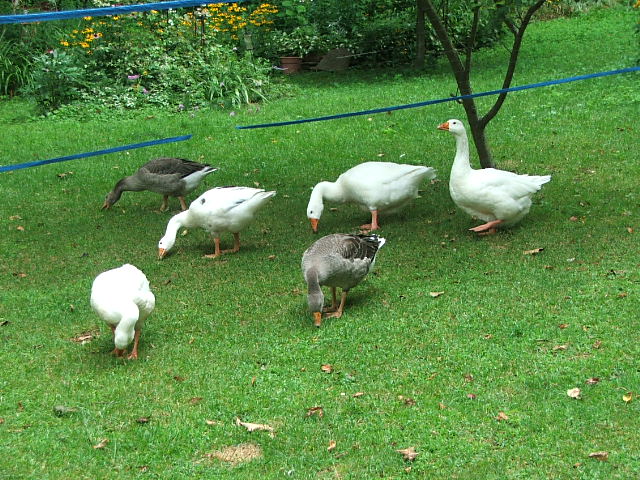 Poor Egor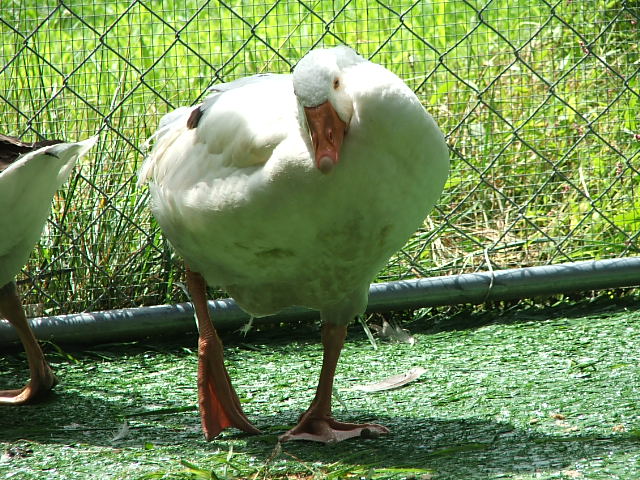 Egor's limp neck