It's been a difficult week. Lilly managed to slip on the ice and sprain a muscle in her leg on Sunday AFTER I sanded her pen. I took her for a swim in our tub. It's been a long time since she's been in there--and MY has she grown since then! Afterwards, I brought her inside to a barn kennel of her own. Piper comes in at night to be with her. During the day he goes out in his pen and visits with the neighbors Barney and Jessie.
Yesterday I let Piper and Lilly swim on the big pond together, which she enjoyed more than he did. She is on an anti-inflammatory for a couple days to help her on her feet again and she is already doing better.
Meanwhile, Deirdre goes to the vet tomorrow for her blood work for her cataracts and she gets a shot of Adequan to help with her arthritis. I'm worried about her stress levels because she's never been to the vet before and she is my Dear Heart after all. But, I'm sure she will be fine. I've been giving her carrots and a vitamin supplement in her food to help slow the progression of her cataracts.
And to top it off Duran (Rio) has a toe infection and is on antibiotics, probiotics and vitamins to get him on the mend. Their feet get little cuts so easy when snow and ice is on the ground. And on top of that, the poop can't naturally decompose into the soil in winter, so it hovers on top of the snow. I am constantly bringing sand out to the pens to cover poop piles, but all it takes is them to step in the wrong pile at the wrong time. I'm sure he'll be fine. It will just take time to clear the infection out.
Busy week...
This is Jasmine featured in the "Shelter Me" calendar. Miss January! She makes the funniest little noise when she's happy. She says: "Eey-yut."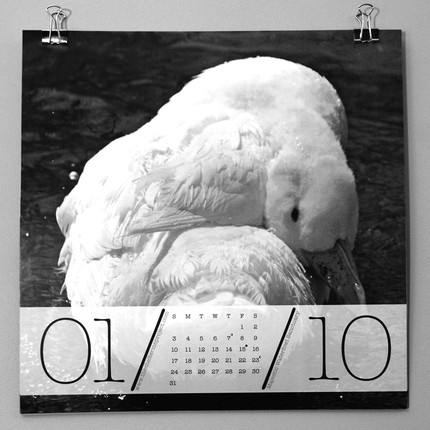 She sure is a cute little fatty-fatterson! Ha ha! Many of our ducks and geese put on an extra thick layer of fat last November to prepare for the cold winter we're having. They are perfect little weather predictors. They'll take it off again spring.