I've been singing this Laurie Berkner kids song to Moon-Moon:
Moon moon moon, shining bright
Moon moon moon, my nightlight
Moon moon moon, I can see
Moon moon moon, you're taking care of me

Look up, it's the moon
Look up, it's the moon
Look up it's the moon up in the sky
He's big and round and I have found
That he looks just like a lemon pie!
I just remembered a cute story. While I was syringe feeding Rio every two hours and Rio and Moon were in our basement infirmary, I would pick up Rio and set him outside the door and close the door on Moon-Moon (so he wouldn't interfere). Moon's food dish was just inside the door, so every time I fed Rio, Moon would be on the other side of the door eating his food too. They always ate together.
The funny thing is, sometimes Moon would start chatting, "Ud-da-da-da-da-da," on the other side of the door and I could hear that he had food in his mouth while he did it and I would laugh and say, "Moon! Quit talking with your mouthful!"
I went out to sneak him a handful of lettuce this morning and he ate from my hand. Then I held out a handful of Mazuri food and he ate that too. I barely touched his neck feathers with my fingers. So soft...
He's still trying to get near Romeo and he gets pretty close when he approaches him on his blind side, but then Romeo sees him and starts walking away again. Still, he's getting closer to him each day. He just looks so lonely. It breaks my heart, but I can't let him see that. I need to be calm and reassuring for his sake, not a crying mess. I save that for when I'm out of sight and earshot. I need to protect him from my breakdowns. He needs to see that there is hope and a future for him here. I try to talk about the lady friend we're going to find for him. It takes my spirit to a different place when I talk about it and he seems to respond--he sort of lightens when I lighten.
I received a message from Abby (our website creator) this morning. I had done a Flat Stanley project for her daughter for school. She mentioned the photo I had sent along with the project of her daughter's paper doll--a photo of the geese looking at it. And it suddenly dawned on me that the geese in the photo were the Duranies! I had to put the paper doll down on Moon's side because he was the gentler one. If I set it down near Rio he probably would have eaten it! I had to set the paper doll down, wait for Moon to get close, take the photo and then grab it up again before Rio got too close and ripped it apart. That was a good memory...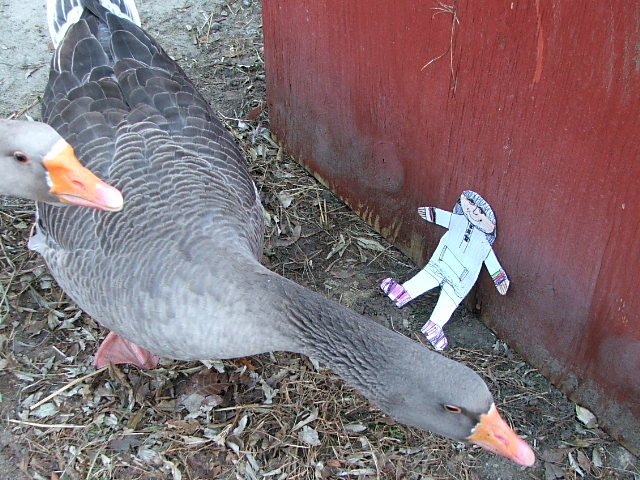 Moon checks out the paper doll...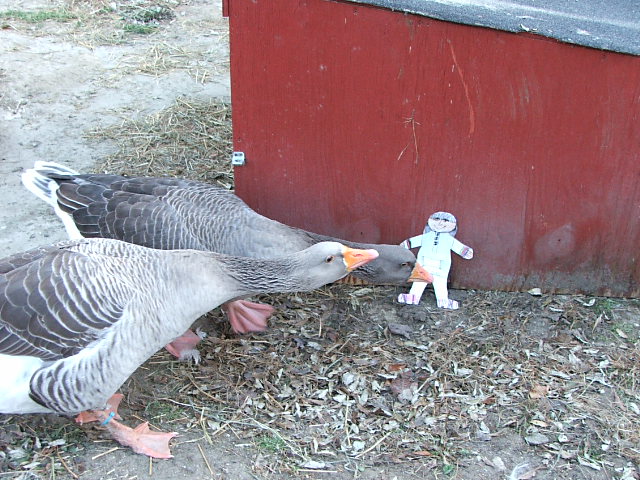 And then Rio (front) rushes in from the side! Quick! Save the doll!