Majestic Diary
April 9, 2008
I just finished another book: "Aliens DNA War" and it was very good! It kept me on the edge of my seat! I love to read, but I only get to about a chapter in any one day. I think it's important that we not only read to Isabel (which I try to do every night), but also that she sees us reading too. She has a wonderful collection of children's books (many about ducks and geese… shocker, eh?)
I went to college for publishing and planned to go into the Young Adult genre to try to help coax teens to read. I never went into the field, but still enjoying reading these books above all others. The good ones, I set aside for Isabel some day. The others get donated to charity. My favorites when I was a teen were S.E. Hinton's: The Outsiders, Tex & Rumblefish.
Funny story. Recently, a friend of ours was talking about a book she was reading over dinner. She is a brilliant woman, so of course it was some political title that I had never even heard of. After speaking a little about it, she asked if I was reading anything.
I nodded and said, "Yes."
She went ahead and asked what I was reading, and I replied with some authority, "The Warrior books."
To which she replied, "Oh, what are they about?"
And I grinned and said, "A kitty cat who leaves his home to live in the woods with the wild cats."
She laughed and said, "That's what you're reading?"
And I said, "Before that I read the Mismantle Chronicles," and before she could even asked I said, "It's about a little red squirrel who is orphaned and has to go on a grand quest!"
We all laughed. I love stories about little animals.
Here are some of the books I've read in the past year:
Aliens DNA War (Diane Carey)
My Sister's Keeper (Jodi Picoult)
Come Back: A Mother & Daughter's Journey (Claire & Mia Fontaine)
The Mismantle Chronicles: Urchin of the Riding Stars (M.I. Mcallister)
The Tale of Despereaux (Kate Dicamillo)
Lost & Found (Jacqueline Sheehan)
Skylar (Mary Cuffe-Perez)
Predator Omnibus / Volume 1 (various authors/artists)
Girls Will Be Girls (Joann Deak)
Swordbird (Nancy Yi Fan)
The Guardians of Ga'hoole Books (Kathryn Lasky):
1# The Capture
2# The Journey
3# The Rescue
4# The Siege
5# The Shattering
6# The Burning
7# The Hatchling
8# The Outcast

Some of my favorite books are the Warrior books (Erin Hunter); a series of books about a "kitty-pet" who leaves his home to go and live with a clan of feral cats and other series tell the tales of their descendents. There are 4 clans of cats and they walk a fine line of war & alliances. Tony and I love them!
Series I
Warriors, Book 1: "Into The Wild"
Warriors, Book 2: "Fire & Ice"
Warriors, Book 3: "Forest of Secrets"
Warriors, Book 4: "Rising Storm"
Warriors, Book 5: "A Dangerous Path"
Warriors, Book 6: "The Darkest Hour"
Series II
Warriors: The New Prophecy, Book 1: "Midnight"
Warriors: The New Prophecy, Book 2: "Moonrise"
Warriors: The New Prophecy, Book 3: "Dawn"
Warriors: The New Prophecy, Book 4: "Starlight"
Warriors: The New Prophecy, Book 5: "Twilight"
Warriors: The New Prophecy, Book 6: "Sunset"
I love to visit the Warrior Website and especially enjoy a good Quest as I explore the world as a clan cat!
Books that are next in line to be read:
The Mismantle Chronicles: Urchin and the Heartstone (M.I. Mcallister)
Three Wishes (Vivian Vande Velde)
The Good, Good Pig (Sy Montgomery)
Next (Michael Crichton)
---
Now you see? Me... busy me... still has time to read books--and if we can work full time jobs, run this sanctuary, handle all of our family stuff and find a moment to read a chapter a day, so can you!
So I don't want to hear any excuses about you not having the time, or there being nothing good out there to read. There is a world of reading--if you don't believe me type in some of your favorite topics into amazon.com and EXPLORE!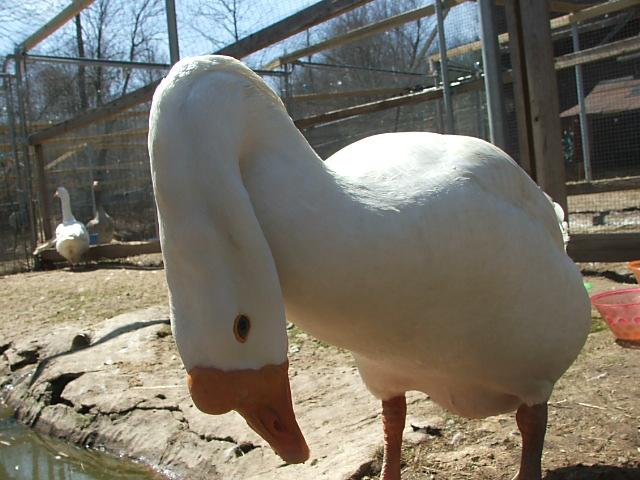 © Majestic Waterfowl Sanctuary 2005, 2006, 2007, 2008, 2009