Well, well, well... would you look at what we have here... A snapping turtle! YIPES! No, he is not in our pens, but he is in Pekin pond, which none of our birds go on. It's our reservoir. We pump water from this pond into our sanctuary during summer draughts.
He's about 6 inches wide and a foot long nose to tip of tail. Pretty cute actually. He's been lingering under our dock, so I leaned under and took a photo upside down and then rotated it digitally to make him right-side-up again. He moved in about 3 years ago. Last year he ate a smaller snapper who tried to move in on his territory.
Gamera is very shy, but lots of fun to watch!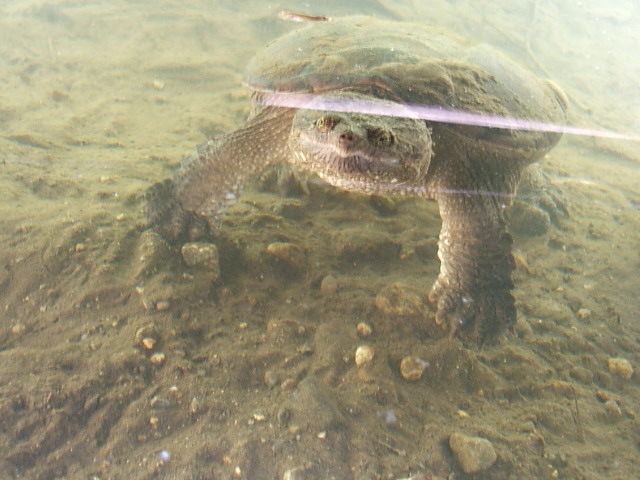 In other EXCITING news... an adoption application came through today for the four Piddies (Salem, Deino, Enyo and Phreda)!
95% of the adoption applications come from people who free-range their flocks. I don't get it... it says all over our website that we do NOT adopt to free-range homes of any kind, but they still send them through. And they're usually from people who free-range their ducks, lost a duck to a predator, have a lonely duck and want a "replacement" duck. I despise those words... replacement duck...
While scrambling around prepping the grounds for Saxony Swamp (it's time to dig the trenches for the cement foundation) and prepping the grounds for Mother Goose Manor (huge endeavor) and placing Lancelot and Guinevere into their new/old home, I walked up to the house and prayed for new homes. In particular I prayed for a new home for The Piddies. Oh, if we could just find those Piddies a wonderful new home. That would make some space, take a little of the pressure off, make the routine a little easier. But how are we ever going to find a home for 4 ducks together?
Indeed, finding a home for 4 ducks is very difficult work. An act of patience... I figured it was time to request some divine intervention and lo and behold... only a week later... an adoption application comes through for them and it includes some of the most beautiful photos of a fenced in pond, green grass... happiness... I picked up the phone and called and the family is SO WONDERFUL! It's just the kind of owner we want. They have a great set up, love animals, have plans already worked out for when they have to go away on vacation... <sigh>... just absolutely perfect!
So of course I ran outside to tell The Piddies the good news! But then... it will be so bittersweet to see them go. They are such friendly, happy and funny little ducks with SO MUCH personality! All four of them are each so different and wonderful (aren't they all?!). While I LOVE every duck and goose here, there's just something so perfect about these little ducks and I am so attached to them. It's going to break my heart to let them go, but that's what I have to do. It's best for them and it will make some much-needed room here.
Tentative plans are to adopt them out to their new family next Monday 5/21. The new family is going to have watermelon waiting for them because I told them it's The Piddies favorite thing!
Back pen: Rilo Middle pen: Deino (L) and Salem (R) Front pen: Enyo (L) and Phreda (R)