Majestic Diary
June 5, 2008
I have been away from the keys for a while. Life has been crazy! Since being unemployed and sending out resumes, I have had a couple of job interviews. That in between caring for Lil Bo Peep and my daughter Isabel needing minor surgery on her toe. Ay yi yi... This Momma Duck needs a rest!
Lil Bo Peep has been a real challenge. In addition to her coming and going fever (although not as high as it was at its onset) are concerns about her left knee joint which is not very strong as a result of malnutrition. Her body is growing so fast and she is weak from fever and a bad knee, so she tends to lose her balance while preening and has somewhat given up on it. She is just not oiling up the way she should be and has trouble floating in water. She is still living in the duckling house inside, but I put her in the tub twice a day and bring her out to The Gate House once a day to get her foraging in the grass and exercising her legs. She is getting better, but the battle is not over yet.
When she's out in The Gate House, Fanny the goose always comes running over and I swear I can read her mind: "You took all those eggs from me, did you hatch one out? Is that my baby?" She watches Lil Bo Peep for a while and then wanders off.
Here are some pictures of Lil Bo Peep, who grows noticeably more every day. Just look at her compared to her woobie: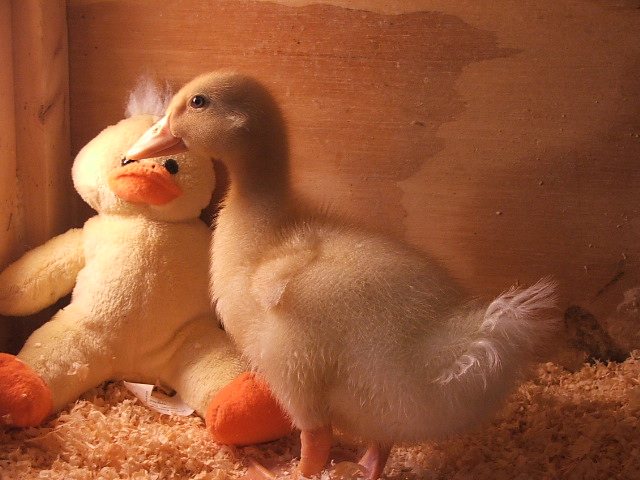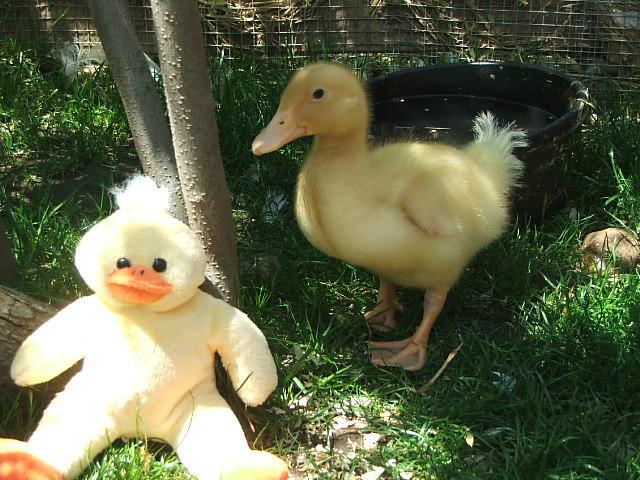 May 24 May 26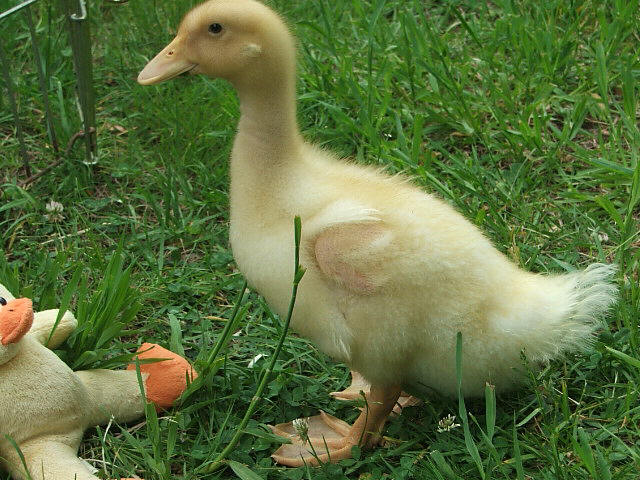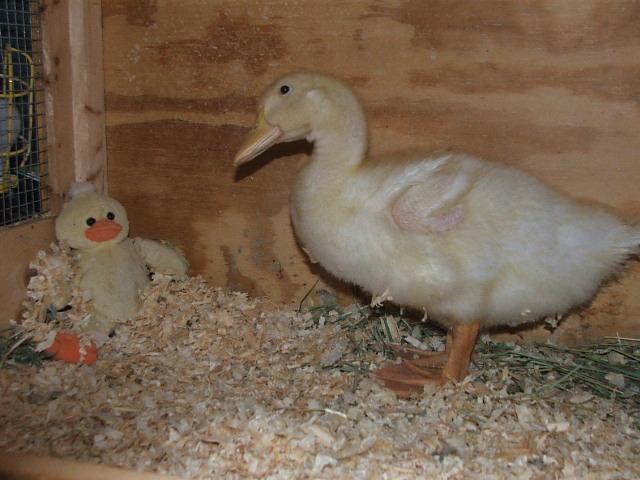 June 1 June 4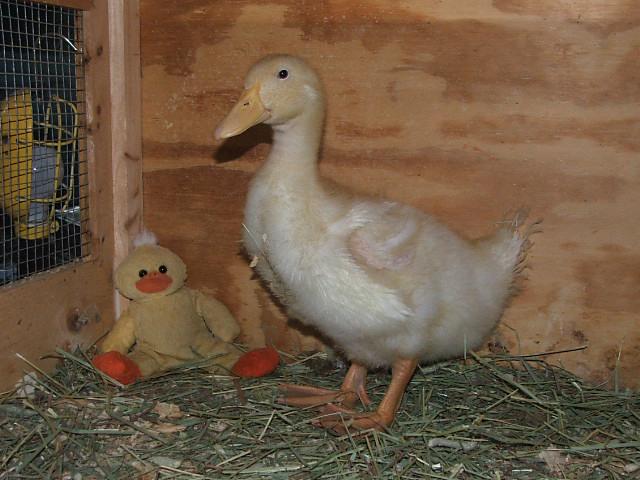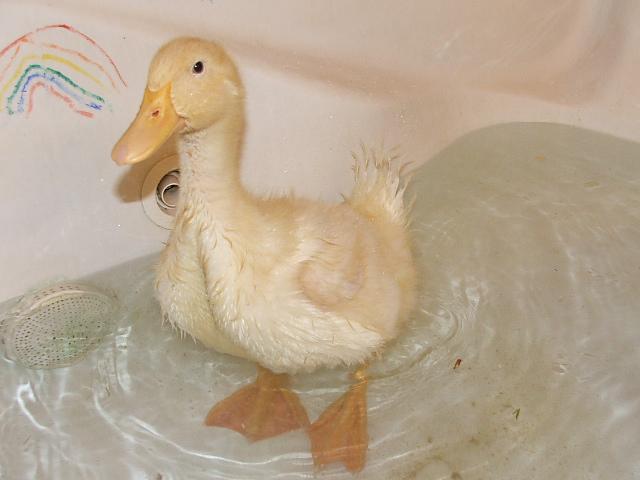 June 5 June 6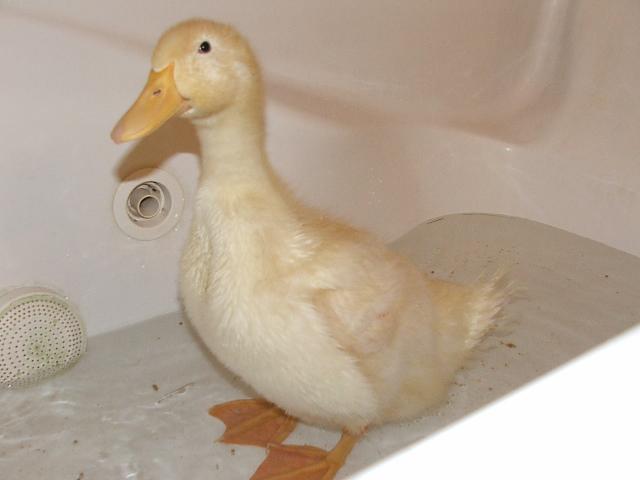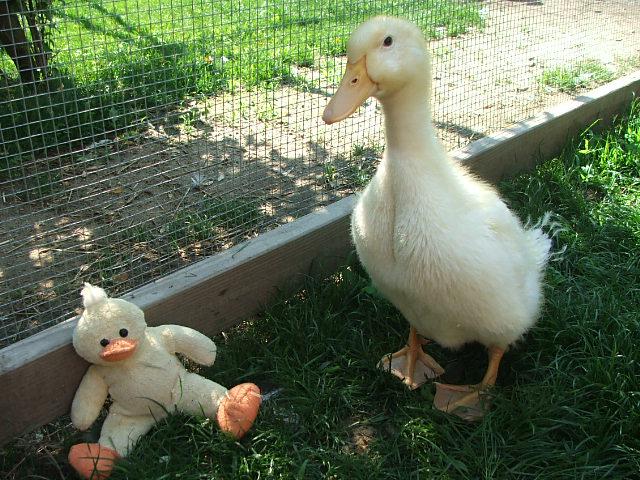 June 9 June 10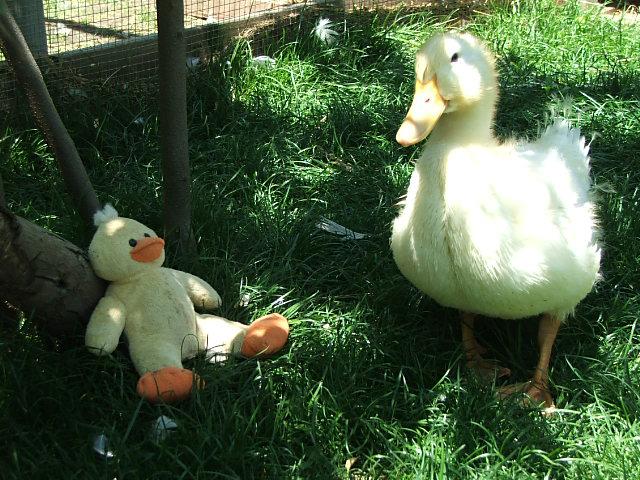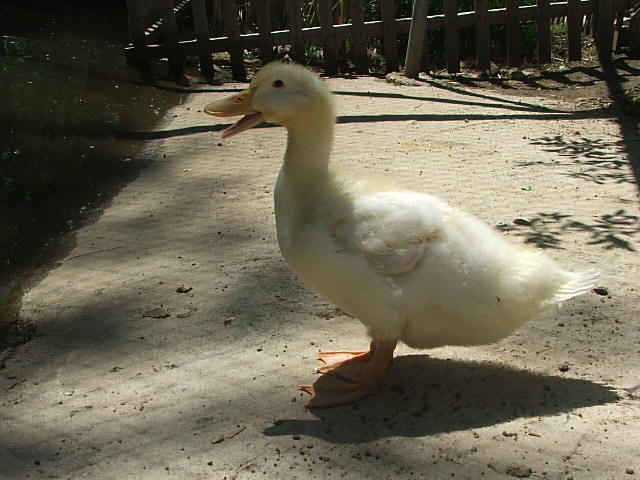 June 11 June 13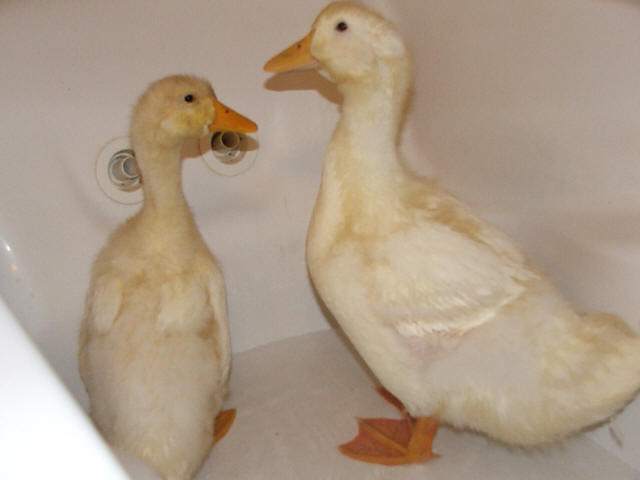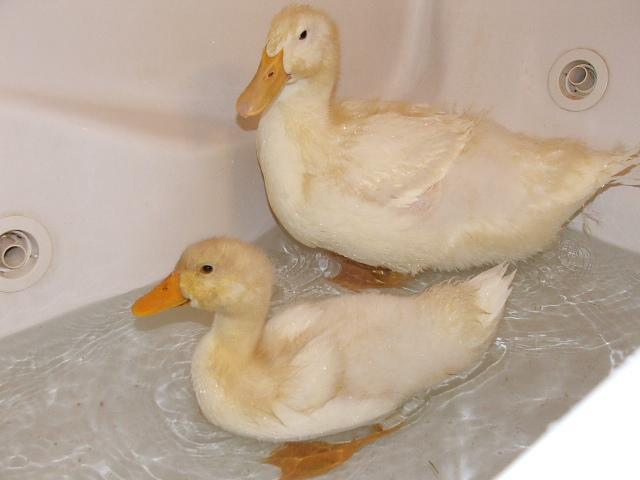 June 15 (Lil Bo Peep/Right) June 16 (Lil Bo Peep/Background)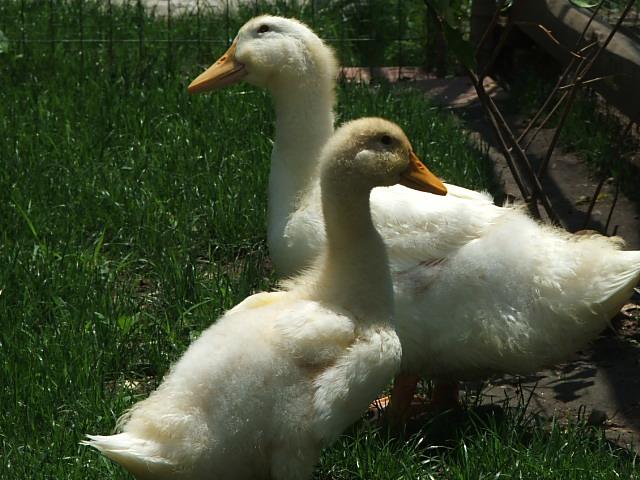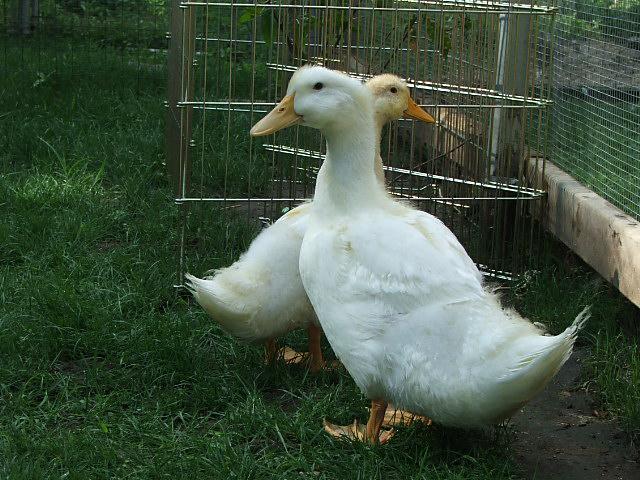 June 17 (Lil Bo Peep/Background) June 19
In other news, after keeping Duran Duran in two separate tiers of The Gardens for two weeks, I was really able to establish myself as alpha leader and stop their naughty behavior quickly. They are both eating out of my hands now! And they weren't even arguing with Mac and Fanny in the next pen, so... I opened the door and let Duran Moon into Abby's Goose Run and then I let Duran Rio out. There was a 30 second squabble and then Mac set his place as alpha leader. The Durans had a stressful two days, keeping out of Mac's way, but by the third day, they began to show a cohesive nature. And today, they are staying within 10 feet of each other without any chasing or running or squabbling. This is VERY good news.
We moved Goliath out of West Wing and into The Gardens. He and Mac are still bickering a bit through the fence. It will be a couple weeks before we open the door and let him out. First we want Mac, Fanny and Duran Duran to settle in. Once they are all doing well and Goliath and Mac have had a bit of time to get used to each other, we will turn him loose into Abby's Goose Run. We're not sure who will win this alpha battle. Goliath is HUGE, but Mac is relentless. It could go either way.
And of course, I have to tell the Folbot story... Madeline and Roger donated a Folbot kayak. Roger graciously offered to come out and help teach us how to assemble it. It was so funny... they were reading this type-faced instruction pamphlet that is over 20 years old and it was calling the assembly process: "the Folbot experience." Well, the Folbot experience lasted a good 5 hours. It was so funny (for me anyway; after all, I wasn't the one working on it!). Here are some great photos: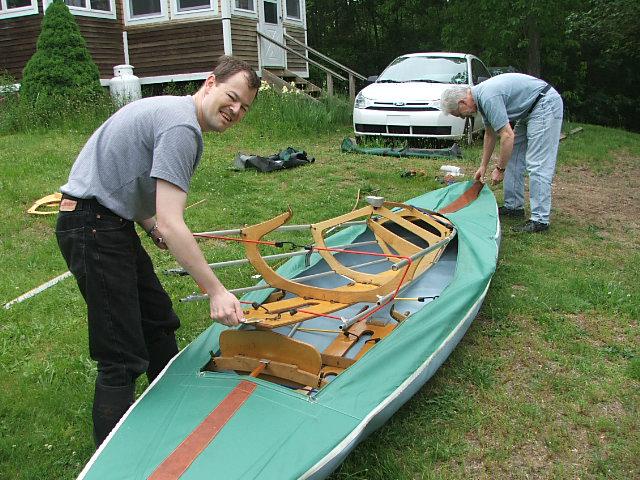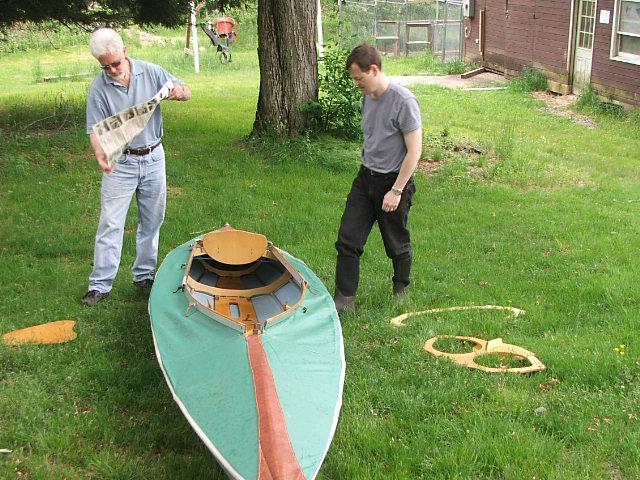 Woo Hoo! Enjoying "The Folbot Experience"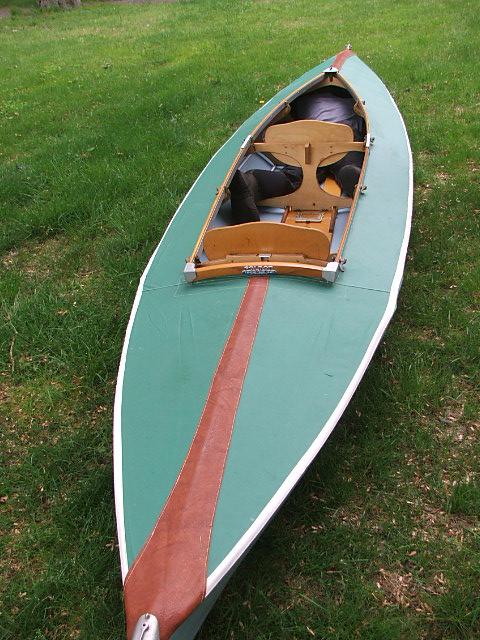 Is that a body in the Folbot?