The Majestic Waterfowl Sanctuary
(Click on links for photos)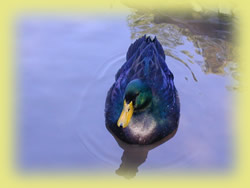 Our sanctuary is located on 8 quiet acres of woodland in Lebanon, Connecticut.
We have five outdoor enclosures each with multiple houses that are bedded with fresh hay, which provide shade, shelter from rain and a nice place to nap. Solar powered electric fencing protects the top perimeter of all of our outdoor enclosures. Most of our pens are covered with top-of-the-line, high impact and weather resistant aviary netting. As we rebuild our older pens, we are replacing the aviary netting with heavy gauge, pvc coated wire mesh.
Our pens resemble cozy habitats. Bamboo, shade trees, giant pampas grass, lily pads, reeds, cattails along with a variety of other non-toxic plants and flowers are planted inside and around the pens to give the ducks and geese a quiet and secluded retreat during their stay with us.
The Courtyard measures 32' x 65' and is divided into 4 sections. It contains a stream and spring-fed, 32' x 65' cement pond. Unlike the small ponds in our other enclosures that are drained and covered in wintertime, we circulate the water of this large pond in cold weather to keep it open for the ducks and geese to utilize year round. The cement perimeter and fence support of this enclosure goes nearly 4 feet beneath the ground's surface on all sides.
The Gate House measures 10' x 12'. It is a cozy little pen with its own private little, stream-fed pond.
The Gardens measures 25' x 35'. It has three stream-fed cement ponds that flow through each of its three tiers. The fencing around the perimeter of The Gate House and The Gardens is mounted to a cement foundation that goes a foot beneath the ground. For added security, these enclosures also have underground digging predator barriers to keep trouble at bay.
Abby's Goose Run measures 35' x 60' and was named in honor of our devoted and goose-loving Webmaster. The perimeter fencing for this pen is buried 3 feet into the ground. As with all of our enclosures, the perimeter fencing is 6 feet high to allow us easy and comfortable access into our pens, in addition to keeping predators outside. A stream-fed cement pond keeps the geese happy and clean.
Louisville is named in honor of one of our most generous benefactors. It measures 24' x 24'. Stream water will be pumped up inside the pen into its donated pond. Louisville is built of extra strong materials because it sits further out in the woods.
Saxony Swamp measures 8' x 9' and rests out in the forest beside Louisville. It sits on a cement foundation and has digging predator barriers skirting all the way around the outside.
The Barn has with 5 dividing kennels set up inside and 2 kennels outside that will soon be transformed into safe holding pens for quarantined newcomers.
Ducks requiring specialized care or quarantine measures are placed in the quarantine pen West Wing -- a roomy and quiet place to reside while they await their transfer to the barn and enclosures. West Wing has soft mats covering the cement floor and a couple duck houses to provide shade and comfort. West Wing also has running water and a few kiddie pools to keep our new guests happily entertained. Each of its two pens measures 10' x 12'.
The Infirmary measures 8' x 4' and is located in the basement of our home with a window overhead. Inside, ducks enjoy soft, clean bedding, food, water and a large mirror to keep them company.
The Ling House measures 2'W x 3'L x 1.5'H. It stands on legs measuring 2.5' H. It can hold up to two ducklings comfortably for their first 4-5 weeks. After that, they are transferred to the infirmary, which affords them a little more space. They are also taken outside for short intervals on good weather days to acclimate them to their future lives outdoors.
Other fun locations on our site include Mallard Moat, a 20' x 20' stream fed pond that's a short distance from our barn. We frequently walk groups of ducks and geese up this pond for supervised swims and enriching foraging sessions.
The Stream of Destiny (named after our beloved Destiny Duck) feeds all of the ponds at Majestic. Stream-walking is one of the favorite pastimes of our webbed footed residents. Ducks and geese are always escorted during their excursions outside of the safety of their enclosures.
[Click here to read about the diet and healthcare of our waterfowl residents]
© Majestic Waterfowl Sanctuary 2005, 2006, 2007, 2008, 2009