Sorry... We are NOT offering sanctuary tours at this time!

Sorry... Due to our enormous workload, we are currently only permitting APPROVED ADOPTERS sanctuary walk-throughs to meet our feathered guests.

---


Private Sanctuary Tours

No Longer Available


Majestic Waterfowl Sanctuary is situated on the Link Family's Private Property This is their home and we need to respect their need for safety and personal space. In light of this, they get the final say when it comes to who and when visitors are allowed onto their land. Please do NOT cross any "No Trespassing" signs and/or barriers without obtaining clear permission from them prior to your arrival. While Majestic is not open to the general public, friends of our sanctuary may be allowed access onto the property by requesting an appointment.

---

Scheduling A Private Tour

For the most part, sanctuary tours tend to be granted to people the Links have met personally, or have come to know over a period of time. These individuals may include other respected waterfowl rescuers, friends of our sanctuary, known sympathizers of our cause, and/or our financial supporters. Majestic Friends may contact us by Email, or by using the

Sanctuary Visitor Form

below, to request a private tour of our sanctuary.
Sorry... Private tours are not normally granted to people we're unfamiliar with, or with whom Majestic or the Links have no established repore. In addition, we no longer offer student or group tours of our sanctuary.
---
Scheduling An Adoption Visit
Adopting a duck or goose from us? Don't worry; we help all of our Pre-approved Adopters schedule a sanctuary visit as part of our adoption procedure. Most families adopt their new pets during their visit, but it isn't required. We welcome you and your family to take your time as you consider this commitment. Pre-approved Adopters are individuals who have filled out our online application form, have successfully completed the adoption application process and have received an email confirmation from us that they are officially approved to adopt our ducks or geese. While private tours are limited by season and weather, adoption visits can be scheduled nearly any time of the year.

---

Little Ms. Bee can't wait to see you!

---

Children

Although we love children, our sanctuary is not conducive to visits by children under 6 years of age. Older children are welcome provided they understand that they will need to use their quiet voices, that emotional outbreaks are not allowed and that running on the premises is not permitted. The ducks and geese here enjoy their serene conditions and appreciate children with good listening ears. Please use your good judgment in helping us maintain these tranquil conditions.

Majestic reserves the right to ask any visitors to leave the premises immediately and without refund.

If you are a pre-approved adopter, your full family is welcome to join you, including your young children; however, because we have ponds in all of our pens, they can only be allowed access under certain circumstances. Additionally, please keep in mind that we will be entering animal enclosures where little fingers should never end up in little mouths.

Please let us know ahead of time if any children under six will be accompanying you.

---

Make an Appointment

Adoption Visits and Private Tours of the sanctuary are scheduled by appointment

ONLY

and are arranged via our
Sanctuary Visitor Form
(below) or by Email. Sorry, visitors showing up without an appointment will not be permitted onto the property.
Private Tours are commonly scheduled on Saturdays between 10 a.m. - 2:00 p.m. (depending on our availability) and last about an hour. For your safety and comfort, we do not allow guests onto the site on rainy days, extremely hot days, during inclimate weather, or in the winter. Please be prepared to reschedule your Private Tour should any of these situations arise. Don't worry! Our schedule for Adoption Visits is far more flexible. Appointments for our pre-approved adopters can be scheduled for any day of the week; however, we prefer to adopt on Friday nights or Saturday mornings, so you will have a full weekend home with your new ducks or geese. Please be sure to include your phone number (including area code) when scheduling your Private Tour with us in case we are faced with an emergency that day and need to reschedule.
---
Confirm Your Appointment
Because a visitor "no-show" can seriously impact our schedule, and subsequently our animals, we ask all visitors to confirm their appointments via email a day prior to their visit, which is usually Friday.
If your plans change for any reason, please email us and let us know as soon as possible.
---
Arrive on Time
Please keep in mind, our schedules are very tight. We ask all of our visitors to plan ahead, leave early and arrive on time! Failure to arrive on time will likely result in the cancellation of your appointment because we need to move on to other vital sanctuary tasks.
Pre-approved adopters please arrive on time too! The adoption process can last anywhere from 30 - 60 minutes depending on who you're adopting and the types of questions you may have.
---
Emergency Cancellations
Please pardon us, rescue work is unpredictable and animal emergencies can arise suddenly and without warning. This may result in cancellations or rescheduling.
We respect that your time is valuable too and commonly notify visitors via email at least 24 hours in advance of any changes to our schedule.
In rare instances and in extreme emergencies, we may need to call you the morning of your visit to cancel or reschedule your visit, so please remember to provide us with your phone number when scheduling a visit.
Harsh or bad weather, including extreme heat, may also lead to postponements or cancellations. We will normally review weather concerns with you when you confirm your appointment the day before your visit.
---
Directions
Our sanctuary is located at:
17 Barker Road
Lebanon, Connecticut 06249
---
Our Geese
Remember, you are a stranger to our sanctuary. Please expect the geese to react to your arrival by running over and sounding the "Stranger Danger" alarm. It can take a few minutes for us to reassure the gaggle, so be prepared for a bit of noise until we do. Don't worry, our geese have their own private enclosure and cannot reach you.
Our geese can be overwhelming at first, but they are very interactive and once we take you into their pen to meet them, you are going to love them!
---
Snacks!
Although our ducks and geese are used to us, they are very shy around strangers. Our rescues will usually not approach people they don't know and see every day UNLESS you come with snacks!
Snacks are not required in order to visit, but they make a big difference on whether you will be seeing our ducks & geese or interacting with them. You decide!
Summer Treats
If you'd like to bring a snack, and you're coming in Summer, our ducks and geese LOVE watermelon! That's right! No need to cut the melon, we'll cut them into eighths when you arrive. Our rescues will eat the juicy centers right out of the rinds in your hands!
Ducks and geese are a lot like children, if you don't bring enough for everyone, they will get very upset. For this reason, if you plan to bring treats, please bring one large watermelon or two small ones; otherwise, in fairness to all, we'll have to say no.
Spring & Fall Treats
If you're coming in the Spring or Fall, our ducks and geese all enjoy sealed bags or containers of "Spring Mix" lettuce. The brand name is not important, just be sure they are fresh and there is no spinach in the mix, which can cause trouble for our laying hens.
Ducks and geese are a lot like children, if you don't bring enough for everyone, they will get very upset. For this reason, if you plan to bring treats, please bring at least seven 5 oz. bags of lettuce (or three 12 oz. tubs); otherwise, in fairness to all, we'll have to say no.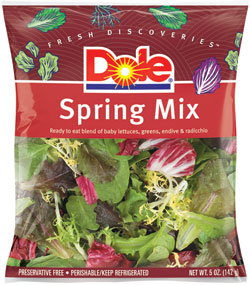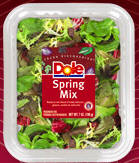 ---
Meet Our Guests!
For more fun during your visit, review our Adoption Profiles now and get yourself acquainted with our rescues. Visitors who learn about our ducks and geese online before arriving often have a more pleasurable visit.
---
Access Into Our Enclosures
Depending on the nature of our feathered residents and sanctuary activity, you may not be granted access inside all of our pens during your tour, but we will try to take you inside at least one of them provided you are dressed appropriately for an interior visit.
We normally walk visitors through The Courtyard, Abby's Goose Run and The Gardens, but there are occasions when one or more of these enclosures are off-limits.
---
FOR YOUR SAFETY:
Visitors wearing sandals, flip-flops, heels, clogs, or any other unsafe or open shoe options will NOT be admitted into our pens or barn.
---
FOR THE SAFETY OF OUR ANIMALS:
Quarantine procedures:
All visitors intending to enter our enclosures or barn MUST wear boots or sneakers with good tread. Waterproof boots are preferable!

In some cases, a pair of polyethylene boots* with elastic cuffs may be given to visitors to pull over the tops of their shoes or boots.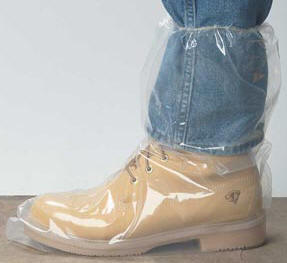 Photo Courtesy of: www.farmtek.com
*There may be occasions where we are out-of-stock of polyethylene boots. In these instances visitors may be required to dip the tread of their shoes into a sanitizing footbath upon entering and leaving our pens and barn. This footbath consists of Virkon S and water.
Jewelry is not permitted:
All visitors must remove their watches, earrings, necklaces, bracelets, rings*, etc. before stepping onto the premises. Please leave them in your car or at home!
*Wedding/engagement rings that can't come off are fine.
Damaged clothing is not permitted:
Loose buttons, snaps, eyelets, drawstrings, etc. can be a real hazard to our animals. Please choose your clothes carefully before coming to visit. We will be giving all coats and jackets a good once over before allowing entrance into our pens.
Empty your pockets:
Please empty your pant, shirt and coat pockets before leaving your home.
We will ask you to turn out your pockets to confirm no foreign objects gain access anywhere near or into our pens. We will explain the dangers of these objects during your visit!
Cameras:
Cameras without straps or loose lenses are allowed into the pens after first being inspected for safety.
Still photography only is permitted. No flash photography please.
Absolutely No Smoking:
For the health & safety of ourselves, our animals and our volunteers, smoking is not permitted anywhere on the property.
Unacceptable Sanctuary Behavior
Our rescued ducks and geese thrive in a serene environment and are very conscious of noise levels. Majestic reserves the right to ask any visitors to leave the premises immediately and without refund if we feel they are stressing our animals.
Non-Liability
Majestic is not responsible or liable for any lost, stolen or damaged property including, but not limited to clothing and cameras. If you bring it into our pens, it is entirely at your own risk.
---
SANCTUARY VISITOR FORM:
Sorry, this form is currently under construction. Please email us to schedule your Majestic Tour!