Majestic Diary
December 16, 2009
I've been watching too much "Ace of Cakes" and "Cake Boss" on television lately. It inspired me to want to bring a Majestic castle cake to our vet office this year. I went online to find a bakery and YIKES! They want $85.00 just for a flat sheet cake. Castle cakes cost $200-400 dollars! And their cakes were kind of sloppy looking--uneven and amateurish. You've got to be kidding me! For $400 that cake ought to look like perfection!
I was sure I could do better myself and for a lot less, so inspired by my favorite cake shows, I searched for online recipes to taste and viewed a couple minute-long video tutorials. Then, I was ready to give it a try!
First, I tried a small-scale version of my cake to master the basic techniques. I learned how to make roses and tested my buttermilk frosting recipe. Although a bit lopsided, the cake tasted wonderful and was nice and moist. I even used duck eggs in the batter!
Mind you, I have a KitchenAid Classic Plus mixer. It has a single beater that moves around the edge of its mixing bowl and keeps batter or frosting from building up on the edges. I can also change out the wisk for a dough hook (which works great for fondant and handles all the kneading).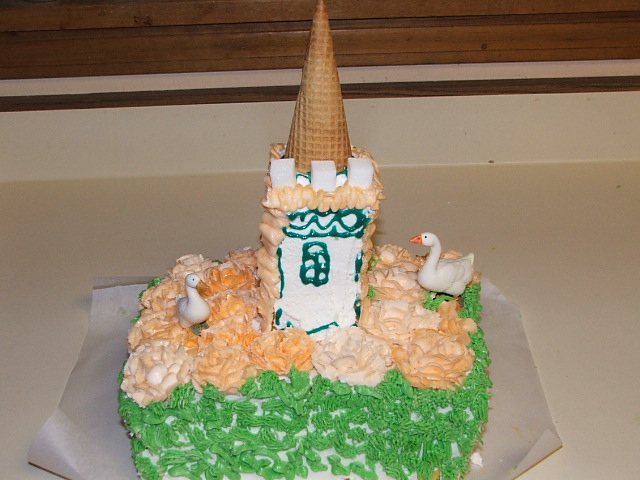 Inspired by my initial success, I came up with this design for the real cake:

<![if !vml]>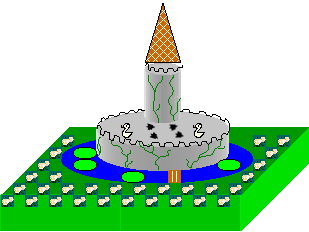 <![endif]>
---
Baking The Cakes
I baked the 5 cakes over the course of a few days, let them cool, removed them from their pans then set them on cookie sheets, uncovered in the freezer for an hour. After that I wrapped each one individually in cellophane wrap and kept them in the freezer.
The 2 rectangle sheet cakes supporting the brunt of the weight are Betty Crocker Pound Cake, while the 3 circle cakes on top are Pillsbury Moist Supreme Classic Yellow Cake.
---
Frosting Flowers
Next I made my flowers. Making flowers is (no pun intended) a piece of cake! You can view quick video tutorials all over the internet. It only takes a couple minutes to learn. I tried three different frosting recipes and realized that putting any butter at all into the frosting leads to melting. So I found a tasty recipe that uses butter extract instead of actual butter. It tastes great and holds it shape.
Frosting Recipe (to frost cakes and to make frosting flowers)
2/3 cup water
12 cups confectioners sugar (made from cane sugar and ground 10x)
1 1/4 cups shortening
1/2 tsp clear vanilla extract (craft stores carry this)
1/4 tsp butter extract (craft stores carry this)
Instructions
1) Mix 4 cups of sugar, 1/4 cup of shortening with the water.
2) Add vanilla extract and butter extract.
3) Alternately add the remainder of the sugar and shortening until thoroughly mixed (hold back a bit of sugar in the end if you will be using the frosting to cover your cake or it will come out too thick and be harder to work with).
4) Use gel colors to achieve desired color (craft stores carry this).
I made all the flowers a week before cake day. Then I set them on wax paper on cookie sheets and let them sit. They keep for 2-3 weeks.
I found that by not thoroughly mixing gel colors into the white frosting, it made more realistic colored flowers. And when changing from yellow flowers to orange, to pink, to purple, I just kept re-topping off the same pastry bag without cleaning it. It gave the flowers a nice rainbow effect as the colors changed over.
---
Fondant
Then I made blue fondant for the water. I found a recipe online that does NOT use marshmallow (because it tastes disgusting).
Fondant Recipe
1 tbsp of unflavored gelatin
1/4 cup of cold water
1/2 cup of light corn syrup
1 tsp clear vanilla extract (craft stores carry this)
1 tbsp of glycerin (craft stores carry this)
2 lbs of confectioners sugar (made from cane sugar and ground 10x)
Instructions
1) Sprinkle the gelatin over cold water in a small bowl and let it sit for 2 minutes.
2) Place the bowl in the microwave for 30 seconds on high until the gelatin dissolves.
3) Add the vanilla extract, the corn syrup and the glycerin and stir until the mixture is smooth and clear.
4) Pour 1 1/2 pounds of the sugar into your mixing bowl. Make a hole in the center and pour your liquid mixture into it. Start blending.
5) Continue to add the remaining sugar into the mixture. With any luck you have a mixer that will do this for you; otherwise, prepare to put some serious elbow grease into it.
6) Use gel colors to achieve desired color (craft stores carry this).
I mixed up a batch and then realized it was impossible to roll out without it sticking everywhere. So what's the trick? There are two tricks:
The first fondant secret I found online: After your make fondant, wrap it in cellophane and put it in a ziplock bag and let it set for 24 hours NON-REFRIGERATED.
7) Wrap the fondant in cellophane and then in a ziplock bag. Let the fondant sit for 24 hours NON-REFRIGERATED.
The second fondant secret I discovered on my own. All the sites will tell you to put a thick coat of confectioners sugar all over the counter and all over the fondant--but what a MESS! Plus, after a while all that sugar totally ruins the fondant. I ruined my first batch of fondant, but not in vane. After getting frustrated, I just decided to just spray some Pam cooking spray on the countertop and on the rolling pin. Genius! It totally worked!
I pre-made a batch of blue fondant 24 hours before I assembled my cakes, so it would be all ready to roll out and make the moat under and around the castle.
---
Cake Assembly
This morning I whipped up a batch of green frosting and then pulled out the cakes from the freezer as I needed them. Frosting them cold helps to prevent getting cake crumbs in the frosting. I frosted the rectangular green cakes first and set them on my base.
Then I mixed up a batch of white frosting. The white cakes had to be lightly pre-frosted and then they went in the fridge for 10 minutes. I took them out again and re-frosted them with a thicker layer. This not only helps further prevent crumbs in the frosting (and it really shows up when frosting in white), but it also helped me get that smooth finish on the castle's surfaces.
I laid down my blue fondant moat and then stacked up the remaining cakes and then pushed a chopstick down the center of all the cakes to help keep them stacked and in place and then I put the upside down ice cream cone on top.
---
Cake Decorating
Then came the fun part! I put my sugar cubes around the castle and then piped green vines on the castle. I had enough left-over white frosting to add colors to. So I decorated my vines with tiny yellow and pink flowers. I also added a bunch of yellow flowers to the top tier of the castle. Then I added blue waves to add dimension to my flat blue fondant moat.
I used left-over green frosting as the glue to stick my roses onto the green part of the cake. After that I piped in a few green leaves in between the flowers. After that I piped a quick pink border around the entire cake and added more roses and embellishments to the front.
Finally, I stuck on my 2 mallard ducks, my Pekin duck and my goose figures.
TAH-DAH!
Not bad for a first-time cake decorator, eh?!
My Majestic castle cake for All Friends Animal Hospital!
I'm going to deliver it to them tomorrow as a thank you for all their help and support and to wish them a great holiday season!