Our sympathies to the Garey family who lost their darling Ethel yesterday...
I sent them a very special movie poster to cheer up their family, lighten up their barn and inspire their gaggle.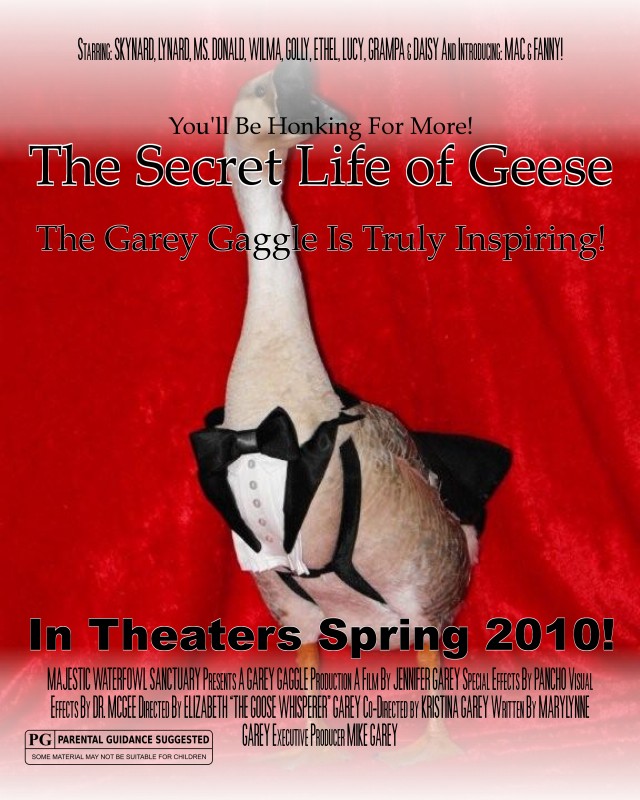 It reads:
Starring: SKYNARD, LYNARD, MS. DONALD, WILMA, GOLLY, ETHEL, LUCY, GRAMPA & DAISY And Introducing: MAC & FANNY!
MAJESTIC WATERFOWL SANCTUARY Presents A GAREY GAGGLE Production A Film By JENNIFER GAREY Special Effects By PANCHO Visual Effects By DR. MCGEE Directed By ELIZABETH "THE GOOSE WHISPERER" GAREY Co-Directed by KRISTINA GAREY Written By MARYLYNNE GAREY Executive Producer MIKE GAREY
(Notice that it is rated: "PG, Parental Guidance Suggested, Some material may not be suitable for children." I wish we could have changed that part of the poser to read: "PG, Parental Guidance Suggested, Some material may not be suitable for ducks!" Or maybe, knowing the Garey Gaggle, I should have rated it "R" Wha ha ha!)