Majestic Diary
March 17, 2008
I had to move Mac & Fanny to a different pen today. Angelo scraped up his bill a little bit, trying to fight through the holes in the fence, the stinker. And Mac plucked out some of Tutter's chest feathers.
I said, "That's it!" and picked up Mac and brought him to Tier 3 of The Gardens, which sits kiddie corner to Abby's Goose Run. Then I moved sweet little Fanny over too. Now the two pairs are out of reach of each other and can't get to each other at all. They have a clear view of each other though, to start building a bond from afar. Mac & Fanny love this new pen because it has a bigger pond in it, and they are very happy for that.
But, I have to say, when I picked up Mac to move him to a new pen, as much as Tutter and Angelo are fighting with him, they about lost their minds. They did not like me taking members of the flock away--even if the new members are not-liked. They both spread their wings out wide and hissed around me as I moved Mac. I've never seen them do that before.
Then a few minutes later, they realized I only moved Mac & Fanny over to the next pen. I sat down in the Goose Run and both Tutter and Angelo came over to me, very calmly and chit chatted with me--quite relieved. "Oh, Momma, you scared us there for a minute. We want to be friends with them someday. We thought you were taking them away, like you took our other friends away." … Oh geez… Maybe they need to go join Ali, Chan, China and Bowie after all. I just want to be real sure about Tutter-tut's leg before we make that decision, you know? You know.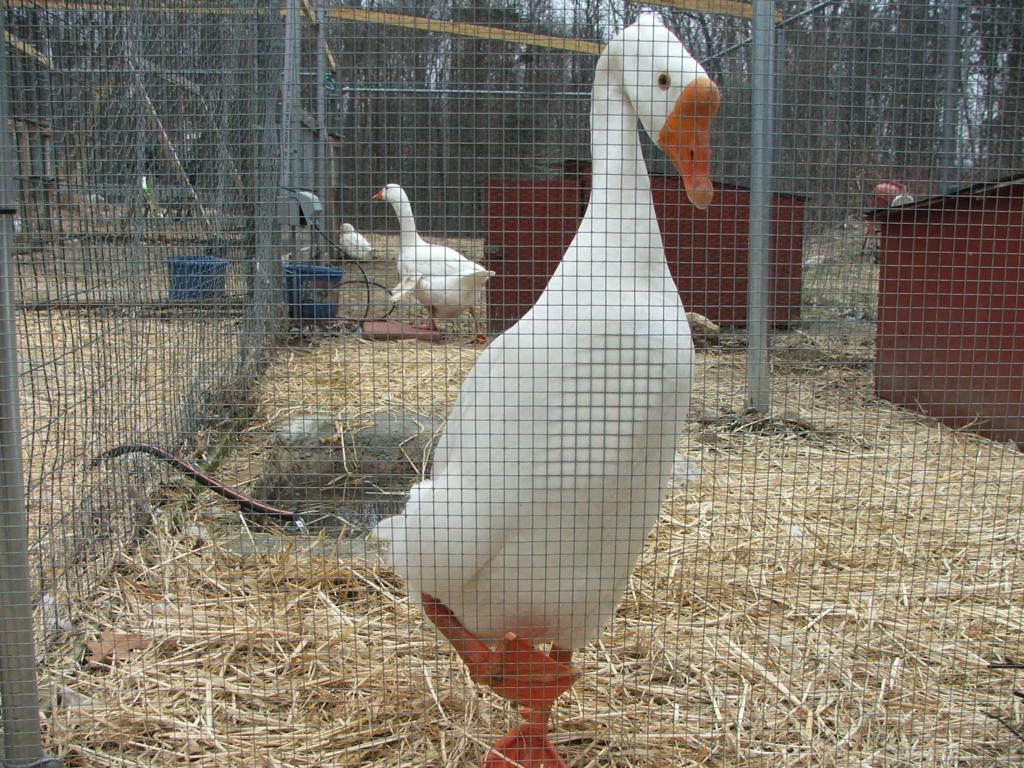 "Hey, open this door!" --Mac with his foot on the door...
© Majestic Waterfowl Sanctuary 2005, 2006, 2007, 2008, 2009