17 year-old Lancelot and his Lady Guinevere rejoined their original family of 12 years today.
Although I sure will miss them both, it was still a good day...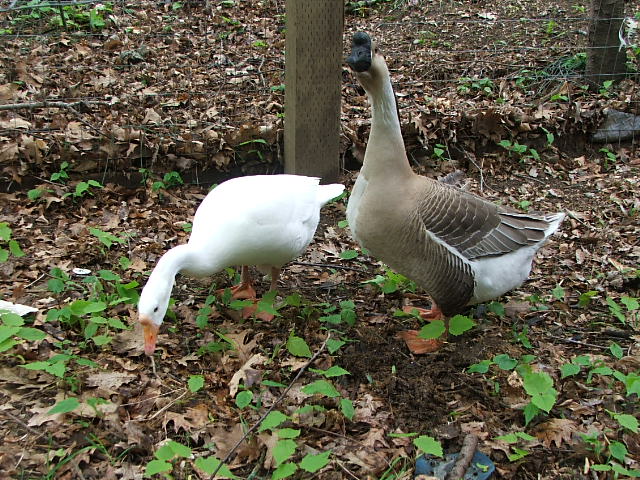 My hands have been very full lately with working on my books and caring for so many ducks and geese (we're a little on the full side).
We've also been working on clearing the land for our next big pen: Mother Goose Manor.
Not enough? We also had a small pen donated to us. It had to be torn down from the donor's residence, brought here and then reassembled. My dad and my friend Kat and I all did the first part together and then Dad and Tony helped me reassemble it. It's a lot of work! Now we need to prepare the site for it. I want to put it out near Louisville. We're going to call this new pen "Saxony Swamp."
Another issue... our original pens that were built on very restricted budgets are beginning to deteriorate. The fencing material needs replacing. So... we've decided to reface the Courtyard, Goose Run and Gardens with the same PVC coated wire we have around Louisville and Saxony Swamp. We're going to eventually replace the aviary net with the same heavy gage wire. This way, it will be able to support snow, so we won't have to be out in the pens through all hours of the night during snow storms. We have to be sure we will still be able to continue as we get older and there's no way we can keep up that crazy winter pace forever.
The other benefit of having wire roofing that we can actually walk on is not only will we be able to shovel snow off in winter AFTER the storms have passed and during the DAYTIME, but we will also be able to prune all of the Autumn Berry trees with MUCH greater ease. Right now, I have to go up on ladders every 2-3 weeks and pull all the fast growing shoots back down through the nets. By the time I finish pulling and pruning every single tree, I only have a one week breather before it's time to start all over again--and it is NOT an easy job by any means. It's one of the most difficult jobs we have. After we replace the aviary net with roof supports and wire, we can actually walk up there with a hedge trimmer and just cut off the shoots that come through.
Simplification is going to be vital as we continue forward and since the pens need to be refaced anyway, we might as well do it in a way that lasts forever and that makes our jobs easier.