I finished painting the St. Francis statue our ducky (and goosey!) friends donated for our sanctuary cemetery.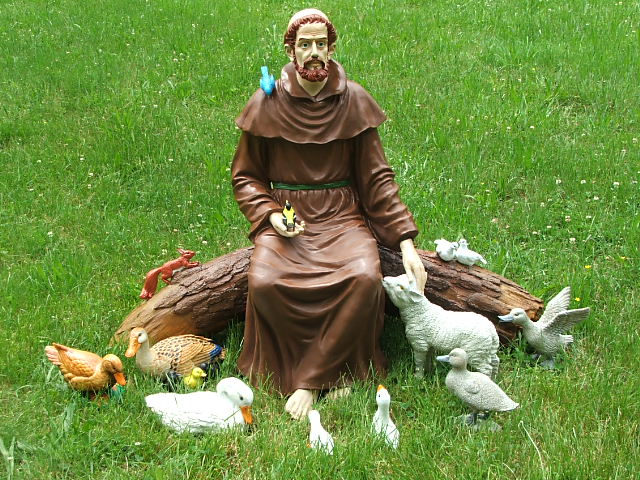 This statue reminded Kat (who organized the statue fundraiser) of Benny, so I painted him with gold highlights and his blue eyes look upward to heaven...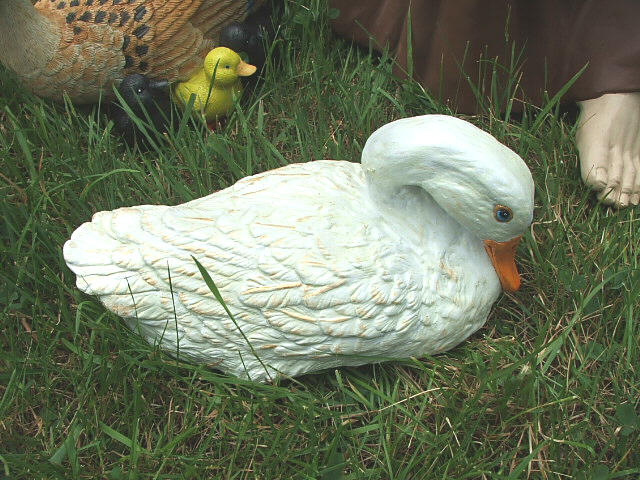 Yesterday were the sanctuary tours. We were expecting about 30 people coming from the local business association, churches, the town and school.
The pens were beautiful... the ducks and geese were all ready to meet and greet...
And then...
Only one person showed up for the 11 a.m. tour, which was supposed to have twelve people. We had a wonderful time together building our friendship and I brought her through and she fed everyone watermelon and lettuce and we talked for two hours. I named our rescued Indian Runner duck "Bee" after her best friend who passed away and today she was able to meet and hold little Ms. Bee. It was such a great moment!
And then...
No one came to see our rescues at 2 p.m.
And then...
Only one person showed up for the 3 p.m. tour, but it was Sharon! We worked out way through every pen and she looked so right at home here. And we visited for over two hours as well! And then she told me it was her lifelong dream to hold and hug a goose, so I put Jabberwocky up on her lap and her dream came true. She even sealed it with a nice feathery kiss! I only wish I had my camera to get a photo of it... oh well... next time...
At the end of the day, the two people who came were very special to us and I have to believe it worked out this way for a reason--so they could each enjoy such a personalized tour, but then another part of me is broken hearted to see that people's lives are too busy or hearts are too hardened to come and learn about the lives were saving. I'm especially upset for them--for the ducks and geese still out there being abandoned and overlooked... because today... we weren't able to change how people see them...
And I can't help but wonder why people signed up or went out of their way to tell me that they were coming and then never showed up... Why do people do that? It just makes no sense to me...