What you need to know about rescuing Ducks and Geese...

Website Forms Under Construction!

Our webhosting company no longer supports our Frontpage software.
In response, we are transitioning our online forms over to Dreamweaver software.
In the meantime, the below Rescue Form is non-functional.

In the meantime, please use our "Contact Form" to get in touch with us. Tell us as much as you can about the situation. Please keep in mind our sanctuary is under construction and we are unable to take in any geese or any male ducks at this time.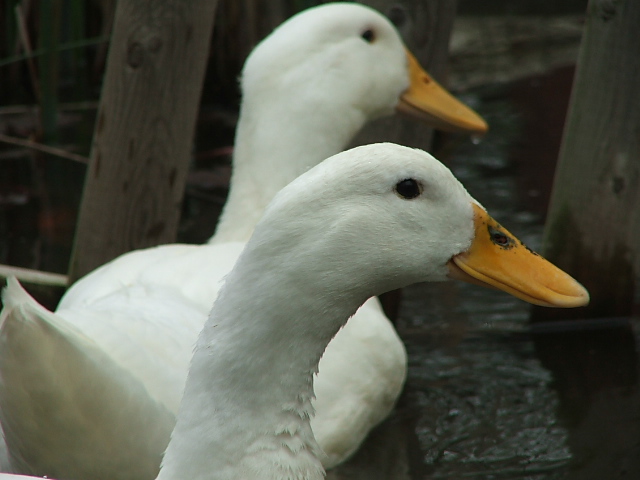 Please read the full content of this page before contacting us!
People often call us asking for help and advice on what to do when they discover an abandoned duck or goose, but many people do not realize how difficult it can be to catch a goose or duck.
For us to help a duck in distress, you must first help us. It is important to realize that our funds and resources are limited, and as a small organization we need the help of those who befriend the animals they find in need.
When you are done reading all of the following information, please complete and submit the Rescue Form below. Thank you!

Please Note

:
We are NOT licensed to handle any wild waterfowl including Mallard ducks, Canada geese and Swans (among others). If you need assistance with wild waterfowl, please contact your local veterinarians for the names of certified wildlife rehabbers in your area.
You can can also click here: Wild Rescue Links or here: CT Wildlife Rehabbers for help.
Click here for a Wildlife Rehabilitator State-By-State Listing. THEN... Click on "Emergency." Then on "Find Rehabilitator." Complete the form for a listing of certified rehabbers near you. Please remember to donate to them for helping!
---
We need your help!
Ducks are cautious animals that like routine and familiar surroundings. New people or change makes them distrustful and they will flee to water quickly. Over time, ducks or geese can become familiar and trusting of people that feed them. This means that, if you find an animal that is friendly and will approach you, we need your help to catch the animal. If strangers show up, the duck or goose will rarely approach close enough to catch.
We do not have a motor boat or Jet Ski at this time--only canoes, which do not work in every situation or in colder seasons. If a duck or goose you have discovered needs to be rescued on the water, obtaining use of water equipment may need to be arranged by you.
In our own local community, we can muster tremendous support for a rescue. However, in most cases where others contact us, we know nothing about the area in question, do not live nearby, and have no ready means to organize a rescue. As a local of the area, you are much more capable to contact and engage local organizations and friends. Boats can sometimes be found by contacting the town or city the pond is located in. They may have a park official or fire dept that is willing to help or allow use of their boat. You may also turn to a local, private citizen for assistance in this regard.
If you find a duck or goose that has been abandoned on a public pond or is in distress and would like to help, please read and understand the Rescue Procedures below prior to contacting us.
---
Rescue Procedures:
Please read before contacting us!
1. Determine if the duck or goose is a domestic or wild breed (see photos). In general, wild breeds fly and domestic breeds do not. Domestic breeds will flap and get some loft but cannot fly great distances high in the air. If the bird is wild, there is nothing to be done unless the bird is injured or in distress. For wild ducks and geese, you will need to locate a local wildlife rescuer. If the bird is a domestic breed, please read on.
2. Confirm that the duck or goose truly is abandoned. If there are houses nearby, visit the owners and make sure the duck or goose is not their pet. If the bird has an owner, we can not help without the owner's written permission. They will need to sign Majestic's Owner Surrender Form, which we will provide.

We cannot remove owned animals without owner's written consent!

3. If the bird is on private property, written permission from the land owner must be acquired before we can intervene.
4. Please contact us first to see if space is available and if we are able to bring the bird into our sanctuary prior to attempting to rescue a duck or goose. It does not help to capture a duck or goose and then have no place to bring the animal. In fact, it can be harmful, because if you have to let the animal go, it will be much harder to catch a second time. Ducks and geese have good memories and may not trust you again once you catch them.
5. If a duck or goose must be rescued on water, make every effort to locate a boat and organize a rescue team before you contact us. If you have located a boat and are in need of assistance with the actual rescue, we are available for consultation, or in some cases, to join in with the rescue effort. This will need to be arranged with us prior to the rescue date.
6. If this will be a land waterfowl rescue and you need assistance, a couple of staff members or volunteers may be able to show up and help in the humane capture of the bird. Before you contact us to ask for assistance, please understand that you must be present at the site at the time the rescue volunteers arrive.
7. Prime hours to begin a rescue are late morning, when the birds are actively foraging and hungry. We can't always arrange rescues on weekends. Many times, volunteers take time off from their jobs to show up and assist in rescues. We need you to be willing to do the same. When we advise you of the date and time our team is available to assist you, we will need you to be flexible and reliable. It is imperative that you are at the site to greet our rescuers when they arrive. Only you know which animal it is that needs help, and only you have the trust of the bird.
8. If you are able to capture the rescued bird, please understand that we will probably need you to deliver the animal to us. We might be able to meet you or drive to your location, but with all of the animals already in our care, we cannot promise that we can reach you, especially if it is short notice.
9. We will ask that you make a donation when the duck or goose is brought to the Majestic Waterfowl Sanctuary. We hate to say we won't take in any duck or goose without a donation, but it simply is the only way we can build more space to help shelter more ducks and geese. By donating, you are also helping to feed and shelter the animals in our care. Please be prepared to make a nominal donation, or consider sponsoring the duck or goose during the time it is in our care.
10. Most importantly, if you email us for help with an abandoned duck or goose, please answer our response. Nearly 80% of all the people we respond to who send desperate "HELP URGENTLY NEEDED" emails never reply back to us when we offer our assistance. We are caring people who worry about ducks and geese in danger. It is very upsetting to hear that an animal is in distress; and even more upsetting to offer help and then not hear back from the person sending the email. Please don't leave us hanging. When you send us a message requesting urgent assistance and we rush to respond to you, please respond back, even if it is to say that you are no longer in need of assistance.
---
Rescue Form
***Please note: A duck or goose who needs rescuing is a bird that is NOT yet in your custody. Any waterfowl already in your care, no matter the circumstance, are considered an Owner Surrender and require an entirely different form.

Remember!

:
We are NOT licensed to handle any wild waterfowl including Mallard ducks, Canada geese or Swans (among others). If you need assistance with wild waterfowl please SCROLL UP for helpful resource links!