Majestic Diary
August 21, 2013
Some exciting stuff going on out in the pens... I had introduced new ducks Waverly & LeeLoo to Young Jeffrey and Jodie-dee. The first day they all swam together and had a great time, but then Y. Jeffrey got a bit too amorous with them and scared them--they'd never rec'd that kind of attention before!
So Waverly and LeeLoo have avoided the pond ever since, wandering around on shore all day. Jodie-dee's arthritis is really bugging her (even with her meds), so she tends to sit in the grass most of the day (I bring her meals and water to her). And Y. J. doesn't want to go on the pond if there aren't any girls there.
BUT... Waverly has fallen in LOVE with Y. J. and she was splashing all around on the pond today--flirting with him and luring him into her ducky clutches! LeeLoo is swimming too, but keeping her distance from Y.J.
It's so funny to watch Waverly flirting! She quacks LOUDLY and bobs her head at him and she follows him everywhere! So cute!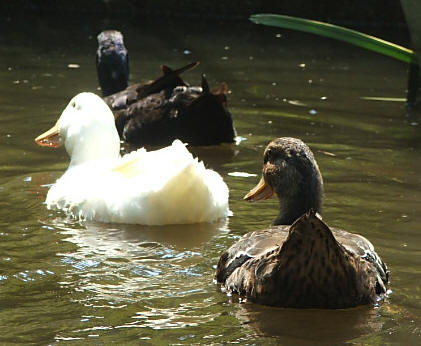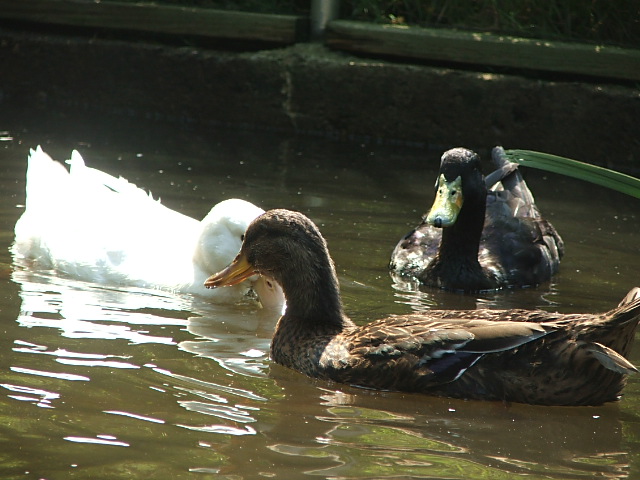 Lil Ms. Bee is doing great! I bring Marvin inside every night around 5:00 pm and he spends about two hours with her before going back out to the barn. He's molting, so he's pretty calm these days. But as soon as they get together, oh the QUACKING!