Billy was exposed to starvation and extreme temperatures before coming to Majestic. His estimated year of hatching is 2010.
Billy's bill was cut off prior to his being dropped off, putting him at risk of frostbite on his tongue. Unfortunately he arrived with frostbite on his face nodules and on his webbed feet, but he has since made a full recovery!
Billy is a very interactive and friendly duck!
Billy (who is very large) comes up to greet us whenever he hears us in the barn. He loves to have lengthy chats about how grand he is!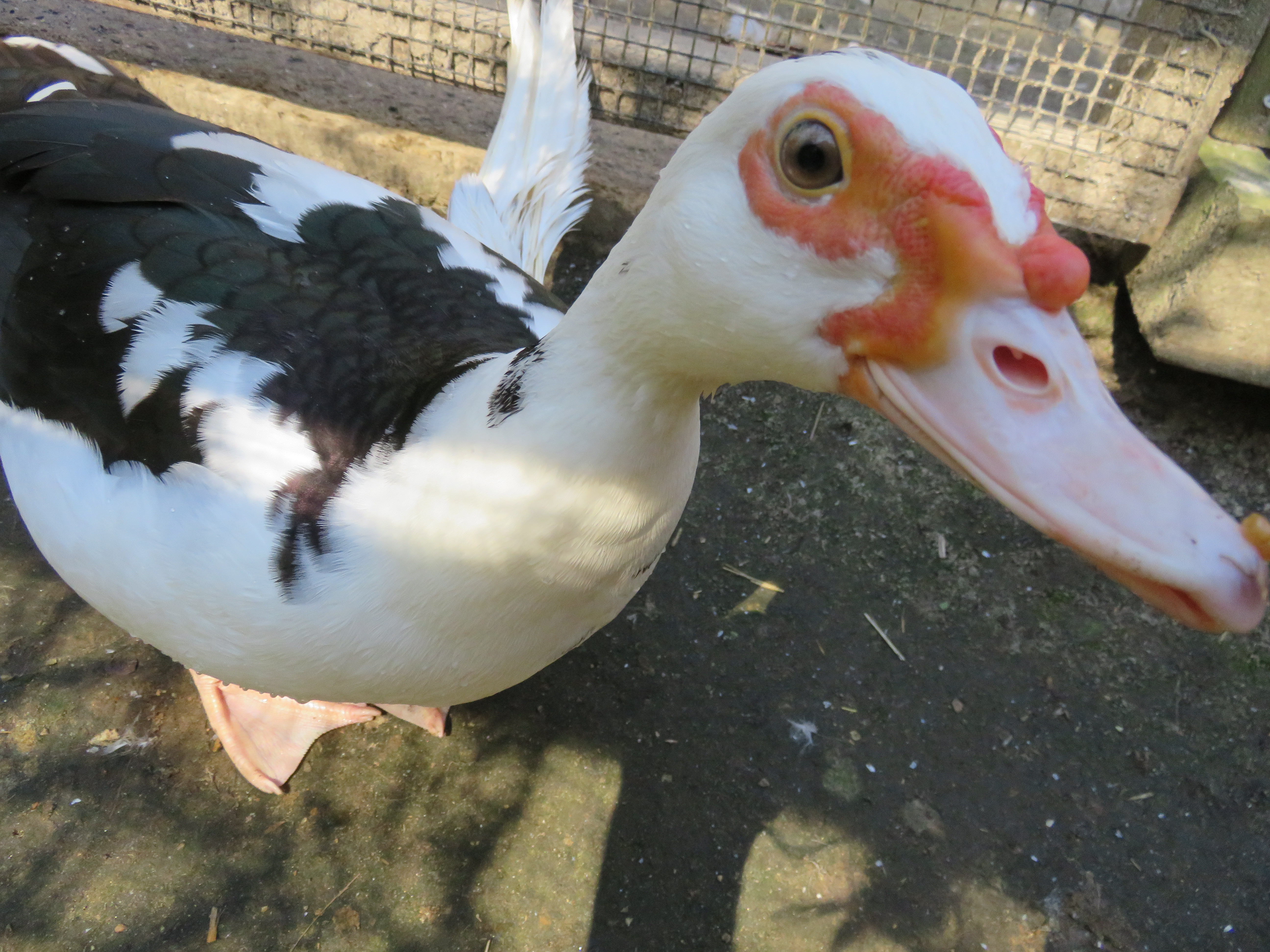 Daisy-Siete is a human-imprinted Muscovy duck who was spoiled wonderfully by her first family, but... they could no longer keep her and surrendered her to our sanctuary.
Her original name was Daisy, but since she's our 17th Muscovy rescue, we added a little something to the end of her name to distinguish her from the other Daisy ducks who have come through our sanctuary over the years: "Siete."
Daisy-Siete or "Seventeen" (get it?!) needs LOTS and LOTS of human attention because she THRIVES on it!
***IMPORTANT***
About Muscovy ducks: Muscovy ducks make wonderful pets! They tend to be very interactive and even wag their tails when they're happy! Quieter than other ducks, males make a breathy "Huch-uch-cha" sound while females trill & squeak.
Special considerations: While we are interested in finding Billy and Liberty their new and forever home, their new owners MUST have a predator proof pen with constant aviary covering/protection overhead because Muscovy ducks can (and do) fly and escape. Wing clipping is not enough--pens must be 100% secure. We do not want any Muscovy ducks escaping into the wild where they do not belong and are currently being destroyed in many areas.
Additional considerations: Muscovy ducks have facial caruncles, which are very susceptible to cold and frostbite. They need spacious indoor accommodations for freezing weather when they should not be allowed to venture outside for long intervals (short intervals on sunny afternoons is about their limit).
---