Employees first noticed Moose on a pond near their business in the summer of 2016. They took to feeding him and building up his trust so that he could be safely rescued. After many months of diligent attempts, rescuers finally nabbed this gorgeous guy safely utilizing a net gun!
Moose is cross between a Muscovy and (judging by size and color) Rouen duck. Hybrid Muscovy ducks are referred to as "mules" because they are infertile. Since it is illegal to breed Muscovy ducks without a permit anyway, this shouldn't matter to his new owners.
Moose is currently a bit shy, but has come a long way since arriving at our sanctuary.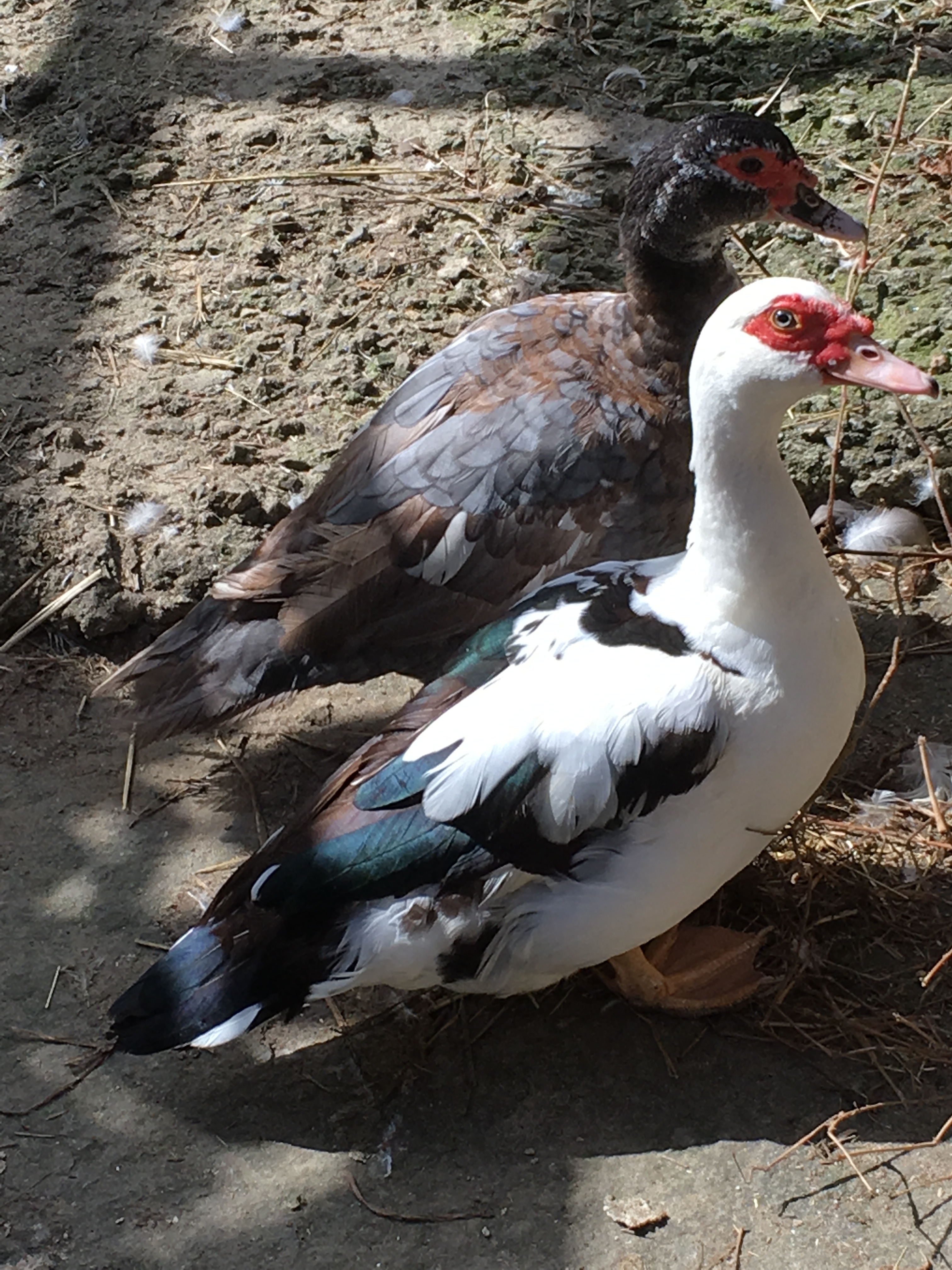 Ruby (brown Muscovy) and Liberty (black & white Muscovy) were found and rescued in a parking lot and brought to our sanctuary in July of 2017. While we're unsure of her date of hatch, we estimated her to be about a year old at that time.
While these ladies were extremely shy when arriving at our sanctuary, they have since learned that mealy worm treats appear to trickly out of the air behind us and have taken to following us around. Liberty is a bit braver than her sister Ruby, but both are warming up to us.
Moose will be penned together with these two ladies soon, but for now they share neighboring pens where they chat together all day!
***IMPORTANT***
About Muscovy ducks: Muscovy ducks make wonderful pets! They tend to be very interactive and even wag their tails when they're happy! Quieter than other ducks, males make a breathy "Huch-uch-cha" sound while females trill & squeak.
Special considerations: While we are interested in finding Moose and Ruby their new and forever home, their new owners MUST have a predator proof pen with constant aviary covering/protection overhead because Muscovy ducks can (and do) fly and escape. Wing clipping is not enough--pens must be 100% secure. We do not want any Muscovy ducks escaping into the wild where they do not belong and are currently being destroyed in many areas.
Additional considerations: Muscovy ducks have facial caruncles, which are very susceptible to cold and frostbite. They need spacious indoor accommodations for freezing weather when they should not be allowed to venture outside for long intervals (short intervals on sunny afternoons is about their limit).
---